ECONOMY: SHIPS, UAVS AND ELECTRONICS ON PENTAGON'S WISH LIST
Defense Budget Likely to Deliver for San Diego
Sunday, March 17, 2019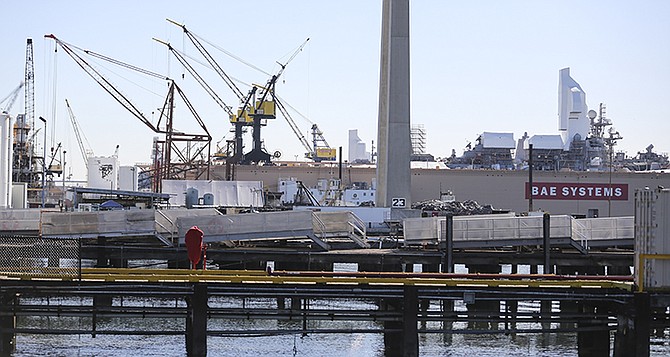 By the Numbers
Defense Contracts Awarded in San Diego County
2018:$10.13 billion
2017: $9.18 billion
2016: $8.53 billion
Final Defense Budget
2019: $717 billion
2018: $692 billion
2017: $619 billion
Source: USAspending.gov. Figures show Department of Defense prime contract awards, with funds obligated to San Diego County recipients.
A draft Pentagon spending plan issued March 12 offers much to San Diego defense contractors, including publicly traded giants that build military ships and aircraft.
Under the 2020 plan, General Dynamics NASSCO would build two more U.S. Navy auxiliary ships while Northrop Grumman Corp. and privately held General Atomics Aeronautical Systems Inc. would each get more than $1 billion for unmanned aircraft programs.
But the budget for the fiscal year that begins in October is just a pencil sketch. Congress will likely call for many changes, and the negotiations have barely begun. Some see the budget as a political statement, teeing up debate for the 2020 presidential election.
The way through Congress will be tough because the defense budget document includes some divisive issues, including funds for a wall on the U.S.-Mexico border.
Defense spending is a significant part of the San Diego County economy, supporting an estimated 1 in 5 jobs. In 2018, $9.4 billion in procurement contracts flowed into the county, according to a recent study from the nonprofit San Diego Military Advisory Council. Defense contractors employ thousands. The 2020 budget blueprint calls for $718.3 billion in U.S. Department of Defense spending and a total of $750 billion in national security spending.
It's not just one budget at the Defense Department. In addition to the basic Pentagon budget proposal, there is a plan for the separate warfighting budget, known in Defense Department lingo as OCO (for Overseas Contingency Operations). On top of that there is an emergency budget proposal. Both the OCO and emergency requests add up to $173.8 billion.
The emergency budget of $9.2 billion includes funding for military construction in response to emergencies, to include border security and the repair of facilities damaged by Hurricanes Florence and Michael.
Carrier Leads Budget Request for Ships
The Pentagon has billed its budget as the largest budget request in more than 20 years for shipbuilding.
In all, the Pentagon seeks $34.7 billion in ships.
The 2020 budget proposal calls for two John Lewis-class fleet replenishment oilers, built by the NASSCO subsidiary of General Dynamics (NYSE: GD). The budget plan calls for spending $1.08 billion for procurement on the locally built U.S. Navy ships and an additional $1.7 million for research, development, test and evaluation.
Prev Next