DINING: FOODIE SCENE EXPANDS IN AFFORDABLE, WELCOMING TOWN
What's Cooking In Oceanside?
Wednesday, March 13, 2019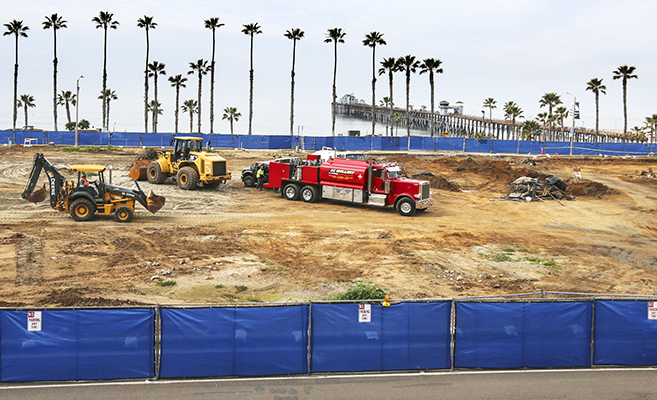 A hospitality renaissance of sorts kicked off in Oceanside with the opening of places like Harney Sushi, 333 Pacific and Flying Pig Pub & Kitchen starting around 2011.
"Those three operations were the catalysts for the shift," said Gumaro Escarcega, program manager at Main Street Oceanside, a nonprofit business group.
The eateries were followed by others like Swami's Café, Petite Madeline Bakery, Local Tap House, Masters Oceanside, Wrench and Rodent Seabasstropub and Bagby Beer Co.
And the renaissance continues today at full speed. Drawn to roots in the area, the beach culture and the relatively inexpensive prices compared with other North County waterfront towns, entrepreneurs are planning a bonanza of eateries including Pacific Coast Spirits, Island BBQ and Steel Mill Coffee, among a long list of others.
Hospitality Renaissance
A walk up and down North Coast Highway in Oceanside these days will easily yield half a dozen "under construction" and "now open" signs in as short as a 10-block radius.
That's because, for the last eight years or so, the North County city has been going through a food and beverage renaissance of sorts, welcoming a host of new restaurants and tasting rooms, boutique hotels and activities — for example, "Walk This Way," a walking food tour — to the waterfront town.
Between 2011 and 2019, Oceanside has gained 51 restaurants and four new food and beverage offerings will open in the next few months, said Escarcega. He adds that from 2011 to 2018, the district has seen a 98 percent increase in sales tax revenue in downtown Oceanside, not including the fourth quarter.
"You can see how the restaurants are driving the market," he said.
Tracey Bohlen, economic development manager for the city of Oceanside, believes the Oceanside food renaissance began with restaurateurs with ties to the city wanting to return to their hometown and open up their businesses there.
"A lot of it is local people that grew up here or went to school here and are coming back and investing," she said, namedropping Gabe Hogan, who grew up in Oceanside and opened Local Tap House in 2014 (and now Exhale, which offers wood-fire cuisine and opened in January), as well as Charlie Anderson, owner of Privateer Coal Fire Pizza and the Privateer Marketplace & Wine Bar. "These are people that grew up here and are coming back and opening businesses. I believe that started the renaissance, and now people are starting to look at Oceanside with a different eye."
Prev Next