Air Travelers Using Key Connection With Cross Border Xpress
Wednesday, March 6, 2019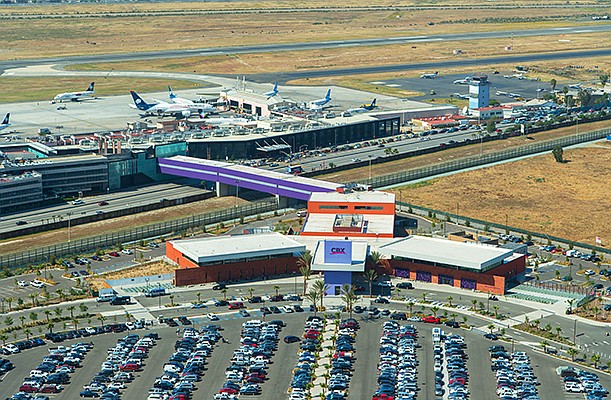 CROSS BORDER XPRESS
CEO: Jorge Goytortua
Revenue: Undisclosed, Company Privately Held
No. of Local Employees: 250
Headquarters: San Diego International Airport
Year Founded: 2015
Company description: A 390-foot-long pedestrian skaybridge that connects ticketed passengers traveling through Tijuana International Airport and a terminal in San Diego.
At the U.S.-Mexico border, Cross Border Xpress, also known as the CBX bridge, is helping those traveling through Tijuana International Airport (TIJ) seamlessly enter and exit the United States.
Launched in 2015, CBX is a one-of-a-kind 390-foot-long pedestrian skybridge that, while complying with all U.S. regulations, connects ticketed passengers traveling through TIJ to and from a terminal — a standalone building — in San Diego. For $16 per person each way (or $30 roundtrip or $12 per person each way if traveling as a family), CBX allows passengers to avoid long lines at San Ysidro and Otay Mesa ports of entry and cross the U.S.-Mexico border in as little as 15-20 minutes.
Not only is CBX, a $120 million, privately funded project, providing TIJ travelers easier, more streamlined access to and from San Diego, it is also impacting the San Diego economy, according to CBX CEO Jorge Goytortua.
"In our first three years of operation, CBX saw five million users cross the bridge. Last year alone, we had 2.26 million users on the terminal," said Goytortua. CBX has seen a 30 percent to 40 percent growth since inception, he said, handling around 5,000 passengers on any given day. In 2018, the number of users grew by 18 percent, and, in 2019, Goytortua says he anticipates that figure will increase 20 percent.
Goytortua says the bridge sees three types of travelers: those of mostly of Mexican origin, who travel down from Southern California to parts of Mexico on break; the leisure customers who are traveling from Mexico to vacation in San Diego; and the VFR market travelers, also known as the "Visit Friends and Relatives" group, who travels back and forth between Mexico and the U.S. to visit family and friends. Some 250,000 to 400,000 CBX users came to San Diego to visit friends or on vacation in 2018, said Goytortua. He says 74 percent of total CBX users stay in the San Diego region.
"They rent cars, they rent hotel rooms, they eat at restaurants and go to the attractions," said Goytortua. "So, even though there is no firm number, the CBX bridge is certainly generating a heavy impact on the tourism activity here in San Diego."
Prev Next