WORKFORCE: GOAL IS TO CREATE WELL-ROUNDED LEADERS
Extension Programs Embraced By Cos.
Tuesday, June 25, 2019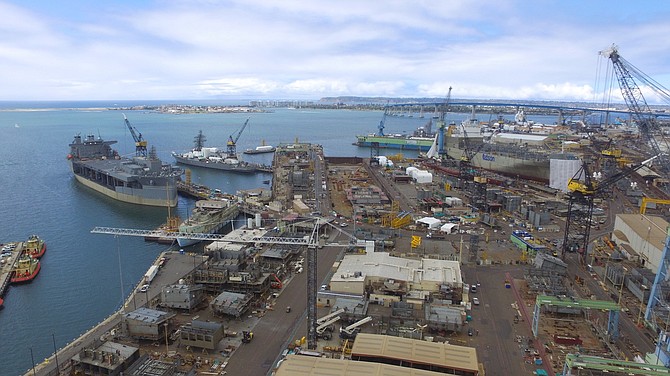 For more than three decades, San Diego's science and engineering companies have relied heavily on two University of California, San Diego Extension programs to help their managers develop business and leadership skills.
"They are a big part of growing our workforce," Treavor Callum, director of ships management at General Dynamics NASSCO, said of Executive Perspective for Scientists & Engineers (EPSE) and the Leadership and Management Program (LAMP). "You always are searching for leadership development options to help folks along the path. It's all about leadership."
Dee Wilson, vice president of engineering at General Atomics Aeronautical Systems Inc. said it is a good resource for GA ASI.
"UCSD has a world-class program we can utilize," he said.
For businesses to develop comparable in-house training programs it would be costly and inefficient, Wilson said. More than 2,500 management employees have attended the programs. EPSE and LAMP held their annual graduation ceremony last month.
The many companies that have sent employees through the programs include BAE Systems, Collins Aerospace, Hologic Inc., Illumina Inc., Northrop Grumman Corp., Qualcomm Inc., and Viasat Inc.
For Mid- and Senior-Level Scientists
EPSE's nine-month training program addresses the need for professional development among managers. It is designed for mid- and senior-level scientists and engineers with several years of supervisory and operational experience.
The five-month LAMP program teaches leadership skills to new and midlevel professionals who are assuming management roles. More than one-third of LAMP graduates soon are promoted to higher levels of responsibility.
The programs attract employees from both large and small companies. Because many businesses have reduced their budgets in recent years, they are leaning more heavily than before on the UC Extension to provide leadership training, said Tom Dorosewicz, EPSE and LAMP program director.
Mark Olsson, president and CEO of SeeScan and DeepSea Power & Light, said the programs show students how to view themselves as part of an organization. Sometimes scientists and engineers are focused on their own jobs when they should be thinking of ways to support the overall company, he said. "I think the program gives them a more effective toolkit for doing that."
The cost of sending an employee through EPSE is $11,900, while the cost of LAMP is $7,745. They are well worth the cost because of the skills and new perspectives their graduates bring back to the employers, Callum said.
So far about 1,500 people have completed the EPSE program, while about 1,000 have gone through LAMP. EPSE started in 1984, and LAMP began in 1986.
Prev Next