HEALTH: SAN DIEGO AT FOREFRONT OF GENOMICS INSURANCE COVERAGE
Catching Up to Care
Sunday, January 13, 2019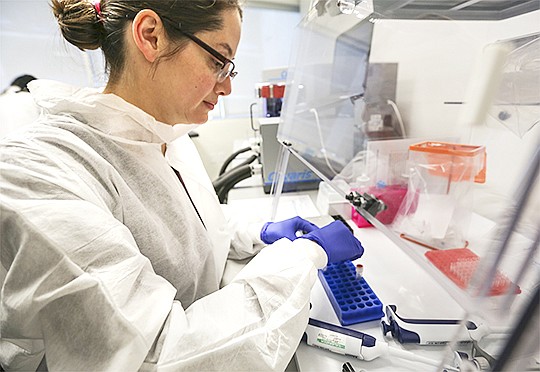 Ceaseless seizures took Kara Coltrin's newborn son to the brink of death. Then came a turning point: rapid genome sequencing.
The technology revealed key genetic markers, sparking new treatment at Rady Children's Hospital in San Diego. This saved her son, Coltrin said.
Rarely covered by private insurance, research grants and philanthropy have largely paid for Rady's high-speed sequencing. Now, there's a new funding source. In a first-of-its-kind pilot, the state program Medi-Cal recently began covering rapid sequencing of critically ill newborns at Rady.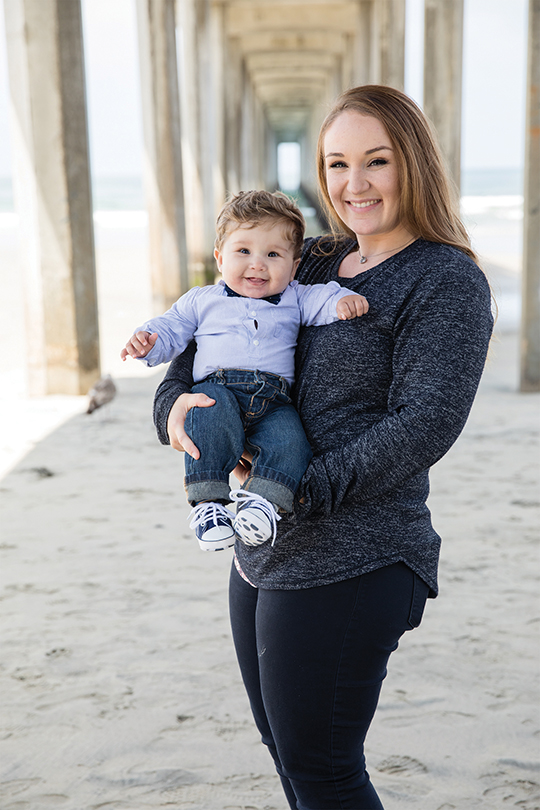 This pilot — called Project Baby Bear — could one day prompt government and private insurance coverage for these tests among babies with perplexing cases.
Push for Coverage
San Diego is playing a leading role in a push for wider insurance coverage of genomics, critical for broader adoption in clinical settings. Besides Rady, giant genomics company Illumina is vying to clear a path for insurance reimbursement of specific tests.

"San Diego is setting the way for the rest of the country because of the fact that you have Rady, Illumina and so many trained geneticists here," said Robert Kaplan with consulting firm Torrey Pines Health Group.
In addition, new companies at the intersection of insurance and genetics are emerging locally.
The state earmarked $2 million for Project Baby Bear, part of Medi-Cal, a health coverage program for low-income Californians. Rady is at the center. It will deploy quick-turnaround sequencing as a first-line diagnostic among 100 sick newborns enrolled in Medi-Cal at Rady Children's and three other hospitals in the state.
Time Is of the Essence
For babies in critical condition admitted to neonatal care, time is of the essence. But some don't have pronounced symptoms. Complicating diagnosis, random genetic mutations can cause a disease unique to the infant, not something a parent passed down.
Project Baby Bear builds on earlier Rady's research on high-end, whole-genome sequencing, which delivers results in days while standard genetic tests can take weeks. The idea is to reduce not only suffering, but expensive tests, surgeries and time in the hospital.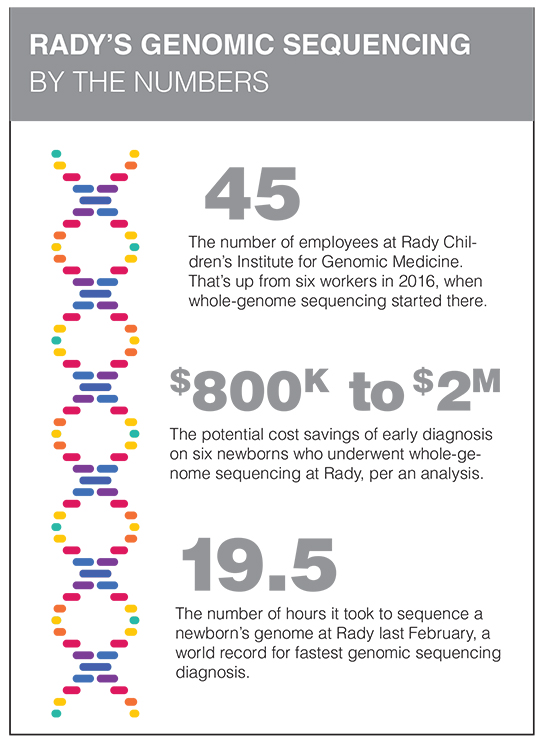 Per a study published last April, the Rady Children's Institute for Genomic Medicine performed whole-genome sequencing on 42 difficult-to-diagnose newborns.
Treatment significantly changed for 13 newborns. Eleven of them potentially avoided serious medical issues, while survival chances shot up for one, according to a paper published in NPJ Genomic Medicine.

The cost for sequencing the 42 babies was $674,654. In an analysis of six of the newborns, early diagnosis potentially saved between $800,000 and $2 million.
Prev Next