Trade Can Be Game-Changer for Small Businesses
Sunday, January 6, 2019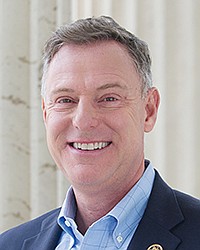 Small businesses — those with fewer than 100 employees — fuel San Diego's economy. They represent 98 percent of our firms and nearly 60 percent of our workforce. For a long time, the general narrative around supporting small business has been a call to action for people to "shop local." That's great, but it's not enough.
Every business needs customers to survive. Most small businesses sell to customers locally and across the United States, but compared with bigger San Diego companies, small businesses have limited access to global markets such as Mexico, Canada, Japan, and the U.K., which are San Diego's top trading partners. A recent survey of San Diego's small business ecosystem identified "attracting new customers (and) sales" as the most significant challenge these firms face. The same study found that only 21 percent of small businesses are selling internationally. The study was commissioned by the San Diego and Imperial Valley Small Business Development Center.
Higher Wages
World Trade Center San Diego (WTCSD) sees significant economic opportunities for San Diego businesses, connects them with new markets abroad, and encourages investment from foreign companies. According to the Brookings Institution, companies that go global pay higher wages, increase productivity within the domestic market, and are less likely to go out of business than non-global counterparts.
In November, we joined WTCSD on a trade mission to Japan, one of our region's top trading partners, to strengthen our economic and cultural ties. Nearly 12,000 San Diegans are employed by Japanese-based companies and Japan is a top export market for San Diego-produced goods and services. San Diego companies are also finding more opportunities in Japanese markets thanks to Japan Airlines' direct flight to Tokyo's Narita International Airport.
While the presence of major San Diego companies and institutions such as Qualcomm, Takeda, and UC San Diego helped make the trip a success, small businesses had the most to gain. From Oceanside, light manufacturer FoxFury to dermatology research company Tioga Research, our delegation created opportunities for small businesses to establish relationships with key Japanese business contacts. For one small business — Planck Aerosystems — the trade mission connected the company with potential customers and partners that it typically would not be able to access directly.
Success in Japan
During the trade mission, San Diego-based Scientist.com, the ninth fastest growing company in America according to Inc., announced the opening of an office in Tokyo in 2019 to support its growing Japanese business.
Prev Next