RETAIL: TECATE SITE HELPS COMPANY TO BE GLOBALLY COMPETITIVE
Taylor Is in Tune With Its Mexico Operations
Monday, December 30, 2019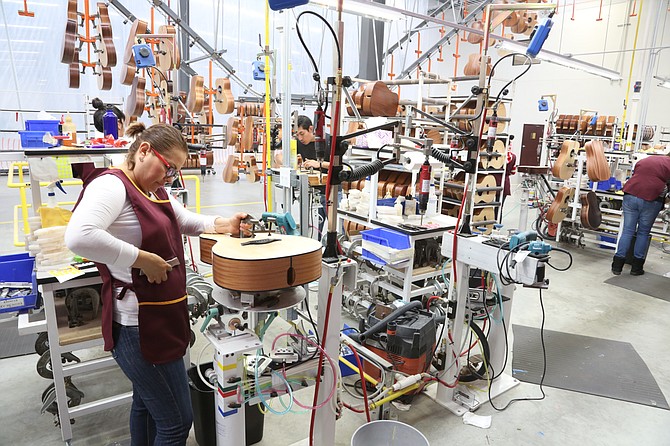 Operating a factory in Baja California, Mexico, for nearly two decades has helped El Cajon-based Taylor Guitars remain successful while expanding its line of high-quality guitars to reach a global market.
Business grew 17.3% between 2017 and 2018. The ability to leverage the cost of doing business in Mexico "has been an important strategic decision for our company, and one we're glad to have made almost 20 years ago," said Shaun Paluczak, vice president of human resources for Taylor Guitars.
By taking advantage of lower costs for labor and materials in the city of Tecate, Mexico, the privately held company has been able to produce more affordable models to reach a broader audience of consumers. "Profits are appropriately re-invested in the company to allow the steady growth that we have seen for the past 45 years," said Paluczak.
45th Anniversary
Oct. 15 marked the 45th anniversary of the company. Because it has built a reputation for making quality instruments, more affordable guitars made in Mexico must meet the same high production standards as those made in the U.S.
Opening the Tecate factory provided a way to better control production costs without sacrificing quality.
Before the company expanded into Mexico, "all of our guitars were pretty expensive," Paluczak said. "The Tecate factory is one of the reasons we can build guitars for consumers at a variety of price points that we couldn't before. Today we are building 550 guitars out of that factory a day."
By comparison, about 130 guitars are produced daily in El Cajon.
An Iconic Business
In addition to being one of the East San Diego County's largest employers, Taylor Guitars has become an iconic business for the region, said Jo Marie Diamond, president and CEO of the East County Economic Development Council. Civic and business leaders appreciate that the company has decided to keep its headquarters in El Cajon instead of moving to a location where it would be less expensive to operate.
The creation of the Tecate plant has helped things pencil out for the company, and that has benefitted the region's economy, said Diamond. "It enables them to better manage their supply chain."
'Globally Competitive'
Tapping into labor across the border has made Taylor "globally competitive in a way that would have been difficult if they had not made that choice," said Nikia Clarke, executive director of World Trade Center San Diego.

The city of El Cajon has become so closely associated with the business that it has erected street signs announcing that it is the home of Taylor Guitars, noted Rick Wilson, president and CEO of the San Diego East County Chamber of Commerce. Many people visit El Cajon simply to tour the Taylor Guitars factory. The benefit to the community is obvious, he said. "They employ a lot of people."
Prev Next