Executive Q & A - Jane Finley
Sunday, April 28, 2019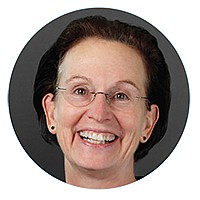 Hospitals are changing with the times, particularly with the introduction of new technologies, as well as a changing funding paradigm. Special Sections Editor Brad Graves, with the help of Health Care Reporter Jared Whitlock, asked several senior hospital executives about the advent of new technologies and approaches — in short, what we might expect from the hospital of the future. Here are their edited responses.
Jane Finley
Senior Vice President and Area Manager Kaiser Permanente San Diego
Q: Artificial intelligence is all the buzz in health care. How is your hospital using AI or how does it plan to do so?
A: AI is transformational. Kaiser Permanente actively evaluates how AI can help us improve the lives of those we care for. One example: in San Diego, Kaiser Permanente uses the da Vinci robot to provide minimally invasive surgery — improving outcomes and reducing complications. AI is also being used at Kaiser Permanente in the form of predictive analytics — specifically, a program called Advanced Alert Monitor, which uses algorithms developed by the Kaiser Permanente Division of Research. The program analyzes electronic health record data from Medical-Surgical inpatients; proactively identifies those with a high likelihood of clinical deterioration; and then alerts e-Hospital nurses who connect with Rapid Response care teams at the local medical center. Originally developed in our Northern California Region, this AI program is currently being spread across the organization.
Q: Health care is moving toward an emphasis on outcomes and value rather than volume. How is your hospital system preparing for this shift?
A: Quality care has always been Kaiser Permanente's driving mission. Unlike other hospitals, our integrated care delivery model does not rely on volume of patients for success. On the contrary, the healthier our patients are, the healthier our organization is. Kaiser Permanente's health plan, hospitals and 1,400 local Southern California Permanente Medical Group physicians work seamlessly to provide our patients the highest quality care possible — from wellness and prevention programs, to primary care, to specialty care in more than 90 specialties.
Q: From a business perspective, what's the greatest challenge and opportunity in San Diego health care right now?
A: The greatest challenge to health care today is affordability. Excellent health care means nothing if patients can't afford it. Despite the fact that health care cost trends are decreasing, health care is still too expensive. At Kaiser Permanente, we believe the opportunity is to improve cost trends by improving quality, expanding care delivery options and improving overall community health.
Prev Next