Insurance Cos. Find Telematics' Technology Can Be a Useful 'Underwriting Tool'
Wednesday, April 10, 2019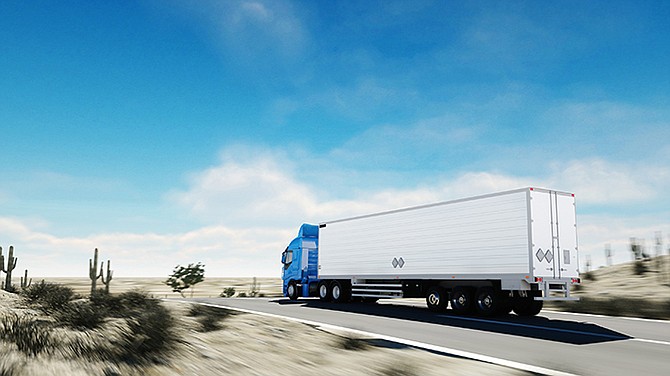 The phenomenon of telematics, where a computer monitors vehicle use with the help of sensors and wireless connectivity, is making itself felt within the insurance world.
Industry observers see it influencing claims. And as insurance costs increase due to a number of forces — more drivers on the road, a spike in distracted driving, larger legal settlements and the rising cost of auto parts — telematics has the potential to rein in costs.
Telematics "used to be a nice-to-have, and now is a foundational element," said Griffin Hicks , loss control consultant with Lockton Cos. Inc., an insurance brokerage based in Kansas City with a San Diego office.
Indeed, insurance is only one use for the technology. Telematics helps fleet managers track their far-flung assets and stay on top of maintenance and fuel expenses.
The technology can help companies running fleets of vehicles, from company cars to 18-wheel trucks and all things in between. "It has a positive impact. It lowers the risk of drivers in fleets and ultimately impacts rates," said Julie Gasper, risk consultant in Marsh & McLennan Insurance Agency in San Diego. Some users see a 50 to 70 percent decrease in collision frequency, she said.
The Technology
Such systems might employ GPS, G-force detectors, artificial intelligence, machine vision and predictive analytics.
"It's definitely an underwriting tool" — in other words, a tool for evaluating risk and determining pricing — said Byron Johnston, president of Teague Insurance Agency in La Mesa.
"Some carriers will apply a discount for utilization," he said, mentioning Boston-based Liberty Mutual Insurance.
In December, Ohio-based Nationwide Mutual Insurance Co. announced a formal partnership with Lytx Inc., one of several San Diego companies that offers a video-based telematics solution for businesses. Lytx serves long-haul trucking fleets, among other clients.
"Commercial trucking is kind of a rough environment to operate in," said Gary Flaherty, an executive with Nationwide.
Partnerships
Together Nationwide and Lytx are offering three free months of the Lytx DriveCam safety program if a client signs a three-year service agreement with Lytx.
Nationwide offsets part of the fees for the Lytx program, said Lytx executive Eliot Feldstein. "It helps fleets step on the escalator."
"We work with Nationwide to ensure that fleets are getting the most out of the program," he said, noting that it is one thing for a freight line to install technology; it's quite another to be sure that the hauler follows through with the program.
Lytx collects video of a driver's journey with a windshield-mounted event recorder. Its software uses machine vision and artificial intelligence to assess a trip over the road, and distinguish between normal and possible risky driving behavior. Tipoffs to the Lytx system include hard braking, sudden acceleration, swerving, cornering and excessive speed.
Video of any sort of risky incident (Feldstein calls them "teachable moments") is sent to Lytx and then forwarded to the company running the fleet. The driver's employer can use the video and data to coach the driver.
Other telematics vendors take take a similar approach, using technology to find unsafe practices and offering a support component that helps companies eliminate them.
Lytx has partnerships with other insurance firms that haven't been publicly named, said Feldstein, Lytx's senior vice president for corporate and business development.
Seeing Possibilities
Flaherty, vice president of commercial auto for Excess and Surplus specialty at Nationwide, is the person who negotiated the deal with Lytx. He said he became familiar with Lytx at a previous job.
The Lytx-Nationwide relationship is still new, he said, and he predicted it would evolve.
Gasper, the risk consultant with Marsh, recalled working for another employer in 2005 and signing up for a telematics program. It paid for itself in 13 months, she said.
She asserts that telematics can live up to its promise of making drivers better. Imagine a company has a great electrician, she said, "but he's not a great driver." Companies might sign up for a telematics-based driver coaching program, and justify the cost because the star electrician is "so hard to replace," she said.
"We really can change driving behavior," she said.
'Nuclear Verdicts'
Telematics is also a great claims management tool, Gasper said.
If a fleet vehicle and another vehicle collide, the party in the opposing vehicle might overstate the impact. Many telematics systems collect video of the incident; in fact, several vendors offer video from multiple cameras. The video helps the insurance carriers better assign blame, and in a best-case scenario, exonerate the fleet vehicle.
"If a picture is worth a thousand words, a video is worth 10,000 words," said Steve Bojan, an executive with Chicago-based HUB International Ltd. "It can be incredibly helpful."
A lot of people see a traffic collision with a major corporation's vehicle as a "payday," Bojan said, adding that in many of the states he visits, he see personal injury attorneys advertising to help people who have been in auto accidents. Courts and juries are awarding what the industry has dubbed "nuclear verdicts" in the tens or even hundreds of millions of dollars, said Bojan, who is risk services transportation practice leader for HUB.
Another San Diego telematics vendor, SmartDrive, said its systems have exonerated fleet drivers, including at least one agency that operates a light rail system.
Don't Ignore Data
Having data about a driver, however, can be a double-edged sword. If a company received alerts that an employee was traveling at 85 mph and braking hard, did nothing about that situation and then finds the driver has been involved in an accident, it might see liability, said Virginia Pajarito, department head for loss control in Lockton's downtown Los Angeles office.
The lesson for businesses, she said, is that such information can help you — but be ready to use the data you get.
Teague Insurance's Johnston said he serves local construction contractors who have telematics systems in their fleet vehicles. Such systems provide accountability for employees, he said.
Companies may think twice about installing telematics systems because of the recurring costs involved, said the La Mesa insurance broker. And to hear him talk, that's too bad.
Telematics is "not as widespread as it could be, or should be," he said.