BUILDING: CLARK'S EXPERIENCE ON FIELDS HELPS IT GET SDSU STADIUM DEAL
Clark's Experience on Fields Helps It Get SDSU Stadium Deal
Tuesday, April 9, 2019
Aside from his personal connection to SDSU, Gonzalez said the Aztec stadium project is especially significant for Clark Construction because of the larger role it has as the first piece in the redevelopment of the former Qualcomm Stadium site into an expansion of the university.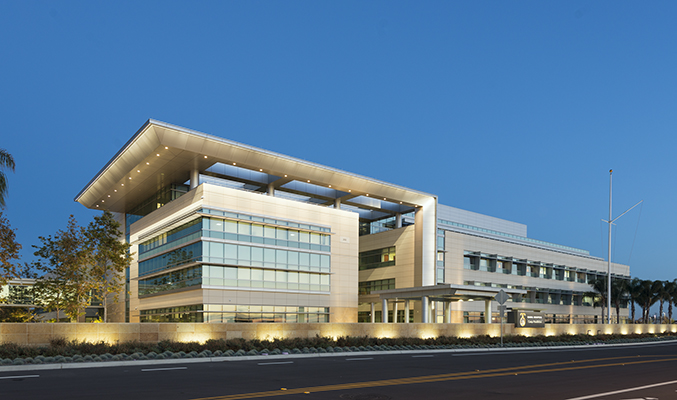 Sports Savvy
When SDSU announced that Clark Construction had been chosen as the general contractor for the stadium, Director of Athletics JD Wicker said the company was "a great fit to build San Diego State University's new multi-use stadium and the future home of Aztec football," adding that Clark Construction had "significant expertise building large, multi-use stadiums."
Details on the design of stadium project are still being worked out, but Gonzalez said the goal is to have the stadium ready for the kickoff of the 2022 Aztec football season.
"A stadium of this size and capacity in San Diego is well within our wheelhouse," Gonzalez said. "Our company has a wealth of sport experience."
Among its signature projects were a $180 million deal as the general contractor on FedEx Field for the Washington Redskins National Football League team, an $86.5 million contract for the Fresno State University arena, a $50 million contract for renovation of the Rose Bowl and foundation and super structure work on M&T Bank Stadium for the NFL's Baltimore Ravens.
"We are able to bring all of the lessons learned and knowledge from doing sports projects throughout the country," Gonzalez said.
In addition to the stadium deal, Clark Construction built a new student residence hall at SDSU for 850 students that includes a 15,000 square-foot community dining hall.
The company also lists UC San Diego as a major client in San Diego County.
That, too, is a personal connection for Gonzalez, who earned a master's degree in business administration from UC San Diego's Rady School of Management in 2007.
At UCSD, Clark Construction is the general contractor on the $608 million North Torrey Pines Living & Learning Neighborhood.
Vice Chancellor Eric Smith gave Clark Construction high marks for its work at the university.
"We're very happy with the entire team. Clark's the leader of the team and we're very happy with their performance to date," Smith said. "Things are on schedule and we've got a great team over there."
Others on the Living & Learning Neighborhood project include HKS Architects and Safdie Rabines Architects.
Clark Construction, in a joint venture with McCarthy Building Cos., also built the new Naval Hospital Camp Pendleton.
A.O. Reed & Co. worked with Clark Construction as a subcontractor on the hospital and other projects, including Petco Park, a Navy housing project and the UCSD Living & Learning Neighborhood.
Team Atmosphere
"For me personally, I'm very proud to be part of the Camp Pendleton project. I like driving by and knowing that we provide our military a great facility under budget and beat the schedule," said A.O. Reed President David Clarkin.
Clarkin said he likes working with Clark Construction because of the team atmosphere the company has.
"Their approach is not an 'us and them.' It's a 'we,' meaning if there's a problem, we have a problem and we're going to work it out together," he said. "They also surround themselves with people that are professionals."
Real Estate reporter Ray Huard may be reached at rhuard@sdbj or 858-277-8904.
Prev Next