TECH: INFRASTRUCTURE, TALENT AND LOWER COSTS DRIVE GROWTH
Autonomous Vehicle Scene Accelerates in S.D.
Wednesday, April 3, 2019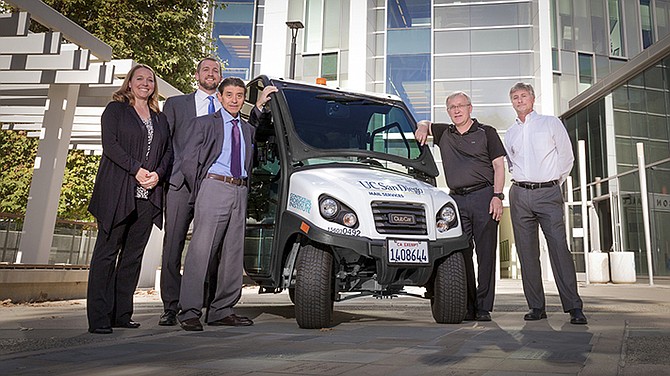 He also said it made recruiting a bit easier. The company is currently hiring for seven engineering positions.
"The tech scene (in San Diego) is definitely rising. If you work in a startup in San Francisco, your salary isn't the same salary that you make at big tech companies, Google and Facebook," he said.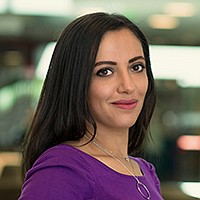 'Opportunities to Be Creative'
Driving down Interstate 15, you might be able to spot one of Qualcomm's self-driving cars. Fadoua Chafik, a senior staff engineer at Qualcomm, is part of a growing team at the company building out technologies that make vehicles smarter.
Since Chafik joined the company, she worked on Qualcomm's first product in infotainment, which supports the systems in cars' dashboards used for navigation, music and other tools. Now, she helps define which silicon technologies Qualcomm will use for its future automotive products.
In the last three years, Chafik said, the segment has grown. Though infotainment is still a big part of Qualcomm's work, the company is also dedicating more resources to its C-V2X (connected vehicle-to-everything) technology. The company hopes C-V2X will reduce accidents in the short-term, and support autonomous driving in the long-term by allowing cars to communicate directly using cellular technology, as well as gather information from smart infrastructure, such as connected traffic lights.
"It's really changing," Chafik said. "It's exciting because it's also a business for Qualcomm that is growing, so we have a lot of opportunities to be creative."
Building a Testing Ground
At the other end of the equation, across San Diego County, cities are starting to build out infrastructure that can support self-driving cars. In Chula Vista, for example, the city has deployed 29 intelligent traffic signals along main thoroughfares Telegraph Canyon Road and H Street as part of a strategic action plan the city adopted in 2017. The lights can adjust their duration based on traffic patterns, and will be able to "talk" to vehicles equipped with new technologies to warn them of an approaching red light.
"When you talk about smart cities, it can't happen in a vacuum," said Dennis Gakunga, chief sustainability officer for the city of Chula Vista. "This technology is a prerequisite to the vehicle-to-infrastructure technology of the future."
But the technology isn't limited to the roads. At UC San Diego, a team of 15 students is also programming two mail delivery carts. Some of them are working on intersection logic, while another group is training the system to recognize and avoid pedestrians on UCSD's busy campus.