FDA Fast-Track Designation for Cidara Therapeutics
Tuesday, September 25, 2018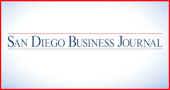 San Diego-based Cidara Therapeutics gained fast-track status from the U.S. Food and Drug Administration for its lead drug candidate aimed at preventing invasive fungal infections, the company announced Sept. 25.
The designation enables more frequent interactions with the FDA to expedite review of Cidara's Rezafungin. The drug is gearing up for a late-stage trial for patients undergoing bone marrow transplantation.
The company also announced that Rezafungin earned a spot on the qualified disease product, or QIDP, program in a second indication. QIDP allows priority review and, if Rezafungin is ultimately approved by the FDA, eligibility for an additional five years of marketing exclusivity.
"We now have the opportunity to expedite the development of rezafungin to address significant unmet needs both in the prevention of invasive fungal infections in immunocompromised patients undergoing bone marrow transplantation, as well as for the treatment of patients with existing severe invasive fungal infections," said CEO Jeffrey Stein.