Decision 2018: Mission Valley - Sports, Entertainment District At Core Of SoccerCity
Monday, September 24, 2018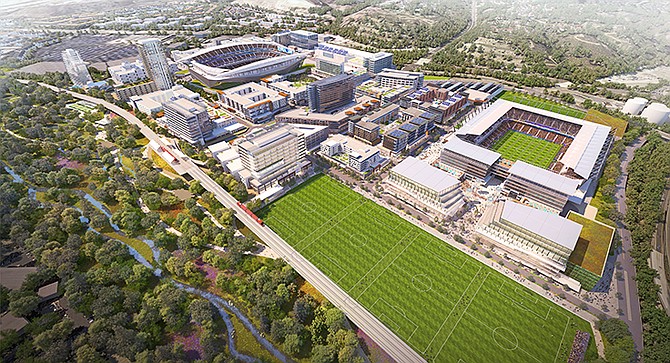 As its name suggest, soccer is the big draw in the SoccerCity proposal for redeveloping the Mission Valley site of the former Qualcomm Stadium.
"We're really good at running major sports teams out of the city. Here is a chance for a sport that is more popular in San Diego than in any other city in America. That's huge for the city," said Nick Stone, SoccerCity project manager.
"There's a degree of connectivity and excitement that comes from having great sports in a community," Stone said.
At the heart of the $3.5 billion to $4 billion SoccerCity proposal for a 99-year lease of the land is a plan to build a soccer stadium with the intent of luring a Major League Soccer team to the city.
The SoccerCity initiative — Proposition E on the November election ballot — covers 166 acres which make up the Qualcomm Stadium site, 20 acres of land on Murphy Canyon Road which was used as a training site when the Chargers were in San Diego, and about five acres of land north of the stadium site which would be used as a park.
Entertainment District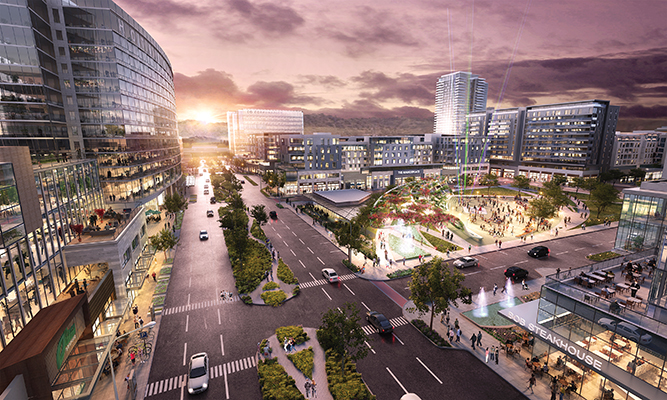 A central element to the SoccerCity plan is a 740,000 square-foot entertainment district that would include everything from movie theaters to a grocery store, restaurants, brew pubs and a fitness center.
"The point of that is, it is an area where people can come and congregate," Stone said. "We'll have a food hall as part of that," Stone said. "It serves the stadium, it serves the people who live on the site."
Plans also call for indoor and outdoor live performances in the district.
The entertainment district would be next to the stadium, away from nearby residential neighborhoods, Stone said.
"People can pour out of the stadium into a vibrant entertainment district," Stone said.
60 Acres of Parkland
Also in the plan are 60 acres of parkland along the San Diego River and Murphy Canyon Creek.
"We will actually buy and deliver a 60 acre park that goes up to Murphy Canyon," Stone said.
Included in the parkland would be six soccer fields and bike and walking trails around the site.
"We will construct them and maintain them — all of the parkland, for 99 years," Stone said.
Under the terms of the ballot initiative, SoccerCity would have to start developing the parkland within seven years.
"We have to start it no later than the completion of our stadium, and our stadium has to be done in seven years," Stone said.
Prev Next