Free History Lesson Comes With $39M Hotel Purchase
Sunday, September 23, 2018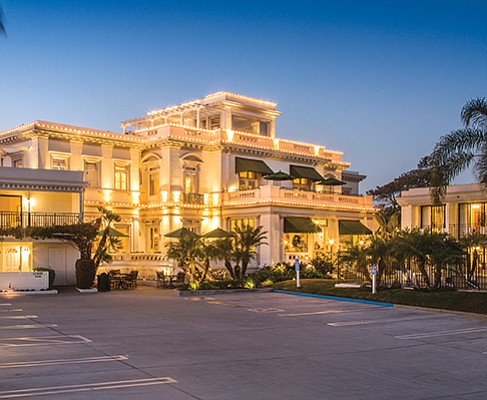 One of San Diego's most historic hotels — the 110-year-old Glorietta Bay Inn in Coronado — has been sold for $39 million to Kamla Hotels, a hotel management and development company based in the Los Angeles suburb of Cerritos.
"We are very excited to step in as the owner of this once-in-a-lifetime opportunity," Kamla CEO and Chairman Dev Patel said in an email.
"As for our plans for the hotel, we are still in our initial phase of evaluating the business," Patel said. "We do not have any plans for renovations at this time."
In San Diego County, Kamla also owns Pacific View Inn, La Quinta SeaWorld, and Travelodge La Jolla Beach, which Patel said the company is renovating and rebranding as "the much higher end" Shoal La Jolla Beach.
Alan X. Reay, president of Atlas Hospitality Group, brokered the sale of the Glorietta Bay Inn.
The inn was designated a historic landmark in 1977 by the Coronado Historic Association and any changes to it would likely require approval by the city Historic Resources Commission, said Gerry MacCartee, a former president of the Historic Association.
"It was originally the home of John D. Spreckels, who virtually owned Coronado," said MacCartee, who for the past 30 years has led historic tours of Coronado that start at the Glorietta.
"It's one of the most important sites in Coronado," MacCartee said. "Owners in the past have really retained the ambience of the house itself and for that, I think we're all very, very grateful."
The Glorietta Bay Inn is actually two structures — the original mansion built by Spreckels in 1908 with 11 guest rooms and an 89-room addition built later.
It's the Italian Renaissance-style mansion part of the hotel that is of particular historical significance because of its connection to Spreckels, who anchored his yacht in Glorietta Bay where he could see it from the veranda of his home.
"When you walk in, you can actually feel the historicity of the place," MacCartee said.
Among the attractions in the mansion is the music room, which has been restored to the way it was in Spreckels' day, and a brass and marble staircase leading upstairs to the guest rooms.
"It really is something to see," MacCartee said.
At one time, a tunnel connected the mansion to the Hotel del Coronado across the street, enabling Spreckels to have his meals sent over from the hotel.
"It's a fun fact that he had that installed," MacCartee said.
The tunnel has since been bricked up.
The Glorietta also was the first all-electric house in Coronado.
"That's because he (Spreckels) could hook it up to the hotel across the street," MacCartee said.
When the Glorietta Bay Inn was last sold in 1975, "We were very lucky. We escaped someone that would come in and completely redo it and they didn't. Hopefully, it's going to stay that way."