ECONOMY: S.D. WORKERS NO. 1 NATIONALLY IN PAY DISSATISFACTION
Workers Feel Something Is Missing in Paycheck
Tuesday, September 18, 2018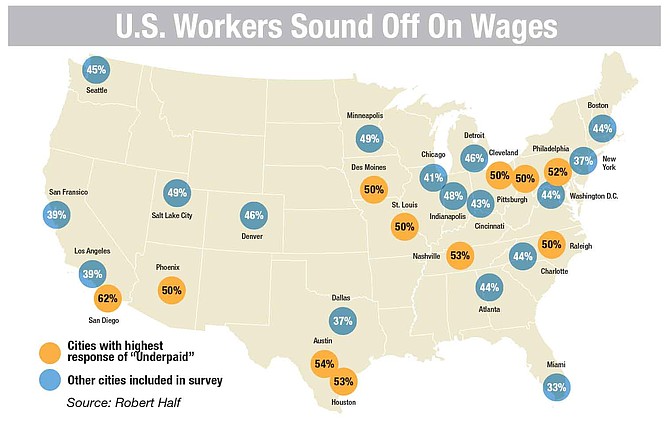 San Diegans feel the warmth of the sun on their backs, the soothing onshore breezes and a definite lightness to their paychecks.
In other words, they feel underpaid.
The Robert Half staffing firm recently asked 2,800 people nationwide whether they felt overpaid, fairly paid or underpaid. Nationwide, 46 percent of respondents said they felt underpaid.
However, the largest number of respondents saying they felt underpaid came from — you guessed it. Some 62 percent of San Diegans responding said they felt underpaid.
Denizens of Austin, Houston, Nashville and Philadelphia were also most likely to call themselves underpaid. Only 39 percent of respondents in San Francisco and Los Angeles reported feeling underpaid.
There are several factors behind the poll numbers.
Cost of Living
The cost of living in San Diego certainly contributes to the feeling, said John Asdell, San Diego's regional vice president for Robert Half. Wages have grown but have not grown "anywhere near" the cost of real estate and rental housing, he said.
San Diego's median home price of $645,000 is the second highest in the nation, behind only San Francisco. The figure, from the second quarter of 2018, grew 6.6 percent from the previous year, according to data from the National Association of Realtors, reproduced by the San Diego Regional Economic Development Corp.
As for rents? In September, the median rent for a two-bedroom apartment in the city of San Diego was $2,030, compared with the national average of $1,180, according to ApartmentList.com. Rents within San Diego city limits grew 0.7 percent in the last year, whereas rents in outlying areas (notably Vista and San Marcos) grew faster (2.8 percent and 2.9 percent in the last year).
Robert Half's Asdell described a situation where quality of life does not increase as wages grow, producing unhappiness.
Higher Wages?
A change might finally be at hand. Asdell said he expects salary gains in the next 12 months, as companies feel the pain of losing employees or not being able to attract them.
Local executive Phil Blair said he is finally seeing wage increases across the country.
Wages are a supply and demand phenomenon, said Blair, executive officer with Manpower San Diego, a staffing business. When a job is offered at a certain wage, and employers see a lack of interest or too much interest, they adjust the wage.
In a resort city, where quality of life is perceived as better than other cities, "employers don't want to pay as much," Blair said.
Alan Gin talks about the "San Diego Discount." The associate professor with the University of San Diego recalls sports pundits using the term when discussing San Diego Padres star
The late Hall of Fame player received higher offers to play elsewhere, but elected to stay in San Diego for less money.
Compensating Wage Differential
Economists have a term for it: the compensating wage differential. In plain English, it's the phenomenon where people get more pay when working in a dangerous or unpleasant environment, and less pay when working in an easy, comfortable or pleasant environment.
Gin said he sees the phenomenon in action: newly minted MBAs from his university take jobs in San Diego for less money, rather than taking higher-paying jobs in other cities.
There are other theories about why wages are lower in San Diego, the professor said. Labor from Mexico — whether legal or illegal — might be willing to accept lower wages. And San Diego's large population of military retirees, who have government pensions as a "cushion," will accept lower wages, he said.
Areas with hot job markets and hot real estate markets produced the most complaints of feeling underpaid, said Robert Half's Asdell. Austin, Houston and Nashville were like San Diego in generating unease about paychecks.
In a market where companies are seeing a lot of turnover, Asdell said, a typical worker will probably have someone within their network tell them they have gotten a new job for more money. That could easily make the worker unhappy with his or her own situation, he said.
It's important to note that people responding to the Robert Half survey were talking about emotion, said Asdell. "We're talking about feeling, not about facts."
An employer can address that feeling by having a conversation with the employee, he said.
Compensation Is King
Setting specific goals by specific dates might be a condition for getting a higher salary, he added, or a salary increase in multiple increments.
An employer might set compensation reviews annually, semiannually or even quarterly, he said.
However, while compensation remains key to retaining workers, employers have responded with perks other than higher wages, such as flexible schedules, training and advancement opportunities, and quality of life boosts, including wellness programs and helping with pet care services.
Salary Surveys
Robert Half released its research along with a set of national salary surveys.
For example, its finance and accounting salary guide listed the national average starting salary for chief financial officers as $121,250 on the low end and $497,250 for the most experienced candidate.
The national number must be increased by 27 percent to reflect the San Diego market. That would put a CFO's salary at $154,000 at the low end and $631,500 at the high end.
Salaries from the national average must be increased by 41 percent for San Francisco, and 38.5 percent for Silicon Valley.
Still, the "San Diego Discount" is a palpable feeling for workers in town, which the Robert Half survey appears to capture.