DINING: PLANT-BASED CUISINE AIMS TO TRANSFORM TYPICAL MENU AND THE WORLD
Plant Power Fast Food Taps a Hunger for Change
Monday, September 17, 2018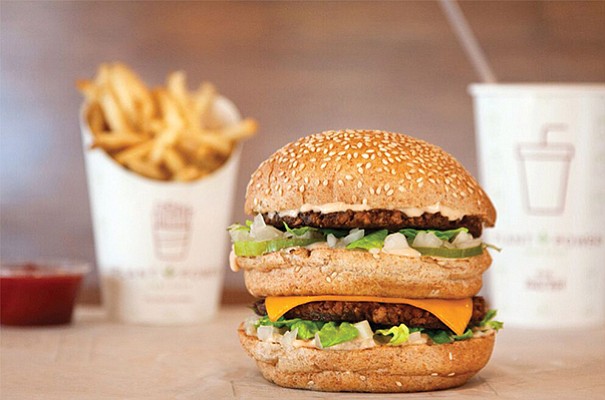 PLANT POWER FAST FOOD
Founders: Jeffrey Harris, Mitch Wallis and Zach Vouga
Revenue: First location approximately $1.9 million in 2017, projected to make $2.4 million in 2018; second location tracking to do $2 million this year (its first year)
No. of Local Employees: More than 100
Headquarters: San Diego area
Year Founded: 2015
Company Description: Fast-food chain restaurants based on GMO-free, plant-based foods
When Jeffrey Harris launched Plant Power Fast Food, the San Diego-based, GMO-free, plant-based restaurant chain, in 2015, his idea was not to cater to vegans and/or vegetarians — although they are surely welcome — but to offer a healthier alternative to omnivores in a space where it can have the most amount of impact on the most amount of people possible.
"This consumer need for healthier alternatives was exploding at record pace, but it was not being responded to in the fast-food industry," said Harris, adding that the industry in the United States is worth approximately $214.8 billion in 2018. "We saw a need to turn people on to the benefits of plant-based diets for their health, for the planet and for the world … We wanted to turn the paradigm upside down and give people GMO-free, plant-based fast food that looked, tasted and felt like the fast food that people are used to."
Original Funding
So, Harris and his partners, Mitch Wallis and Zach Vouga, raised capital from people in their personal and professional circles, including smaller investors and venture capitalists, and other groups that were committed to veganism and animal rights causes, and opened the first corporate Plant Power Fast Food in January 2016 in Ocean Beach.
Its first year, the location made approximately $1.1 million; in 2017, it brought in just under $2 million, and this year, it is projected to make nearly $2.5 million in revenue. A second location opened last year in Encinitas, and that shop is tracking to make its first year what the first location made in two years. A franchised location opened in Redlands in late August and was expected to make more than $180,000 in its first two weeks of operation.
A fourth location will be opening in Long Beach in November. "After the first two, it wasn't difficult to raise money for our next one."
Commissary Kitchen
Plant Power makes all of its foods fresh daily, and because of the high-demand, its burger patties and "chicken" products, as well as all sauces, are now made in a commissary kitchen that opened about a month ago in Escondido. All of its ingredients are sourced from local farmers, natural foods distributors and a direct relationship with manufactures. The eatery offers burgers, fries, shakes, "chicken" tenders, and salads, among other options, and sometimes names them after well-known fast-food items like the Big Zac, which gets its name from McDonald's Big Mac sandwich.
The Ocean Beach location has what Harris calls the Sonic-style drive-up — not drive-thru — window and a kiosk for ordering, and food can be brought back to the car, or enjoyed indoor, in patio dining or for takeout. The Encinitas location has a drive-thru and a walk-up take-out service option. All locations offer packaging, wrapping and straws that are made of recycled plastic or biodegradable plant products. And, the Long Beach location will be completely solar-powered.
Planning a Parent Company
Because of Plant Power Fast Food's early success, Harris says he and his partners are looking to form a new parent company, dubbed Plant Power Restaurant Group, which will help accelerate its growth beyond San Diego and California.
"We will do a Series A for that within the next few months with a goal of (raising) $7.5 million," he said, adding that while there are other vegan fast-casual chains like the Santa Monica-based Veggie Grill and the Chicago-headquartered Native Foods in town, this is the tip of the iceberg as far fast-food is concerned.