New Leader, Bigger Dry Dock Working at Shipyard
Sunday, September 9, 2018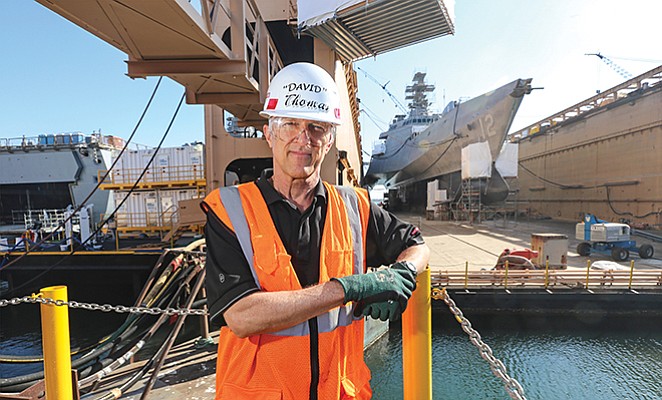 San Diego — A U.S. Navy career gave him a front-row seat to history. Now retired Rear Adm. David M. Thomas Jr. is tending to the fleet.
DAVID M. THOMAS JR.
Title: Vice president and general manager, BAE Systems San Diego Ship Repair
Alma Mater: U.S. Naval Academy
Charitable work: Board member, United Through Reading; previously a board member for Communities in Schools in Jacksonville, Florida
Bucket list: Hike the Appalachian Trail; paddle the length of the Mississippi River; hike the Pacific Crest Trail; sail to Tahiti and then to Pitcairn Island (the South Pacific island was the final destination for the mutineers on the HMS Bounty)
The 60-year-old Thomas took the top job at BAE Systems San Diego Ship Repair in January following the retirement of Bob Koerber.
As a Navy officer, Thomas was working at the Pentagon on the day terrorists attacked. Seven years later, the Navy assigned him to be commander of Joint Task Force, Guantanamo Bay, the command overseeing the detention camp at the Navy base in Cuba.
In his final job in the Navy, Thomas oversaw surface ships in the Atlantic fleet. After retiring, he followed the path of many flag officers and generals into a post-military career with a defense contractor. Going to work for BAE was a good transition, he said.
Thomas managed BAE's Jacksonville, Florida, and Mobile, Alabama, shipyards before becoming vice president and general manager of the San Diego yard.
Eight months into his new assignment, Thomas said he isn't planning any changes in San Diego. However, there is evidence the yard will be dealing with a greater volume of work than it did under Thomas' predecessor.
Dry Dock Investment
In late 2016, BAE Systems brought a new, larger dry dock to the yard. Named the Pride of California, the dry dock is the biggest in the state. With it, BAE gained the ability to support ships that formerly had to go to the dry dock next door at General Dynamics NASSCO.
BAE Systems' new, 950-foot dry dock was "a very deliberate investment on the part of the company," the general manager said.
As is typical in defense contracting, there is both cooperation and competition between BAE, NASSCO and neighbor Continental Maritime of San Diego (part of Huntington Ingalls Industries). Relations with the neighboring yards are "very collegial and professional," he said.
'Pivot West'
The second factor driving up the volume of work in San Diego is what Thomas called the Navy's "pivot west." The military is moving more of its ships to Pacific Ocean ports.
As general manager, Thomas has to strike a balance between sometimes contradictory goals.
He described his job as maintaining throughput — getting ships into the yard on time, providing the proper maintenance and modernization work, and getting them out on time. Additionally, he has to keep his Navy customer happy, particularly when it comes to readiness.
As he focuses on customer service, Thomas also has to maintain a safe workplace. Shipyards are dangerous places and safety is one of the main things the general manager preaches to employees. Similarly, once the work is done, the people in uniform need to train and sail safely, he said.
From the porch of his office recently, Thomas pointed out several ships in the yard for repairs, including the USS Pearl Harbor and USS San Diego — amphibious ships that carry Marines — as well as the cruisers USS Princeton and USS Cape St. George. The newly commissioned littoral combat ship USS Omaha was in the shipyard's older, smaller dry dock for its post-shakedown availability — a trip to the repair yard that commonly follows a first cruise.
The destroyer USS Howard sat in BAE Systems' new dry dock. Thomas commanded a similar vessel, the USS Ross, shortly after its 1997 commissioning. Seated in his office two decades later, he noted the Navy's ability to continually upgrade systems on its Arleigh Burke-class destroyers, including radar and missile systems. The Standard Missile 6, which the ships carry now, is able to reach satellites.
With 12 acres of land leased from the Port of San Diego, BAE Systems runs one of the largest ship repair businesses in San Diego County.
The Parent Company
Parent BAE Systems PLC is a diversified defense contractor based in the United Kingdom. Some 55 percent of BAE Systems' corporate revenue is actually in aircraft; some 25 percent is in the maritime domain. The business reported $24.7 billion in total revenue in 2017 and 83,200 employees worldwide.
Revenues at BAE's Barrio Logan shipyard were unavailable. The corporation reported getting $607 million worth of firm orders for its four U.S. shipyards during the first half of 2018. San Diego County's gross regional product related to shipbuilding and repair was approximately $1.3 billion in 2014, according to a recent study conducted for the civic group San Diego Military Advisory Council, or SDMAC.
BAE Systems San Diego Ship Repair employs 1,270 full-time employees and 480 temporary workers, for a total of 1,750 people on the payroll. With Navy personnel, contractors and vendors, the number of people passing through the shipyard gates swells to 5,000.
Environmental Considerations
Thomas takes on his new job as the shipyard's Barrio Logan neighborhood is changing. The redevelopment and gentrification of East Village seems to be coming south to this industrial, working-class neighborhood. Longtime Barrio Logan residents are demanding cleaner industries.
Thomas said the shipyard is part of the neighborhood — and he is too, noting that he doesn't live too far away.
A tour of the shipyard shows off things the industry must do to comply with California environmental laws. For example, there are collection systems that keep toxic materials out of the storm water following the first rains. Gray ships are wrapped in white tarps to keep paint dust and chips in check.
The point of the environmental laws is not lost on Thomas. The son of a Navy submariner and a schoolteacher, he recalled having books around the house and picking up Rachel Carson's "Silent Spring" at age 10.
Speaking of family, Thomas and three of his four brothers went to the U.S. Naval Academy. His other brother joined the Peace Corps. The common denominator was service, he said.
Thomas offered few recollections of the Pentagon on Sept. 11, or Cuba in its aftermath. The conversation about Sept. 11 did not move on to other topics, however, before Thomas noted in a soft voice that good people lost their lives that day.
Lessons in Planning
At the Pentagon, he had been taking part in the Quadrennial Defense Review, an exercise in looking ahead and planning for the threats the Defense Department might face in the future. Eighteen months of planning changed in a single day, Thomas said; he spent the next 18 months contemplating a new world.
Thomas' uniform from Sept. 11, with burns and rips, is now in the collection of the Smithsonian.
When talking about Cuba, Thomas preferred to discuss relief efforts in Haiti following the major earthquake of January 2010.
Haiti's constrained airport was not much good for bringing in relief supplies, the retired admiral said, so the Navy used high-speed ferries to deliver relief. Guantanamo Bay and Port au Prince are separated by only a couple of hundred miles.
Thomas recalled the Haitians he met as resilient. "I've never met a harder-working, more family-oriented people," he said.
Today, Thomas has three young adult children. His wife remains in Florida but will arrive in San Diego soon. A Washington Nationals fan, Thomas took in a recent Sunday afternoon game with the San Diego Padres.
By Thomas' account, he has had three jobs, including initial work washing dishes at the Ponderosa Steakhouse in Rockville, Maryland — the Washington, D.C., suburb where he lived as a teen. He still remembers his boss, Bob Stone, who did not sugarcoat bad news, demanded accountability and was willing to train people.
Then came a Navy career during an era of profound change.
Now he oversees a facility where colossal ships are hauled out of the water and thousands of people tend to them. The camaraderie and sense of mission he found in the Navy are still part of his workday.
"I've got the coolest job outside of uniform," he said.