REAL ESTATE: PROJECT COULD SPUR REDEVELOPMENT
Poway Hitches Downtown Vision to Outpost
Tuesday, September 4, 2018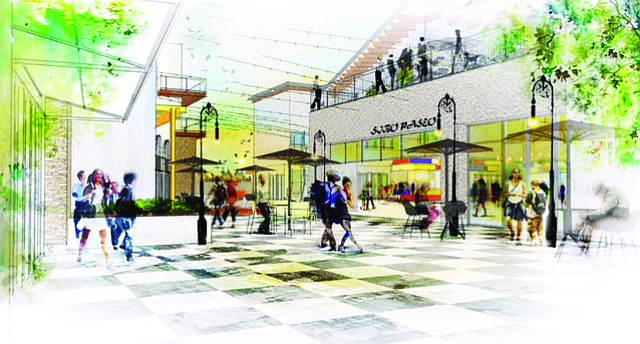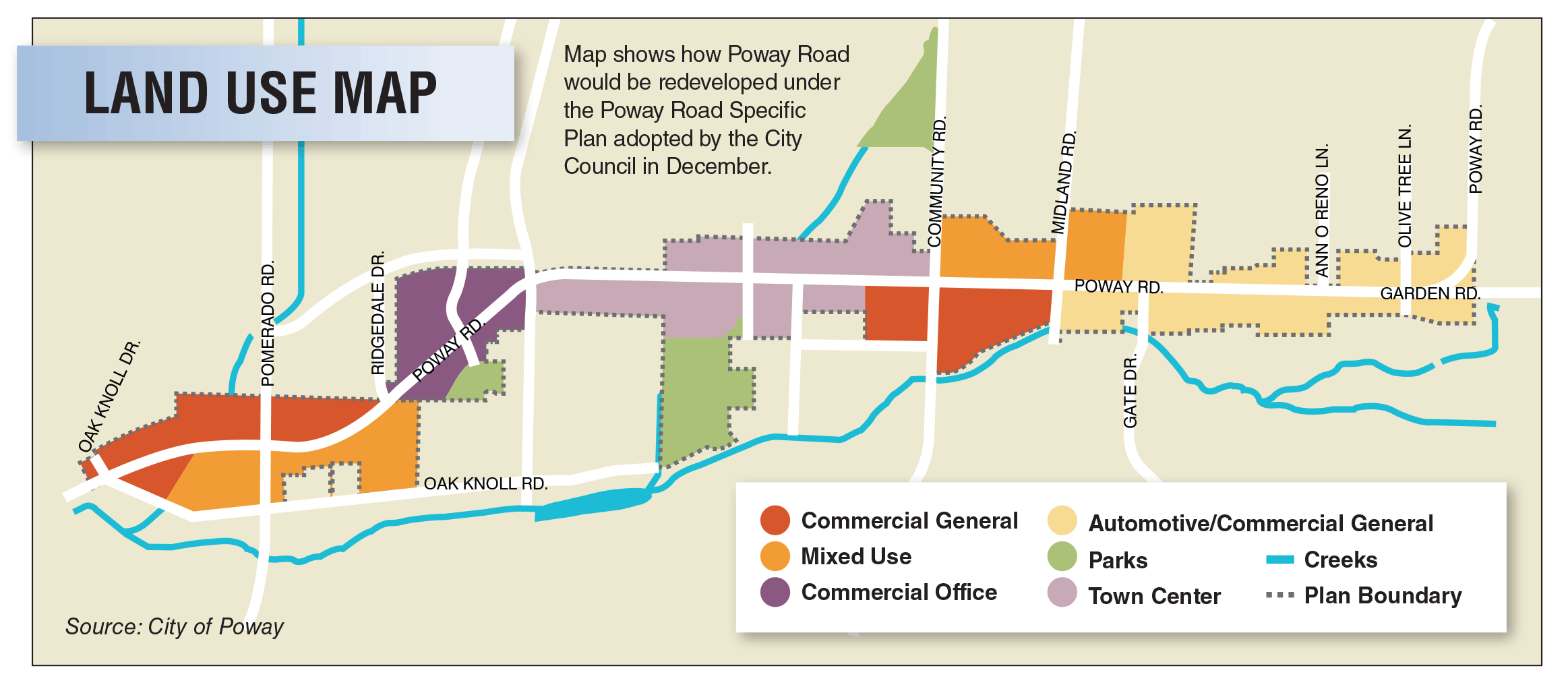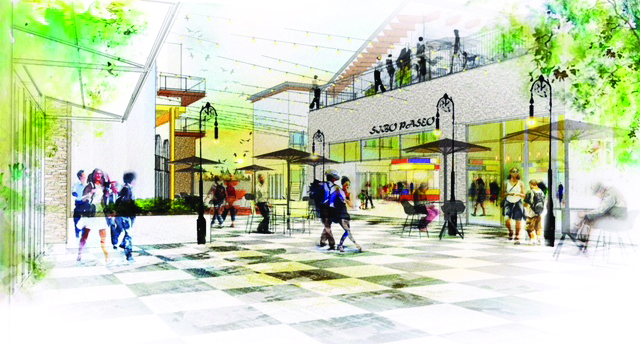 San Diego — A $35 million mixed-use development on Poway Road that will include a food hall, apartments, townhomes, retail space and a fitness center is the first of what the city hopes will be many such projects to transform the thoroughfare from a row of strip shopping centers to a walkable downtown center with moderate-priced housing.
It is the first project being developed under a set of rules adopted by the city in December – the Poway Road Specific Plan.
The developer is a Canadian company – Capexco Inc. – which has regional headquarters in Poway. The project was designed by AVRP Skyport Studios, and KD Stahl Construction Group is the general contractor. Both companies are based in San Diego.
"It's really trying to create a meeting and gathering place which Poway doesn't have, this sort of area where you can see people and mix," said Trent Claughton, president and CEO of Capexco.
"This is taking the strip out of the mall and making the parking subsurface so it becomes very much a people-focused development where people can connect," Claughton said. "One of the challenges in Poway is it has an amazing school district, it has a very high median income for San Diego and large estate homes, but there aren't a lot of options for people who want to downsize or kids who have grown up in Poway and want to stay in Poway."
Named "Outpost" in a nod to Poway's history as a ranching community, the project is on a nearly 1.6-acre site at 13247 Poway Road just west of Community Road that was formerly home to the Poway News Chieftain newspaper and Poway Irrigation.
Outpost will consist of three buildings, including a 30-foot-tall, two story structure with a 20,000 square-foot food hall on the first and second floors and a 6,500 square-foot patio on the top floor.
A second two-story, 30-foot-tall building will include four two-bedroom live/work units and two two-story lofts.
The third building at three stories and 38 feet in height will include a 20,225 square-foot Crunch Fitness center, 33 two-bedroom apartments and four two-bedroom apartments.
Parking for 329 vehicles will be below ground, with an additional four ground-level spaces.
The food hall will have up to 15 vendors including 3 Local Brothers Group founded by Poway native Grant Tondro.
"It's an opportunity to really create something that attracts young entrepreneurs and restaurateurs who would otherwise go to San Marcos or other areas that have invested in urban development or mixed use development," Claughton said. "We're kind of creating a place that was missing in Poway."
The buildings that make up Outpost will circle a central promenade with walkways between the buildings.
Construction started with a groundbreaking Aug. 20 and should be finished in fall 2019.
Vision is Live-Work-Play
The idea is to create a live/work/play neighborhood in Poway.
"You see it in other areas of San Diego and it's done very successfully," Claughton said. "This is (designed) to bring that type of living to Poway."
Poway Mayor Steve Vaus said the city has long dreamed of creating a town center.
"This project will be a catalyst for achieving that goal," Vaus said. "Outpost will offer new places to live, work and play while helping fuel the city's economy."
Bob Manis, Poway's development services director, said Outpost is a perfect fit for the guidelines outlined in the Poway Road Specific Plan for redevelopment of the 2.5-mile stretch.
"This is what we want to see," Manis said. "We encourage mixed use, a little higher density along the Poway Road corridor to kind of revamp it and give a facelift to the area."
Mid-Price Housing
Although Claughton said rents haven't been set yet for the residential portion of Outpost, the promise that it would include a mid-priced residential portion was an important element for the city.
In developing the new plan for Poway Road, "One of the things that people were bringing up during the workshops and public hearing process is there hasn't been much new mid-priced housing in Poway for years," Manis said. "Most of what we see are large, single-family homes in the other parts of the community."
Over time, the hope is Outpost and similar projects will link-up with interconnected sidewalks and streets to give the area more of a community feel.
"We don't want just a row of individual condominium or townhouse projects," Manis said.
Based in Calgary, Capexco's other projects include a 38-story residential tower at 10th and E Street in San Diego's East Village and a 31-acre mixed use AgTech & Life Sciences District in Calgary that will have more than 1,500 residents and a million square feet of restaurants, a satellite university and corporate, entertainment and research space.