Tax Changes, Easy Access Make Charters, Private Jets The Way to Go
Monday, October 29, 2018
The Trump administration's 2017 Tax Cuts and Jobs Act, which, among other provisions, allows private jet buyers to write off the full amount of their new or newly-purchased pre-owned airplane's cost on their tax return, is prompting the nation's wealthiest to drop large wads of cash for their own exclusive winged-digs.
"From an aircraft ownership perspective, regardless of anyone's political vibes, it is clear that this latest tax bill, which changed how airplanes can be depreciated, was a shot to the industry in a good way," said Casey Miller, president of Latitude 33 Aviation, which manages, charters and sells aircraft and is based in McClellan-Palomar Airport in Carlsbad. "Now that 100 percent of a new or pre-owned plane can be depreciated from day one of purchase, people are coming out of the woodworks saying, 'I have this tax liability looming over me; how can I alleviate that?' Our answer is, 'buy a new plane and offset that tax liability.' "
Adding to the Fleets
Thanks in large part to big local industries like biotech and the updated US tax code that allows 100 percent bonus depreciation for items such as aircraft, San Diego is seeing its share of uptick in the growing trend of purchasing and, subsequently, flying private jets. As a result, in early October, Latitude 33 Aviation, founded in 2006, added two new aircraft — a Phenom 300 and a Challenger 300 — to its 35 aircraft fleet, 14 of which are based in San Diego. Schubach Aviation, a Carlsbad-based jet operator founded in 1991, has 15 aircraft and also made some recent additions to its 15-aircraft fleet with the inclusion of a Challenger 350 and a Hawker 850XP. A Citation Latitude will be available in November.
San Diego State University accounting professor Steven Gill says the tax deduction is an added incentive for local businesses to purchase and/or fly via private jets.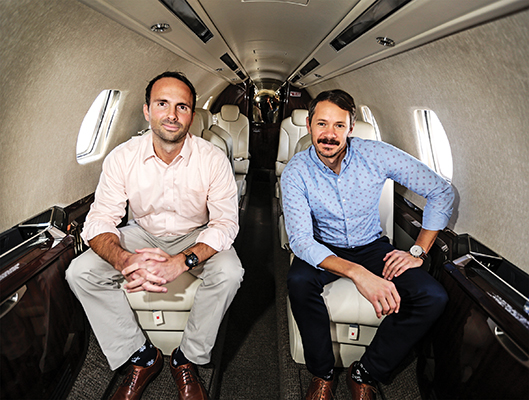 Business Decision
"Between security issues and timing, I can see a reasonable claim that having (a CEO) arrive at least one hour prior to the flight, stand in line at the TSA security and take off his shoes, deal with weather delays in a city across the country causing delays in arriving flights, is a good business reason for permitting corporate jets if the business reason can support that choice," he said. "This has always been true, it's just now the deduction is earlier."
Prev Next