PROPERTY: OCEANSIDE MADE ZONING CHANGE, ALLOWING DENSER PROJECT
Development Bringing 'Attainable' Single Family Homes
Sunday, October 28, 2018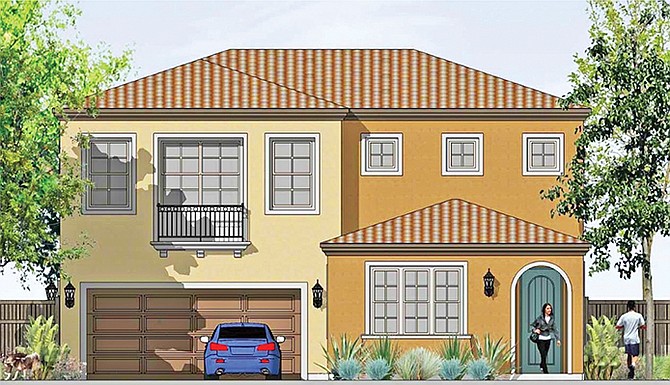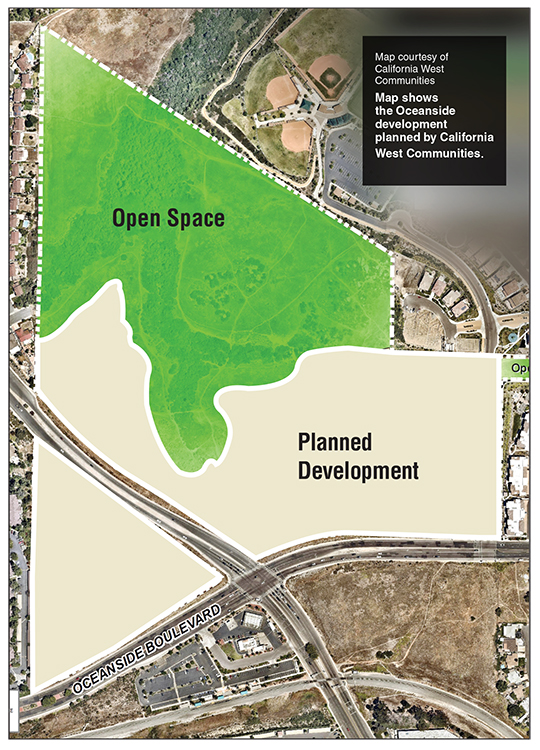 Commercial Spaces
There's also 20,000 square feet of commercial space on a 9.7 acre portion of the project on the west side of Melrose Drive at Oceanside Boulevard.
The first floor of the commercial space will be designed for retail use with offices on the second floor, Horne said.
Some of the townhomes will have 200 square-foot to 400 square-feet of space set aside as work-at-home areas.
"The person who buys the home can open up a small business, like tax planning or maybe a salon," Horne said.
A 32.6 acre northern portion of the site will be preserved as open space.
The overall project is divided into three planning areas — the 9.7 acre mixed use portion at the southwest corner, a 6.2 acre portion along Melrose Drive abutting the open space, and a 19 acre portion at the southeast corner bracketed by West Bobier Drive to the south, Sports Park Way to the east, Melrose Drive to the west and the open space to the north.
Plans are to start construction with site grading in 2019 and finish by 2022.
Among similar projects by California West is a 139-home development in El Cajon the company has dubbed "Main Ranch" on the site of a former Home Depot store.
Two-story homes in Main Ranch range from 1,504 square feet to 1,810 square feet and are priced at the mid-$400,000 range.
"The East County is just a fantastic market," Thorne said. "There's tremendous demand. People who grew up there stay there."
Construction of Main Ranch is underway with plans to finish in 2020.
Pricier projects by California West include Encinitas Enclave, an estate home community where prices start at round $2 million for homes ranging from 2,800 square feet to 3,250 square feet with up to six bedrooms, 5 ½ bathrooms and four-car garages.
In-Fill Focus
Focusing on in-fill developments, California West has built more than 35 projects in San Diego County since the company was formed 25 years ago.
With interest rates rising, the market for existing home sales has cooled in San Diego County and nationally, but Thorne said the effect on the market for new homes has been negligible.
"The traffic has slowed a little, but the sales rates are still consistently strong," Thorne said. "Across all the different product types, we're seeing solid demand. The entry level to move-up market seems the strongest right now."
With interest rates averaging at a little below 5 percent, "Those are still attractive rates," Thorne said. "There's a lot of different loan programs available."
Prev Next