Here's One Way to Get New Industrial: Demolition
Sunday, October 7, 2018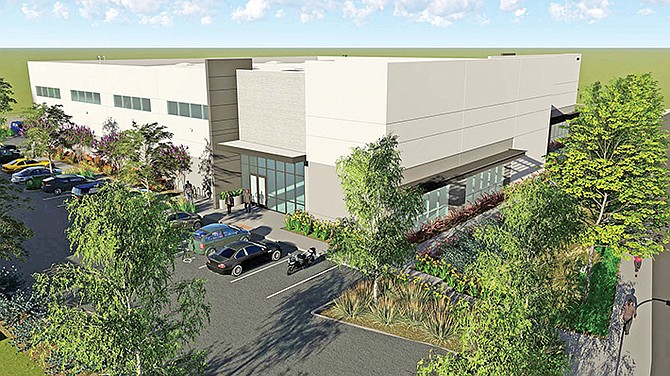 In a sign of just how competitive the market is for industrial property in San Diego's core city markets, a Kearny Mesa office building was demolished to make way for a spiffier new industrial building.
The building's owner, Pacific Southwest Mortgage Inc., said it just made more sense to tear down the older building and start from scratch than to spend money bringing it up to the standards tenants want to recruit and keep skilled workers.
"The office market is very competitive in central San Diego, but we felt long term it was more beneficial for us to create a new industrial building than to upgrade the existing office building," said John Mulvihill, president and CEO of Pacific Southwest Mortgage.
"There is a strong demand for Class A industrial product and there is a lack of newer, high-quality industrial users, especially in Kearny Mesa," Mulvihill said.
The three-story office building at 8840 Complex Drive was demolished by the Casper Co.
Bycor General Contractors will begin construction of the new building this month.
Designed by Ware Malcomb architects, the new building is expected to be finished in May.
It will feature multiple loading options, 24-foot clear-height, full drive-around access, ESFR (Early Suppression Fast Response) fire sprinklers and heavy power for the entire building.
"This is a significant project because it is the first time we have seen an office building be completely demolished and replaced with an industrial building," said Bill Dolan of CBRE. Dolan and Ryan Sparks of CBRE represented Pacific Southwest Mortgage.
Sparks said the market for industrial property is so tight that lease rates have reached all-time highs.
"We have already received a significant amount of inquiries and interest from perspective tenants for this new building," Sparks said.
Some Floors to Explore If Your Lifestyle Elevator Is Going Up
Looking for that perfect condo?
Zephyr has a deal for discerning buyers with hefty bank accounts in the $175 million project it's just finished – The Park, Bankers Hill.
More than half of the 54 flats — most of which come with their own elevators — and six two-story townhomes that the Encinitas developer built at 2855 Fifth Ave., were sold before the project was even finished.
Still on the market are condos selling for nearly $1.3 million to nearly $5 million, ranging in size from 1,550 square feet to 4,370 square feet.
The average price is a tad more than $2.8 million.
The less expensive model is on the fourth floor of the 14-story building that fronts Fifth Avenue and the most expensive is on the 13th floor.