2018 BEST PLACES TO WORK WINNERS: MEGA EMPLOYER CATEGORY (2,000 OR MORE U.S. EMPLOYEES)
Swinerton Strives to Build Both the Team and Community
Wednesday, October 3, 2018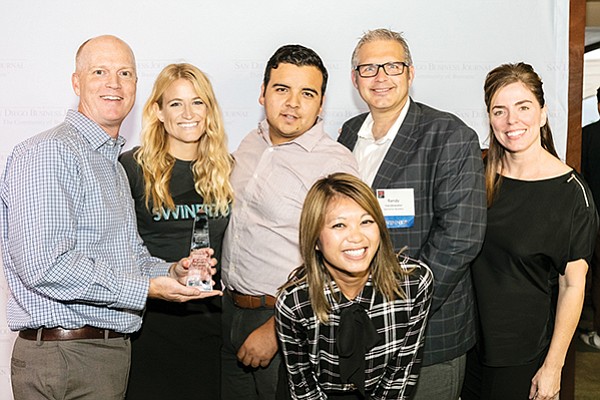 1. Swinerton
Top local executive: Mark Payne, VP and Division Manager
Address: 16798 W. Bernardo Drive, San Diego 92127
What they do: Commercial construction and renewable energy
For the third year in a row, Swinerton is taking home the top award for Best Place to Work in the Mega Employer Category.
"We're very proud of it," said Mike Berryhill, operations manager, upon receiving the award. "It goes out to all of our employees and the wonderful environment that everyone has created."
With almost 3,600 employees nationwide, Swinerton manages to be a mega-sized organization and yet friendly to the individual.
Commercial construction and renewable energy fill employees' workdays … but occasionally work takes a back seat. Employees organize in-office Ping-Pong matches and cornhole tournaments. Employees take time for monthly happy hours, outings to watch the San Diego Padres and the occasional party. The 92 Crew (that's the San Diego office's fun committee) recently staged a party featuring sumo wrestling in padded suits, among other attractions. And how many other San Diego employers have an office fishing trip?
Employee perks include catered lunch four days a week.
Those who would like to do good in the community can raise funds — beneficiaries include Susan G. Komen, American Heart Association and the San Diego Blood Bank — or take part in volunteer work at organizations such as PATH, San Diego Food Bank and Mama's Kitchen. The end of the year brings the Fall Giving Challenge, a competition between all divisions in volunteering and fundraising. Swinerton matches all contributions to all charities involved.
One notable initiative is Camp NAWIC, which introduces girls to careers in construction.
Swinerton, based in San Francisco, was founded in 1888. It now has 15 offices across the West and in Atlanta. The company's San Diego office, established in 1993, is now one of Swinerton's largest locations with more than 300 employees.
An employee-owned company, Swinerton annually awards stock to individuals who demonstrate significant contribution to the organization as well as an ownership mentality of accountability and quality in the workforce.
All employees are eligible for an end-of-year bonus … and there are bonuses given on the spot. The Swinerton Excellence Award differs from the annual award in that it can be given at any time to any employee as immediate recognition of outstanding efforts and demonstration of the company's core values in action.
Pride of ownership is a hallmark of Swinerton, which works to grow and maintain its own community while building for the community at large.
2. Sundt Construction Inc
Top Local Executive: Dan Dumke, Senior Vice President
Address: 1660 Hotel Circle N., San Diego 92108
U.S. Employees: 2,055
What They Do: General Contractor; Hq Is In Tucson.
This is the eighth year on the Best Places to Work list for Sundt, which has been employee-owned since its inception in 1890 and has consistently been acknowledged for its company culture. Sundt was the first construction company to receive CEO Cancer Gold Standard accreditation, recognizing its commitment to reducing cancer risk.
Each year all employees and their spouses have the option to participate in a health assessment, which includes a detailed health analysis and health goals. Those who participate have access to two medical plan options that are free to them. More than 50 percent of returning participants improved their health results between 2016 and 2017, including 59 participants who stopped using tobacco.
In addition to bonuses for employee referrals and flexible hours, the company pays for Sundt Sprint Days, one day each quarter in which each jobsite is given a budget to throw a little celebration.
3. Moss Adams LLP
Top Local Executive: Carisa Wisniewski,
Partner In Charge
Address: 4747 Executive Drive, Suite 1300, San Diego 92121
U.S. Employees: 2,921
What They Do: Accounting, Consulting And Wealth Management; Hq Is In Seattle.
This is the company's fifth time on the Best Places to Work list, and Moss Adams also has been honored in 2017 with the Green Office Award by Hines Investment Management for our sustainable practices, the Innovation in Diversity Award by Diversity Journal and 100 Best Companies by Working Mother Magazine to name a few.
Noteworthy benefits include 10 days of back up childcare through Bright Horizons and onsite weekend childcare during the busy tax preparation season. In addition to stress-reducing amenities like foosball and happy hours, the firm often has catered lunches and free Padres tickets. During busy times there also are 30-minute chair massages.
The San Diego office pioneered an onboarding program that has been adopted firmwide as a best practice.
In addition to a robust plan for health and wellness and time off, the firm offers employee referral bonuses, a profit-sharing plan and flexible hours.
4. Cooley LLP
Top Local Executive: Michael Attanasio, Partner In Charge – San Diego
Address: 4401 Eastgate Mall, San Diego 92121
U.S. Employees: 2,157
What They Do: Law Firm, Headquartered In San Francisco, With Local Prowess In Tech And Life Sciences.
Cooley's San Diego office, which boasted a voluntary turnover rate of only 8 percent in 2017, has an activities committee that plans social gatherings both in and out of the office for staff and their families.
Cooley is frequently recognized nationally for its work culture including Fortune's 50 Best Workplaces for Diversity, 100 Best Workplaces for Women, and Working Mother and Flex-Time Lawyers' Best Law Firm for Women in 2017.
The San Diego office hosts monthly happy hours and socials, and some employees wear jerseys and apparel during March Madness and other large sporting events.
The firm offers regular wellness seminars that promote a healthy lifestyle. The most recent was "Mindfulness Matters," which helped employees learn how mindfulness impacts health. Managers can hand out "Snooze or Cruise" certificates to recognize performance, which allow employees to "snooze" and come in two hours late, or "cruise" and leave two hours early.
5. RSM US LLP
Top Local Executive: Jerry Varga, San Diego Office Managing Partner
Address: 1455 Frazee Road, Suite 600, San Diego 92108
U.S. Employees: 10,451
What They Do: Audit, Tax And Consulting Services
RSM US LLP has made diversity in the workplace a key initiative and works closely with student chapters of diverse organizations such as the National Association of Black Accountants for recruiting. RSM in 2017 was named one of Working Mother's 100 Best Companies. It made that list in 2015 as well.
The San Diego office host events such as games and happy hours to relieve stress and promote a friendly work environment. During the busy tax preparation season they offer massages and additional child care reimbursement.
RSM also has a program called "Accolades" which allows employees to provide spot bonus awards to other employees in the form of points which can be used for gift cards.
The firm also has employer-sponsored Eldercare Assistance for employees with aging family members, such as transportation to medical appointments or meal delivery; securing of proper care and/or assistance facilities; information about financial resources; or counseling support for caregiver stress.