PROPERTY: DEVELOPMENT CO. ENTERS WITH PLANS, EXPERIENCE
Portfolio Buy Is Ticket To Life Science Sector
Sunday, November 25, 2018
A Boston development company — Longfellow Real Estate Partners — that specializes in developing life science campuses is establishing its first West Coast presence in San Diego with the $112 million purchase of 12-buildings in Sorrento Valley.
The company plans to convert the light industrial buildings into lab space, similar to what it's done in creating a technology park in Durham, North Carolina.
LONGFELLOW REAL ESTATE PARTNERS
Managing Partners: Jamie Peschel, Adam Sichol
Revenue 2017: declined to disclose
Projected revenue 2018: declined to disclose. Headquarters: Boston
Year founded: 2009
Number of employees: 55 and growing
Company description: Longfellow Real Estate Partners is a fully integrated real estate company that acquires and develops property for life science and technology companies.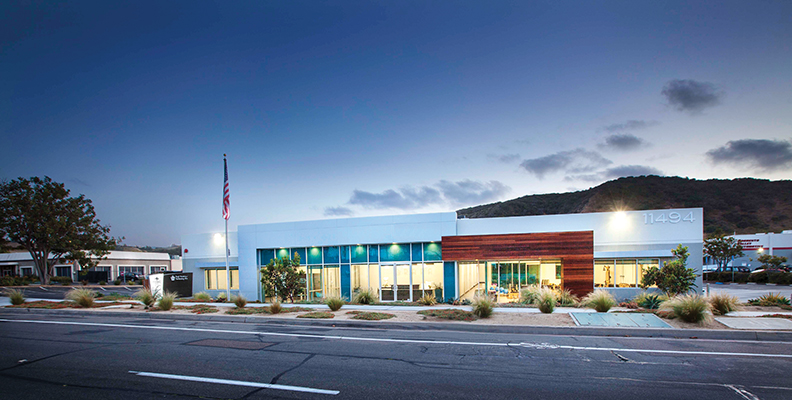 Under development by Longfellow Real Estate Partners in collaboration with Duke University and Measurement Inc., the Durham Innovation District is a 1.7 million square foot mixed-use project on a 15 acre site in downtown Durham.
Tenants include Duke Clinical Research Institute, Duke Molecular Physiology Institute, Sarah W. Stedman Nutrition and Metabolism Center, and Duke Innovation & Entrepreneurship Initiative.
"We focus on science and tech real estate," said Jessica Brock, managing director in Longfellow Real Estate Partners.
"Up to this point, it's been on the East Coast. We set our sights on the West Coast, looking at the market for the last 18 months," she said. "San Diego is a natural market. We're looking at expanding in San Francisco and San Diego right now."
Rare Opportunity
The Longfellow acquisition of the Sorrento Valley Property stands out because it is rare to have such a large number of buildings come up for sale at the same time, and because it is one of the biggest transactions in the county so far in 2018.
The other big sale of the year was the $170 million in October of 12 Carlsbad industrial and office buildings by RAF Pacifica.
Brock said that Longfellow plans to acquire an additional one to two-million square feet of California property over the next two years, focusing on San Diego and San Francisco.
"We really like Sorrento Valley, Sorrento Mesa, UTC and Torrey Pines," Brock said.
The company picked San Diego for its first West Coast venture because the city has a thriving life science community and the Sorrento Valley buildings gave it a strong entry into the market.
Lab Work
"It's really a very similar strategy to what we did to the research triangle park in North Carolina," Brock said. "We plan to convert a significant part of the property to labs as well as create a sense of place, add amenities and just upgrade the profile of the investments."
Longfellow Real Estate Partners bought the Sorrento Valley property, known as Inspire, in late October from Parallel Capital Partners of San Diego.
About 107,000 square feet of space in the Sorrento Valley buildings has already been renovated by Parallel Capital Partners, which spent about $10 million on improvements before selling the
property.
"The improvements we focused on were unconventional workspaces, spaces that in the past have not been used or even considered as spaces where staff could work from — think corridors, nooks and crannies or even an open space under the stairs with beanbags or sofas," said Matt Root, CEO of Parallel Capital Partners.
Collaborative Space
"We also created a lot of collaborative space, open space where teams can congregate to collaborate and are often equipped with comfortable, soft seating, whiteboards and screens with sharing capabilities so staff can easily share and collaborate," Root said.
Many interior walls were removed to provide an open environment "and also as a subtle means to promoting a culture of openness and transparency," Root said.
Brock declined to say how much Longfellow would spend on additional renovations, other than to say it is a "multi-million dollar" project.
She said details on the work would depend on what tenants want.
'Holistic Approach'
"We'll gather a group of architects, landscape architects and really try to take a holistic approach to our strategy there," Brock said. "What we like to do when we come into a market is create an ecosystem."
Parallel Capital Partners acquired the 12 buildings of Inspire in 2012 as part of a $63 million deal that included the 31,250 square-foot Herschel Building in La Jolla and the nine-building, 152,730-square-foot One Technology Place in Rancho Bernardo.
Combined, the 12 buildings Longfellow bought have 318,969 square feet of space, bringing Longfellow's portfolio to more than 3 million square feet of technology and life sciences space nationwide.
"Sorrento Valley is going through an economic renaissance that is driving a transition from one population of tenants to another, from R&D (research and development) to creative office and life science tenants," Root said. "Today, you are seeing some recognizable tenants move from traditional Class A markets like Del Mar Heights or UTC into the newly discovered submarket of Sorrento Valley."
Money In Life Science Sector
Grant Schoneman, managing director of the commercial real estate brokerage firm JLL, said "overall the life science market continues to be strong" in San Diego.
"There's a lot of money flowing into this sector," Schoneman said.
"We're in the single digits in the availability of space," Schoneman said.
Countywide, JLL in a recent report said the vacancy rate for life science space was 6.3 percent in the third quarter of 2018.
"The healthy flow of capital into the life sciences sector is expected to continue to fund growth in local companies and support increased leasing activity during the balance of 2018," JLL said in the report.
The acquisition of the Sorrento Valley property gives Longfellow access to tenants already leasing space in the buildings as the companies might look to expand.
"You can start relationships with life science companies early on and as they grow," Schoneman said. "The tenant relationship is important to these landlords," Schoneman said."
Parallel Capital Partners was represented by Nick Frasco, Nick Psyllos and Michael Leggett of HFF.
"The portfolio affords the ability to establish a meaningful presence in the nation's third largest life science market and capitalize on tremendous growth potential in the region driven by more than 1,200 biotechnology companies, 80 research institutes and more than 7,000 STEM (Science, Technology, Engineering and Math) graduates annually," Frasco said.