San Diego VCs Hit the Road in Investment Show
Sunday, November 18, 2018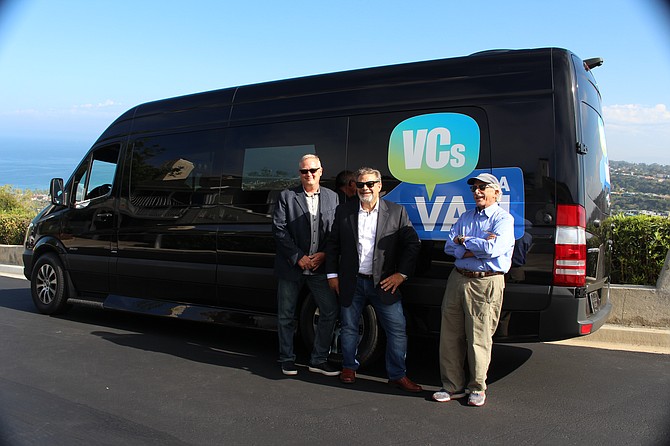 When most people think of startup funding, they think of "Shark Tank": short pitches, snap decisions, and fast-paced handshake deals.
But the reality of investing is far more time consuming, and less glamorous. That idea brought together four San Diego investors who sought to put a spotlight on the reality of investing in southern California.
Instead of watching pitches from a stage, local angel investor Mark Bowles and his colleagues had the idea to rent a sprinter van, meeting entrepreneurs in garages, at kitchen tables and incubators.
"In the real world, you go visit the company and meet the team, and get to know them more personally," he said. "These investments end up being close relationships after you put the money in. It's a best practice to get to know entrepreneurs and have them get to know you personally."
Bowles, and peers Neil Senturia, Tom Tullie and Taner Halicioglu just finished filming the first season of "VCs in a Van." The six-episode program will air on Cox Channel 4 starting Dec. 2.
Senturia is best known as the CEO of Blackbird Ventures, a fund that focuses on early-stage companies.
Tullie currently serves as chairman of San Diego voting startup Everyone Counts. He formerly served as vice chairman of EvoNexus and CEO of EcoATM
Bowles is an angel investor and serial entrepreneur. Among his many ventures, he's best known for founding cell phone recycling company EcoATM that was acquired for $350 million.
Halicioglu joined Facebook as a developer when the company was founded in 2004. Since then, he has started angel investment firm Keshif Ventures and invested in local tech and data science companies.
Collectively, the four looked at more than 20 early-stage companies, driving between Los Angeles and San Diego. The companies ranged from software-as-a-service platforms to agriculture and home products.
"Our only real perspective that we looked at was an interesting technology or an interesting approach to the market — something we could invest in that would make a difference," Tullie said.
He and Bowles brought their expertise in tech and semiconductors to the show. Bowles said he saw himself as a strategist, knowing how to build teams, build markets, and "divine as early on as possible whether a startup has any chance of success."
Tullie, for his part, focuses more on turning around companies and securing deals.
"I've bought 13 companies and sold four," he said. "Mark focuses more on the market side an I focus more on the business structure side; how to execute and make money in the long run."
The team also brings in experts to help startups outside of their areas of focus, such as consumer food and beverage companies. When the due diligence is done, and it's time to make a deal, the investors take equity, and sometimes board seats.

In addition to showing viewers a closeup of the investing process, Bowles said he hopes the series will put a spotlight on local startups and help draw investment to the area. Right now, the team is weighing the possibility of a second season, with ways for outside investors to join them in the funding round.
"We bring these deals out of the garage and put them on TV so potential investors can see it," Bowles said.

The show, VCs in a van, is directed by local producer Ken Gora.