PROPERTY: STRONG LABOR MARKET, SAN DIEGO'S POPULARITY STOKE MOMENTUM
CRE Markets Don't See Downside As Sectors Keep Flourishing
Sunday, November 18, 2018
Commercial real estate in general is booming in San Diego, with many brokers expecting a strong finish to 2018 in most sectors.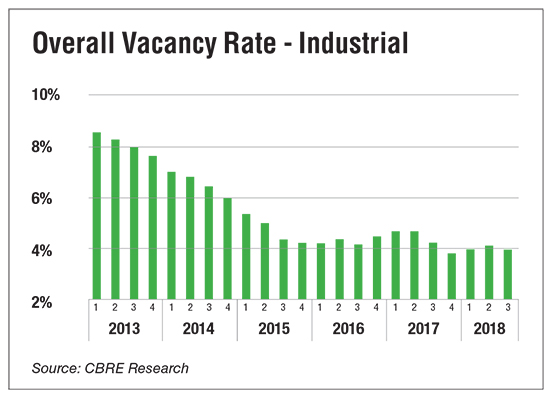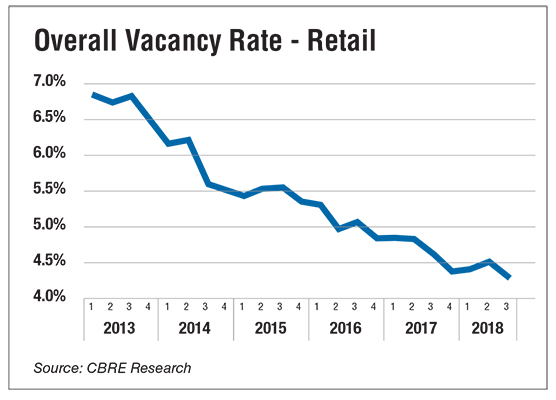 Demand for office, industrial and retail space is on the rise.
The exception is in apartments, where demand is strong among investors but there's limited amount of property to buy, said Darcy Miramontes, executive vice president of JLL in San Diego.
So far this year, investors have put $1.9 billion into multifamily projects, she said.
By year's end, that's likely to top $2 billion — still below the $3 billion recorded in 2017, Miramontes said.
"It's not for lack of demand. It's lack of available property for sale," Miramontes said.
The outlook is brighter in other segments of the commercial real estate market.
Office Construction
Colliers International reported that 2018 will end the year with the highest level of new office construction in the past nine years with eight projects under way totaling 11 million square feet.
Based on the performance through the third quarter of 2018, Colliers also predicted that by the end of the year, office rents sought by building owners will likely reach an historic peak and continue to rise by 2 percent to 3 percent in 2019.
JLL reported that industrial leasing activity in the third quarter was the highest in more than 15 years for warehouse and distribution and manufacturing big block spaces.
CBRE reported that San Diego's retail market "made a strong rebound" in the third quarter with the rental rates sought by landlords topping the record set in the previous quarter at $2.44 per square foot.
Strong Labor Market
"The strong performance of the commercial real estate market is not surprising given the positive numbers in the labor market," said Lynn Reaser, chief economist at the Fermanian Business & Economic Institute at Point Loma Nazarene University.
"Companies across a wide range of industries are adding workers and the jobless rate has fallen to just 3.2 percent in San Diego County. Companies' largest problem in many cases is finding qualified workers to fill open positions," Reaser said. "The robust performance in warehousing and distribution reflects the rapid growth of e-commerce. Office space strength reflects the expansion of biotech and other technology, as well as all of the business services, ranging from software engineering to legal services, to support those enterprises."
Raising some concern for the coming year are rising interest rates.
"These increases are already impacting home sales and are likely to affect commercial sales and new construction as well," Reaser said. "The boost from tax cuts also will fade. If the U.S. and China cannot agree to move towards an agreement on trade, a new round of higher tariffs could pose an additional constraint in 2019."
Warehouse and Distribution
E-commerce is likely to continue to support warehousing and distribution in 2019, Reaser said, adding that "some moderation in overall economic growth is likely to slow leasing activity in office, industrial and retail space."
Figures vary among commercial real estate brokerage firms, but most see 2018 trending toward continued growth as the year winds down.
Despite the closing of some big box operations such as Toys R Us, and the downsizing of Sears, retail is thriving in San Diego County, said Reg Kobzi, a senior vice president with CBRE in San Diego.
"Retail sales are up and I think that the retail apocalypse, I'm not going to say it's over, but its dwindling," Kobzi said.
Savvy companies have combined e-commerce with brick-and-mortar stores.
"You're going to see a bit more of an uptick in the retail next year as far as development goes. We haven't had much come on line in the last couple of years. Besides UTC, not a whole lot has come out of the ground," Kobzi said. "Things that have been in the pipeline are finally going to show. That's good, that's exciting."
They include One Paseo in Carmel Valley and Millenia Town Center in Chula Vista.
Chad Iafrate, a senior director with Cushman & Wakefield in San Diego, said so much retail property has already been snatched up in San Diego County that options are limited.
Retailers Seek S.D. Presence
"Everybody from a national retail platform seems to want to have a presence in San Diego. To the extent that they're already here in California, they want to grow their footprint in San Diego and it's more challenging to do so," Iafrate said.
Top retail submarkets are UTC, Carmel Valley and Del Mar, Iafrate said, where there is a pool of workers during the day and affluent residents at other times.
Brian Starck, executive director of Cushman & Wakefield in San Diego, said office demand has been especially strong for "highly amenitized projects that tenants are really gravitating toward."
For example, Starck said that with construction just about to start, One Paseo in Carmel Valley has already signed leases for about 100,000 square feet of office space and has prospective tenants for about an additional 100,000 square feet.
"That's a testament to our local economy," Starck said.
Life Science Funding
Adding to the demand for office space is the $1.7 billion of venture capital that Starck said has been invested in San Diego County life science companies through the third quarter, with expectations that it will reach $2 billion by the end of the year.
"Life science companies are now leasing functionally obsolete space, which is being converted to lab space," Starck said. "This trend is increasing space absorption and tightening the overall office and lab market."
Absorption is a measure of how much space is newly occupied versus space that was vacated. It's measured by deducting commercial space vacated by tenants and made available from total space leased.
Derek Applbaum, a vice president of Colliers International in San Diego, said he expects to see the Irvine Co. gobble up more office space in and near UTC.
"They have about 70 percent of the Class A office in UTC area," Applbaum said.
Central San Diego also has been a strong market for office space.
"I had three buildings that had space coming at the end of the year and I've leased everything out," Applbaum said.
The industrial commercial real estate market also saw a lot of action in the third quarter, with a fourth quarter likely to be very active, said Bill Dolan, a senior vice president of CBRE in San Diego.
"I don't think it will quite match the third quarter but we'll close out a strong 2018," Dolan said.
"The third quarter performed extremely well, as evidenced by the 1.6 million square feet of net absorption, which is the highest absorption in the business cycle post-recession."
"Year to date, we've already surpassed the net absorption for all of calendar 2017," Dolan said.
Evan McDonald, a first vice president of Colliers in San Diego, said he was "bullish on the market staying healthy for years to come."
"Heads down, moving forward is kind of the trend in the industrial CRE (commercial real estate) world," McDonald said. "It's an exciting time in the industrial sector, where e-commerce is driving expansion."
In Central San Diego, industrial vacancy is at record lows in some submarkets, McDonald said, such as Kearny Mesa, where he said vacancy is running at about 1.7 percent.
Bryce Aberg, executive director of Cushman & Wakefield in San Diego, said the amount of new construction of industrial space is at an all-time high and sales of industrial property are impressive.
"We've seen more sales in industrial than we've seen in the last decade," Aberg said. "We traded 3 million square feet in the last quarter. It's not just in one location; it's the entire county — north, central and south."
In the apartment segment, investors are generally getting pickier — focusing on newer projects that don't require major renovation work and in the core markets of downtown, UTC and Del Mar Heights, said Miramontes of JLL.
'Steady Annual Rent Growth'
"San Diego generally is a low transaction market but we're also a very steady market, so for that reason, we're sought after by investors," Miramontes said. "We have very steady annual rent growth. It's not robust rent growth, but it's very steady."
Added to the attraction that for the past six years, occupancy rates have been running at about 96 percent, Miramontes said.
Looking ahead, Miramontes said finding multifamily investments is likely to get more challenging.