PRODUCTION: BATTERY MAKER INCREASES REVENUE, MONITORS TARIFF SITUATION
Power-Sonic Charges Ahead After Acquisition
Tuesday, November 13, 2018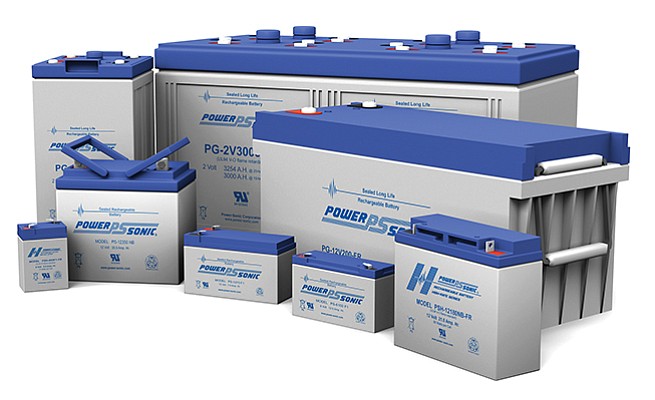 Like any good salesman, J.D. Johnson reacted when he heard on the early morning news that Lime was having trouble with its scooter batteries.
Johnson texted Lime at 5 a.m. with an offer to diagnose a problem that cropped up on a small percentage of scooters: Their batteries smoldered and had the potential to catch fire. Lime found the problem in August but made its recall public in late October, when Johnson pounced on what he saw as a
potential opportunity.
POWER-SONIC CORP.
President: Brian Crowe
Revenue: Undisclosed; the business claims 17 percent growth in the last year
No. of local employees: 100
Investors: Blackbird Group LLC, Prudential Capital Group
Headquarters: Otay Mesa
Year founded: 1970
Company description: Producer of batteries, with side businesses in plastics and metal fabrication
"We have a dialogue going on right now," he said a few days later.
As executive vice president for business development with Power-Sonic Corp., an Otay Mesa battery maker, Johnson sees opportunities most other people miss. That's because so many machines in our everyday lives rely on batteries.
A Battery Operated World
Those motorized shopping carts at the supermarket? They need batteries. So do the electronics that hospital nurses roll from bedside to bedside. Solar-powered parking meters need batteries, as do industries that want to avoid buying high-priced electricity during peak times of day.
The size and the underlying chemical makeup of the batteries vary with the application. Power-Sonic makes batteries you can easily hold in your hand, and power storage units as big as shipping containers.
Power-Sonic's catalog includes rechargeable lithium batteries, similar to those that run smartphones. It also includes sealed lead-acid batteries similar to those that start automobiles. Johnson is quick to say that Power-Sonic stays out of the auto market because it's a commodity business dominated by big players.
Its Markets
Instead, the company focuses on five business-to-business markets: life safety, utilities and infrastructure, industrial automation, medical uses, and power sports. The latter takes in motorcycles and all-terrain vehicles. Often an original equipment manufacturer will put its own label on a Power-Sonic battery.
Power-Sonic opened a new chapter in November 2017 when Guy Clum, who founded the business in 1970, sold it to Blackbird Group LLC, a private equity firm. Prudential Capital Group participated in the acquisition and is now a partner.
"We felt that Power-Sonic was a diamond in the rough," said Johnson, who has a personal stake in the business.
By Johnson's account, Power-Sonic's revenue dropped 7 percent last year. Since then the new owners improved revenue 17 to 18 percent, Johnson said. "We're really primed for good growth next year," he added.
As part of the Power-Sonic deal, Blackbird acquired a sister company: Plásticos AMC de Mexico is a plastic injection molding business with facilities in Tijuana and about 1,000 employees. Blackbird chose to put a separate acquisition into the mix: a metal fabrication company with facilities in Arizona and Agua Prieta, Mexico and about 120 employees.
Capsa Healthcare, a medical supply business that is part of Rubbermaid, is one of the metal fabrication company's biggest customers.
Clum, Power-Sonic's founder, shared profits from his business with the community. In September The San Diego Foundation announced Clum had donated $13.8 million to a fund that will support early childhood education programs, as well as research into the topic.
Market Sees More M and A
Blackbird is not the only company to see opportunities in batteries.
C&D Technologies of Pennsylvania, a portfolio company of KPS Capital Partners, announced on Nov. 6 that it has reached an agreement to buy Trojan Battery Co. LLC of Santa Fe Springs, near Los Angeles. Financial terms of the deal were not disclosed. The sellers are the Godber family and majority owner Charlesbank Capital Partners, a private equity firm.
Trojan, which built the first golf cart battery in 1952, bills itself as the world's leading manufacturer of deep-cycle energy storage solutions. C&D specializes in reserve power for utility, telecommunications, broadband and renewable energy markets.
"We think the battery business is the place to be now," said Matthew Tesone, director of commercial operations with C&D. "The future is definitely bright for the battery world," he added, citing opportunities in data centers, telecom and renewable energy.
Together, C&D and Trojan will have more than $1 billion in revenue and eight manufacturing facilities.
Trade Policies
On a recent weekday in Power-Sonic's Otay Mesa headquarters, Johnson showed off a large warehouse full of batteries. Under a high ceiling, boxes on pallets sat on shelves. All are labeled with a month and year. Batteries are like bread, Johnson said; they have a limited shelf life. An older box can still go out to a customer, provided that Power-Sonic unpacks the contents and gives the batteries more juice.
Power-Sonic can't help but be swept up in recent economic news. Its business has been affected by the recent 10 percent tariff on goods from China. The tariff applies to certain Power-Sonic batteries and chargers — roughly one-fifth of its products. Johnson said the devaluation of the yuan nearly cancels out the addition of the tariff. Now the company is waiting for the new year to see if the Trump administration increases the 10 percent tariff to 25 percent.
Power-Sonic has the option to source products from countries such as Vietnam, Malaysia and Taiwan, Johnson said.
What's ahead? Johnson said that nickel zinc batteries might be around the corner. The advantage to that new chemical combination is that it contains no toxic material such as lead, making the batteries 100 percent recyclable.