TECH: EVEN APPROVAL WON'T END CHALLENGES FOR QUALCOMM
NXP Acquisition Effort Is Full of Twists, Turns
Monday, May 28, 2018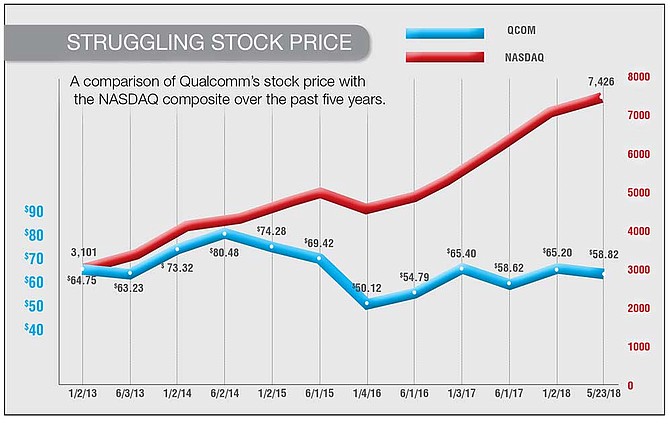 San Diego — Qualcomm Inc., most well-known for its smartphone chips, already has its processors in "smart" cars made by major automakers worldwide.
But for $44 billion — the price Qualcomm is poised to pay for Dutch tech company NXP Semiconductors NV, if China regulators give their say-so — it could simultaneously accelerate its entry into the growing automotive electronics industry and diversify its revenue streams.
Still, the deal's approval would present a new set of challenges for Qualcomm: integrating a $38 billion company and capturing the synergies it seeks from the transaction.
But a deal that under a different U.S. administration likely would already have garnered the final approval it seeks from China's Commerce Ministry, has become a pawn in a larger trade battle between the American and Chinese governments, analysts say.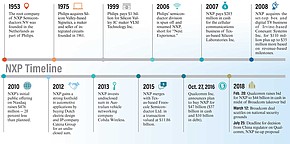 Getting Concessions
"The most logical thing for China to do would be eventually to approve it, but to squeeze as many concessions as humanly possible out of Qualcomm," said Bernstein's Stacy Rasgon. "In practice, things have not been all that logical lately… I kind of get the impression the decision is being made at a higher level than (the Commerce Ministry).
Predicting when and whether the final determination in a gauntlet of international regulatory decisions through which Qualcomm and NXP have nearly emerged will come has become a tricky business. Eight other countries have already blessed the proposed union.
News related to the ongoing trade talks between the U.S. and China have prompted double-digit stock price swings for NXP and, to a lesser degree, fluctuations in the price of Qualcomm shares as investors make bets on the likelihood of the deal's approval.
"It's turning on any tiny little bit of news," Rasgon said of the recent volatility.
Broadcom Moves
Qualcomm announced its intention to acquire NXP in October 2017 for $37 billion in cash and $10 billion in debt. Later, in the midst of a hostile takeover by rival Broadcom Ltd. — which, if successful, would have been the largest tech deal in history — it raised its bid to $44 billion in cash, seemingly to make Qualcomm a less attractive takeover target.
When the Broadcom bid was halted by a U.S. Treasury Department panel, which cited national security implications in its decision to recommend the president bar the anticipated tie-up, Qualcomm CEO Steve Mollenkopf said stockholders could look forward to future capital returns following the close of the pending acquisition.
Prev Next