TECH: EVEN APPROVAL WON'T END CHALLENGES FOR QUALCOMM
NXP Acquisition Effort Is Full of Twists, Turns
Monday, May 28, 2018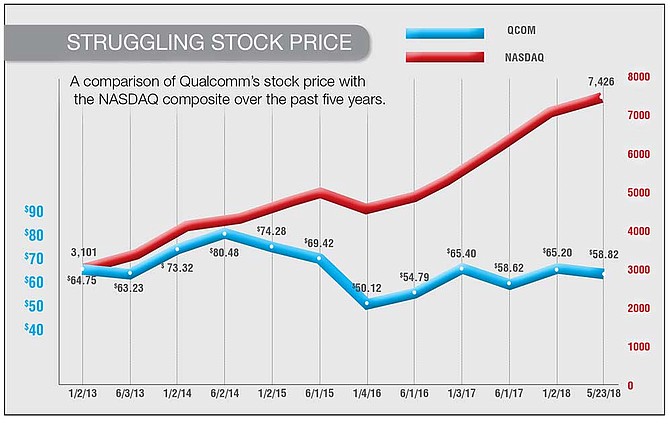 San Diego — Qualcomm Inc., most well-known for its smartphone chips, already has its processors in "smart" cars made by major automakers worldwide.
But for $44 billion — the price Qualcomm is poised to pay for Dutch tech company NXP Semiconductors NV, if China regulators give their say-so — it could simultaneously accelerate its entry into the growing automotive electronics industry and diversify its revenue streams.
Still, the deal's approval would present a new set of challenges for Qualcomm: integrating a $38 billion company and capturing the synergies it seeks from the transaction.
But a deal that under a different U.S. administration likely would already have garnered the final approval it seeks from China's Commerce Ministry, has become a pawn in a larger trade battle between the American and Chinese governments, analysts say.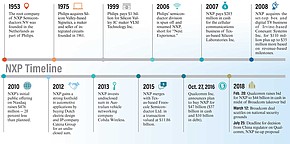 Getting Concessions
"The most logical thing for China to do would be eventually to approve it, but to squeeze as many concessions as humanly possible out of Qualcomm," said Bernstein's Stacy Rasgon. "In practice, things have not been all that logical lately… I kind of get the impression the decision is being made at a higher level than (the Commerce Ministry).
Predicting when and whether the final determination in a gauntlet of international regulatory decisions through which Qualcomm and NXP have nearly emerged will come has become a tricky business. Eight other countries have already blessed the proposed union.
News related to the ongoing trade talks between the U.S. and China have prompted double-digit stock price swings for NXP and, to a lesser degree, fluctuations in the price of Qualcomm shares as investors make bets on the likelihood of the deal's approval.
"It's turning on any tiny little bit of news," Rasgon said of the recent volatility.
Broadcom Moves
Qualcomm announced its intention to acquire NXP in October 2017 for $37 billion in cash and $10 billion in debt. Later, in the midst of a hostile takeover by rival Broadcom Ltd. — which, if successful, would have been the largest tech deal in history — it raised its bid to $44 billion in cash, seemingly to make Qualcomm a less attractive takeover target.
When the Broadcom bid was halted by a U.S. Treasury Department panel, which cited national security implications in its decision to recommend the president bar the anticipated tie-up, Qualcomm CEO Steve Mollenkopf said stockholders could look forward to future capital returns following the close of the pending acquisition.
But the company's stock price, which floated above $60 during the takeover tussle, tumbled to the $50s following the deal's March 12 cessation.
The next month, after an April 19 announcement by Qualcomm and NXP that the companies were refiling the paperwork requesting Chinese regulatory approval at the request of the country's Commerce Ministry, Qualcomm stock closed below $50 per share for the first time since September 2017.
The move extended the purchase agreement to July 25 — and raised the specter of Qualcomm paying a $2 billion breakup fee were final approval to fail to materialize by midnight Eastern Standard Time on that date.
On May 18 Bob O'Donnell, TECHnalysis Research president and chief analyst, said signs were pointing in favor of the deal's approval — and that its finalization would benefit Qualcomm beyond bolstering its move into automotive electronics.
"In the short term, it relieves them, frankly, of the stress of not having this deal done," he said. "It's really been more of a psychological issue…It resolves that and addresses, for the current management, some of the concerns and pressure from shareholders."
Integrating the Companies
Next, were the deal approved, would come the challenge of integrating two massive firms headquartered in different countries.
"It doesn't matter what industry or where you come from, integration can always be a challenge," he said. "The long-term challenge is going to be continuing to balance out (Qualcomm's) various types of businesses."
O'Donnell said the NXP deal's finalization would ease pressure on current management, giving it time to explore how to best fold in the acquired company.
"The automotive business is tough, it's a very different animal — people think and work and act differently," he said. "Qualcomm came in a bit of an outsider, as have most of the big names…NXP has been there, so those doors are already open."
Bernstein's Rasgon said the proposed takeover, when initially announced, likely took into account the benefits to Qualcomm of using its billions in offshore cash for the buy. Were the tax reform legislation passed in late 2017 in effect, it's not as clear whether the proposal would have been made, he said. The new tax law allows companies to bring foreign profits stashed overseas back to America at lower tax rates.
"I think most investors would like to see the deal go through, but NXP's results last quarter were not super," he said.
He, like O'Donnell, also cited high integration risk as a challenge for Qualcomm following the merger's OK.
"There's a school of thought that says maybe for Qualcomm it would be better to not buy it and just buy the stock back," Rasgon said. "You don't get any of the perceived strategic benefits, but there's no risk either."
Signs of Success?
A few signs have increased optimism among some investors the proposed deal will go through.
China's antitrust regulator around the start of May reportedly approved a joint venture between Qualcomm and a unit of Datang Telecom Technology Co., a telecommunications equipment group owned by the Chinese government. The agreement had initially been announced nearly a year prior.
An unexpected May 14 message from President Donald Trump via Twitter signaling support for Chinese telecom equipment maker ZTE Corp., which was under a U.S. export ban, revealed a potential lessening of tensions. Sanctions were slapped on the firm after the U.S. Department of Commerce said it found ZTE had been doing business with Iran and North Korea.
"Ironically, Qualcomm can benefit from ZTE as well as NXP," O'Donnell said; Qualcomm, prior to the ZTE sanctions, was among the company's U.S. suppliers.
But a Senate panel May 22 passed an amendment blocking Trump from easing sanctions without proof ZTE was complying with U.S. law. And that same day, Trump fueled uncertainly about the direction of the overall talks, saying any U.S.-China trade deal would need "a different structure."
"Obviously there's a lot of governmental gamesmanship going on between the U.S. and China," O'Donnell said. "It seems the Trump administration is trying to make some deals with China, and in exchange (China) will move forward with something they've been sitting on for a long time."