C.W. Driver Event Brings Shelter, Help to Homeless Families
Originally published May 27, 2018 at midnight, updated May 27, 2018 at midnight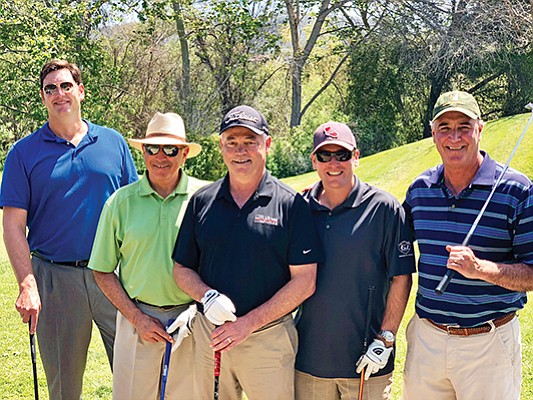 San Diego — C.W. Driver Cos., a California-based builder since 1919 with seven offices in California — including San Diego and Carlsbad, announced that it hosted its third annual charity golf tournament benefiting San Diego-based nonprofit Solutions for Change.
The nonprofit was founded in 1999 by Chris and Tammy Megison who, in 1999, were inspired to help solve homelessness while volunteering at an emergency winter shelter. Since then, more than 2,200 children and their parents have been helped by the organization.
C.W. Driver's executives, employees, subcontractors and industry partners raised more than $23,000 for the nonprofit, whose mission is to permanently solve family homelessness — one family, one community at a time. The tournament was held at Twin Oaks Golf Course in San Marcos.
To date, C.W. Driver has raised more than $60,000 for the nonprofit in addition to providing countless hours of volunteer work. Visit: solutionsforchange.org.
• • •
San Diego-based ICW Group Insurance Cos., a group of property and casualty carriers, announced that ICW Group family's charitable commitment has reached $360 million since 2014 — an amount that exceeds its underwriting gain over the same period.
ICW Group is highly committed to philanthropy. The company takes great pride in furthering the well-being of youth and children while also providing shelter and care for those in need. ICW Group's culture of giving is rooted in its storied history and continues to this day. Earlier this year, its founder and Chairman, Ernest Rady donated $50 million to The Salvation Army, making it the third largest donation in The Salvation Army's 153-year history.
Kevin Prior, president/CEO of ICW Group said: "Giving back is built into our company culture and we're committed to working with organizations to best serve the communities our partners and team members call home."
ICW Group partnered with lifestyle brand, GiVE Culture, in a free inspirational T-shirt giveaway program. GiVE Culture was founded by former NBA player Noel Felix and his wife Shauna Felix to promote greater selflessness in the world and inspire people to "GiVE the best of themselves and see the best in others." Visit: icwgroup.com/about/philanthropy.
• • •
The U.S. Small Business Administration announced that it has awarded CCS Public Relations'CEO Gayle Mestel the "Anthony Vigil Award for Staying Power" during a luncheon event held at the Hilton San Diego Bayfront. This prestigious recognition honors the agency's success and longevity since 1966, commemorating over 50 years in business and acknowledging CCS/PR "as outstanding within San Diego and Imperial counties."
Mestel has served the agency for almost 37 years, in roles ranging from publicist, business development manager, marketing manager, assistant general manager and since 2010, as president and CEO, succeeding agency founder Bob Fisher. She is also a member of the Women Presidents' Organization.
"This represents the ultimate validation that being in business for over 50 years is an impressive milestone and a major achievement," Mestel said.
SBA San Diego District Director Ruben Garcia said: "As America celebrates the 55th Anniversary of Small Business Week, this is an excellent opportunity to honor the small businesses that have helped make our nation great,"
This award won by CCS/PR is named for Anthony Vigil, a former SBA deputy district director for the San Diego District Office who retired after more than 45 years of service. Visit ccspr.com.
• • •
The San Diego Military Advisory Council Foundation announced that it has received matching donations from Navy Federal Credit Union and General Atomics Aeronautical Systems Inc. to support the SDMAC Military Veteran Student of the Year academic scholarship. The $10,000, donation will enable SDMAC Foundation to award scholarships to veteran students enrolled as full-time students in science, technology, engineering, and mathematics (STEM) disciplines at California State University San Marcos and San Diego State University.
Pete Hedley, president of SDMAC Foundation said: "These donations will enable us to positively impact more veterans in our community by helping them to earn STEM degrees without incurring significant debt after their GI Bill runs out." Visit: csusm.academicworks.com/opportunities/1488.
Send Kudos/Giving items to
sglidden@sdbj.com.