DEFENSE: VIASAT USING COMMERCIAL MODEL TO BRING SUCH CAPABILITIES FORWARD
Big Data Will Be a Must for Troops on Battlefield
Sunday, May 20, 2018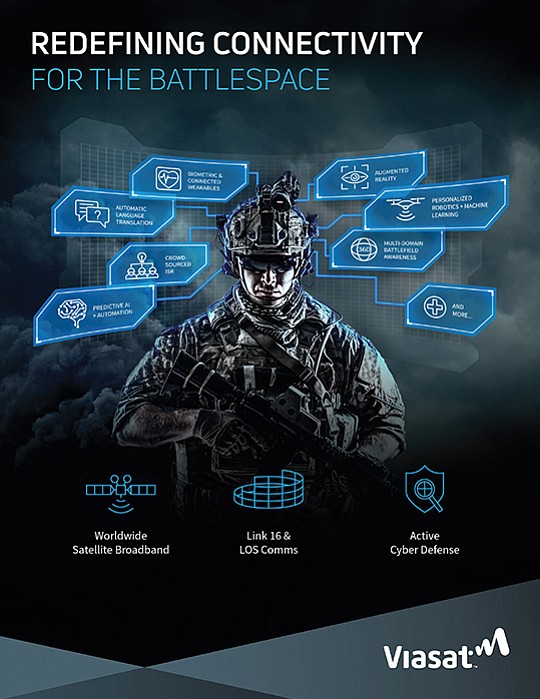 San Diego — Big Data has become a major component in the civilian world.
Connected at nearly every moment, our phones can tell us each morning how long it will take to get to work, and what the best route is to get there.
For future generations of service men and women in the military, technology will have played a major role in their upbringing — it might also be what they most rely on to survive when on the battlefield.
"Their (service members') cognitive decision-making processes have become dependent upon, to a certain degree, this kind of ubiquitous cloud activity," said Ken Peterman, president government systems with the Carlsbad-based communications company, Viasat Inc., (Nasdaq: VSAT).
"The adversary, most likely did not grow up in this type of connected world," he said. "So if the battlefield is an unconnected place, our adversary's not disadvantaged in the same way. It's our kids that are disadvantaged because they've grown up with it and they've become dependent upon it, and they've learned how to process information faster because they have this ubiquitous connectivity."
More than that, Peterman added, it's not just an objective to connect our young men and women in uniform, it's increasingly becoming a responsibility.
Modernizing the Military
Rajesh Gupta, co-director of the new Halicioğlu Data Science Institute (HDSI) at UC San Diego, which explores the scientific foundations for the new field of data science, said there have been two main trends that have been driving the modernization of the military in the last 20 to 25 years.
The first is the network.
"In the early 2000s, networking technologies, data networking and wireless networking, that allowed things and systems to talk to each other and provide information became a big focus," Gupta said. "It was thought the military was becoming much (more) of a technology theater."
That "technology theater," he added, has evolved with endpoints.
The second, is a vision of a military in which the network is connected to the endpoints — the fingers and the eyes and ears that are giving the theater a much better visibility into its activities, he explained.
Military/Business Relationships
Secretary of Defense Jim Mattis outlined the military's growing technological needs in its 2018 National Defense Strategy. The new technologies that are anticipated to grow include: advanced computing, Big Data, analytics, artificial intelligence, and several others that, "ensure we will be able to fight and win the wars of the future."
Prev Next