Executive Q & A: Darrell Alford, Larry Deatherage and Sean Ciemiewicz, Retirement Benefits Group
Tuesday, May 15, 2018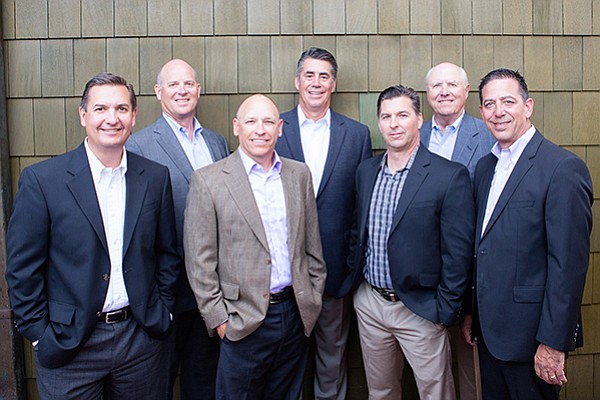 San Diego — There's a two-pronged approach to the success and growth of Retirement Benefits Group (RBG), according to Darrell Alford, a company partner based in its San Diego office. The first is it started with the coming together of three successful retirement practices and one successful wealth management practice, which have grown throughout the years. The second, the company began adding affiliates (14 of them) throughout the country that have branded with RBG and have started using its concepts and contacts.
That success has seen the company, which specializes in providing customized retirement plan consulting services, executive benefits, wealth management and retirement management services to individuals and companies, gain continual accolades. It first made Barron's annual List of Top Institutional Consultants in 2015. This year, the company earned its highest rank, coming in at No. 2 out of 50.
Three of the company's seven partners: Larry Deatherage, Sean Ciemiewicz and Alford spoke to the San Diego Business Journal on how people are thinking about their retirement and how the company advises them.
Their responses have been edited for space and clarity.
Q: Is there still a fear from people that they might not be able to retire after a certain age?
Larry Deatherage: I don't think it's just a fear. I think it's just a reality. When we go through, we do quarterly meetings with all these plan sponsors (or companies), that we work with… and when you look at the statistics of the people in those plans, it is rather frightening. If you think about the average 401(k) balance is only $75,000, and how long that will really last somebody, it's reality when people sit down and start putting pen to paper on what they can really retire on.
Darrell Alford: The last statistic I saw said that someone is going to have seven different jobs during their career. We get a peek at what their balances are, and it's hard to aggregate all of their retirement assets, but I agree 100 percent with Larry, that even if we aggregated them all together, it still shows that people either started saving too late, or didn't save enough. And it's our goal and our challenge is to try and structure the plans and educate them on how do they solve that problem.
Q: How is the company teaching people to plan for retirement?
Sean Ciemiewicz: One of the things that we implemented very early on...to build Retirement Benefits Group was we put together a passion for participant arrangement, where we will go into a company, we bring advisors in, that are not there to sell people, but there to really educate and help people. And we get down to the grassroots of one-on-one consultations and helping people understand where they are in the picture...We really try to get down to not just, 'hey, what's asset allocation,' or 'what's a mutual fund,' but we help them understand these are the things you need to do as an individual to prepare yourself for the future.
Prev Next