Co-Work Spaces Continue Slow, Steady Growth
Tuesday, May 15, 2018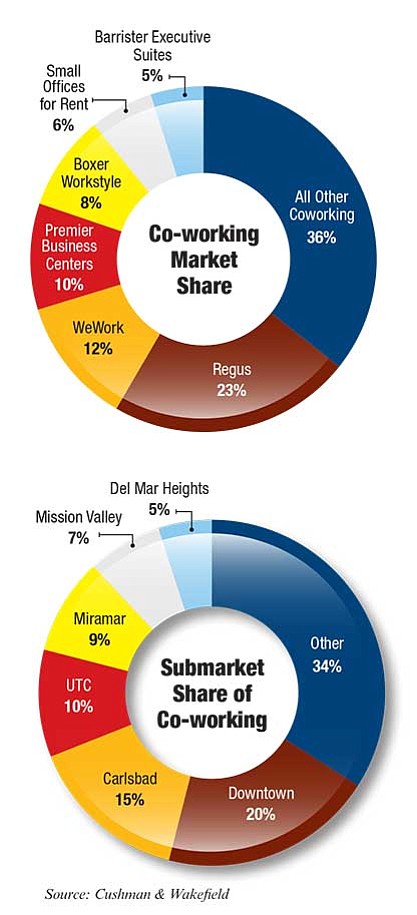 San Diego — Co-working companies are gobbling up office space in San Diego County, accounting for an ever-increasing share of the market.
As of this month, co-working companies accounted for 1.2 million square feet of the 77 million square feet of office inventory in the county with co-working companies in 90 locations, according to a report from Cushman & Wakefield, a commercial real estate brokerage.
Co-working space accounts for about 1.6 percent of the office market countywide, with working companies such as WeWork looking for more space to grow.
"It offers a lot of flexibility," said Jolanta Campion, Cushman & Wakefield research director in San Diego.
"Co-working is gaining popularity among tech startups and creative such as marketing and web design companies along with freelancers and independent contractors from the FIRE (Finance, Insurance and Real Estate) employment sector," Campion said. "Physical and financial flexibility are becoming the new normal for the twenty-first century workforce, and co-working supports these needs."
Matt Carlson, a senior vice president of CBRE commercial real estate brokers, said demand for co-working space is "across the board" throughout the county.
"The hottest spot is downtown. It's more urban and dense," Carlson said. "You're more likely to set up a co-working spot close to where people can walk to their homes."
Cushman & Wakefield reported that downtown had 12 co-working operations as of May, taking up 244,625 square feet of space.
Other hot spots were Carlsbad with 15 locations using 182,611 square feet; UTC with six locations using 128,431 square feet; Miramar with two locations using 108,675 square feet, Mission Valley with six locations in 84,736 square feet, and Del Mar Heights with four locations totaling 64,678 square feet of space.
The top co-working companies in the county as ranked by Cushman & Wakefield are Regus, WeWork, Premier Business Centers, Boxer Workstyle, Small Offices 4 Rent, and Barrister Executive Suites.
According to a survey by Coworker.com, 57 percent of co-working space owners plan to open new locations within the next year. Coworker.com is a co-working listing site that links people looking for co-working space with companies that have space available.
The company listed San Diego among the top five regions for new co-working spaces, behind Austin, New York City, Barcelona, Spain, and Denver.
Coworker.com reported that 29 percent of 255 co-worker space users surveyed formed a start-up company based on people they met at co-working spaces and 63 percent hired someone they met in a co-working space.
As an aside, the company said 22 percent of those surveyed started dating someone they met in a co-working space.
Brett Ward, an executive managing director of Cushman & Wakefield in San Diego, said co-working spaces will likely top out at no higher than 5 percent of the overall county inventory of office space.
"It's a slow, but steady growth," Campion said.
A likely offshoot of the growth in co-working space is that the county will likely see a surge of companies that got their start in co-working space moving on to lease more conventional office space as they prosper and expand.