FINANCE: Q1 DELIVERS RECORD INVESTMENT LOCALLY AND NATIONALLY
Veteran Leaders, Past Successes Play Part In Record VC Investment
Tuesday, May 8, 2018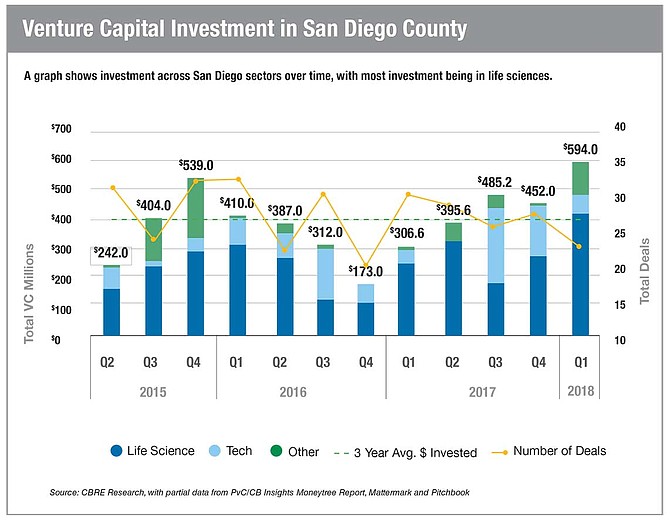 San Diego — Investment in San Diego-based life sciences companies hit a record high $417.9 million in quarter one of 2018, according to an April CBRE Group Inc. report.
The figure represents a 68.7 percent year-over-year increase, and a 54.3 percent increase over the preceding quarter. Life sciences encapsulate drugmakers, diagnostics, genomics and medical devices.
"It's the highest quarter that we've ever tracked going back to 2002," said Michael Combs, research manager with CBRE.
Looking at the quarter's 15 life sciences deals, Combs said they show investor confidence in biotech executives who had past success and launched new ventures.
Case in point: Gossamer Bio, led by former Receptos executives, topped the list by raising $100 million, courtesy of a seed round of capital from Omega Funds, as well as a Series A round co-led by Arch Venture Partners and Omega Funds. Receptos, started as a San Diego company, in 2015 sold to New Jersey-based Celgene for $7.2 billion.
"A lot of it has to do with San Diego-based companies that have received investment in the past," Combs said.
But he cautioned against reading too much into one quarter.
"Hard to say to think of it as a trend, but it's definitely a bit anomalous compared to recent quarters," Combs said.
National Investment Record
This was also the highest quarter nationally for life sciences investment, which reached $4.9 billion, according to CBRE.
"It's of course challenging to be certain, but there's a possibility some private investors are pouring more capital into life science VC companies as a longer-term, higher-yield investment strategy, given the potential for volatility with current market conditions," Combs said.
Trevor Callan, managing partner with Callan Capital, said a long-term trend likely contributed to the hot quarter. Investors see that big pharmaceuticals increasingly favor paying for smaller companies' drugs over internal research and development.
San Diego has no shortage of upstart biotechs blazing new ground.
"They're looking to these earlier stage companies to be that engine for R&D growth," Callan said. Other factors in his view: the initial public offering market is still open and investor sentiment remains high.
Crinetics Pharmaceuticals
Behind Gossamer Bio was Crinetics Pharmaceuticals, which raised $63.5 million through a Series B round for endocrine-related cancers and disorders.
Crinetics CEO and founder Scott Struthers was previously head of endocrinology and metabolism R&D at San Diego-based Neurocrine Biosciences.
In third: La Jolla-based Singlera Genomics took in $60 million in a Series A+ round, which will go toward development and commercialization of its non-invasive genetic tests for early-stage cancer detection and clinical validation studies.
Singlera reported major strides in applying high-throughput sequencing of circulating tumor DNA to detecting and diagnosing early-stage cancer.