PROPERTY: INTERIOR TO BE REDONE FOR BOUTIQUE OFFICE ENVIRONMENT
Former Little Italy Building No Longer a 'Forgotten Asset'
Monday, May 7, 2018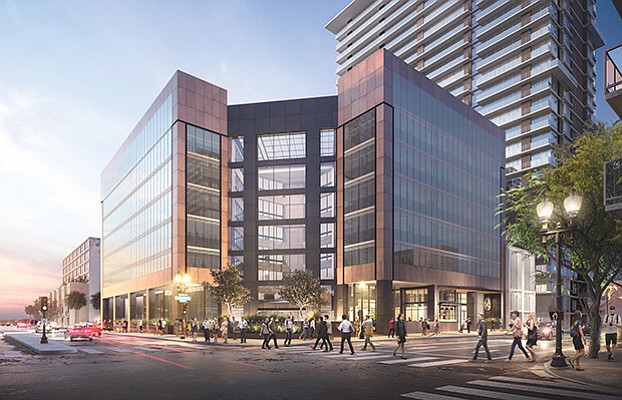 San Diego — A former U.S. Bank building on a prominent corner at the edge of Little Italy in downtown San Diego is about to undergo a dramatic transformation.
Built in 1984, the vacant 123,062 square-foot seven-story building at 1420 Kettner Blvd., will be gutted and resurrected as what the developers — DivcoWest and Ocean West — described as a "boutique office environment."
"The infrastructure will be there. The façade will be there, but the entire interior of the building will be demolished. That way, we'll start with a clean slate for every floor," said Derek Hulse, managing director in the San Diego offices of Cushman & Wakefield, a commercial real estate brokerage.
Gensler is the architect on the project and Reno Construction is the general contractor, with a target of finishing construction by the second quarter of 2019. Hulse and Philip Roberts, a director of Cushman & Wakefield in San Diego, are the leasing agents.
Hulse declined to say how much DivcoWest and Ocean West are spending on the project, but he said the former bank was "a forgotten asset" because it was occupied by U.S. Bank from the day it was built.
A 'Flourishing' Neighborhood
"Little Italy is arguably San Diego's most dynamic and flourishing neighborhood. It has become the go-to destination for the best dining in the city and it has incredible housing opportunities that command some of the highest rents in the county," Hulse said. "Companies are seeking locations specifically in Little Italy, but unfortunately, there are very limited opportunities."
Renovations to the former bank building will include a new café/restaurant, a third-floor common area balcony, a tenant lounge, resort-style locker rooms, and a private ground floor tenant patio.
The third floor balcony will be completely redone, with indoor seating, a kitchen area, and an entertainment area.
"We're adding meeting areas outdoors and places you can go and sit and relax," Hulse said. "The general appeal is the high quality aesthetic, large open floor plates, access to multiple modes of transportation, including San Diego International Airport, proximity to the waterfront and an amenity base, which includes dozens of dining options within a few blocks that only Little Italy can provide."
Pat Buchanan, a consultant to DivcoWest, said the renovations are meant to get away from the "corporate office" feel the building had with U.S. Bank.
To do that, the extensive lobby renovations will incorporate "kind of a casual tailoring of different finishes," including charred wood and bronze detailing.
Prev Next