Healthcare District Makes Investment in Future Workforce
Sunday, May 6, 2018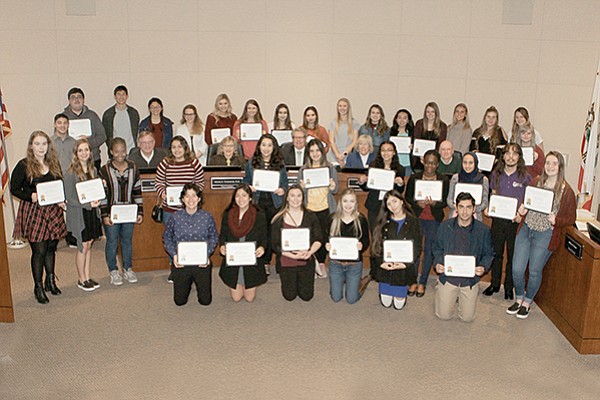 San Diego — The Grossmont Healthcare District recently announced $90,000 in scholarships to 40 high school seniors who have expressed interest in a career as a health-care professional.
The students from 21 local high schools in the east region were selected by school administrators for demonstrating academic excellence, outstanding citizenship and a desire to serve in the health-care field. Students from each high school will receive either $1,500 or $3,000 at the end of the first completed semester of college.
GHD has honored local high school students interested in a health-care career with scholarship grants since 1999. During the years, hundreds of local high school students have received scholarships totaling more than $1 million. Michael Emerson, GHD board president said: "It's important for us to invest in America's youth and encourage these young adults as they continue their studies in the health-care field with the goal of serving in the workforce of tomorrow." Visit: grossmonthealthcare.org.
• • •
More than $1 million was raised during a recent golf tournament and dinner-gala benefitting Navy SEALs and the SOF Support Foundation at the Del Mar Country Club in Rancho Santa Fe, co-chaired by Madeleine Pickens and Dominique Plewes.
The golf tournament and dinner-gala served as a benefit for Navy SEALs and their families through the SOF (Special Operations Forces) Support Foundation. SOF is unique in that it carries no payroll or employees. It consists of a committed all-volunteer team, and donors are assured that their money goes directly to points of need. The foundation's mission is to help ensure that our nation's elite warriors and their families receive the support they need to effectively carry out their operations, keep their families intact, and lead healthy and productive lives after they conclude their service.
Keynote speaker, Dr. Dilip Joseph, took the stage to talk about his book, "Kidnapped by the Taliban: A Story of Terror, Hope and Rescue by SEAL Team Six."
A number of honored guests attended the golf tournament and dinner gala, including Admiral David Buss; David Beamer, the father of Todd Beamer, one of the heroic passengers who helped prevent an additional attack on 9/11; John Maguire, a legendary CIA operative; NBA Hall of Famer Bill Walton; Pro Football Hall of Famers Marshall Faulk and Andre Reed, and two-time World Series champion pitcher Jesse Orosco.
The 2018 Golf Tournament and Dinner-Gala was presented by The Del Mar Country Club, American Airlines and Kern & Co. Major sponsors for the event included Bumble Bee Foods, Corey and Stacy Lohman, Jenny Craig, Konica-Minolta and Michael and Victoria Fitzpatrick. Additional sponsors include Chuck Smith, De La Fuente Cadillac, Frost Gelato, Holly and David Bruce, Innovative Capital Ventures Inc., International Security, Jacobs Family, Janus Henderson Investors, Larry H. Miller Toyota, LM Newmann Family Foundation, Maryanne Smith, Mike Parziale, O'Gara Coach, Pamplemousse Grille, The Liddy Group, Sue Waggener and Steve McCracken, and John Matty Co. Visit: sofsupport.org.
• • •
For Hyatt's Global Month of Service, Park Hyatt Aviara Resort , Golf Club + Spa recently presented a $15,000 check on behalf of the brand to the Batiquitos Lagoon Foundation, an organization that the resort has worked closely with and supported for more than 35 years. The grant from the Hyatt Corp. will be used throughout the year for trail restoration, upkeep and overall ongoing enhancements to the lagoon. The Park Hyatt Aviara team will also be on-site to help plant various plants at the lagoon. 
A representative of the team at Park Hyatt Aviara has served on the Batiquitos Lagoon Foundation board of directors since almost its inception being an active partner and steward for the Batiquitos Lagoon Ecological Reserve and associated watershed. The resort team provides equipment and volunteer support for many of the foundation's activities, especially restoration, help maintaining the grounds and trails. Visit: batiquitosfoundation.org.
This is Hyatt's eighth annual Global Month of Service. In April, the goal was to donate 30,000 volunteer hours, and the invitation to participate has also been extended to hotel guests and World of Hyatt members.
Send Kudos/Giving items to
sglidden@sdbj.com.