CO. FACES MANY CHALLENGES TO BOOST LANGUISHING STOCK PRICE, FULFILL PLEDGE TO STOCKHOLDERS
Qualcomm's $100 Question
Tuesday, March 20, 2018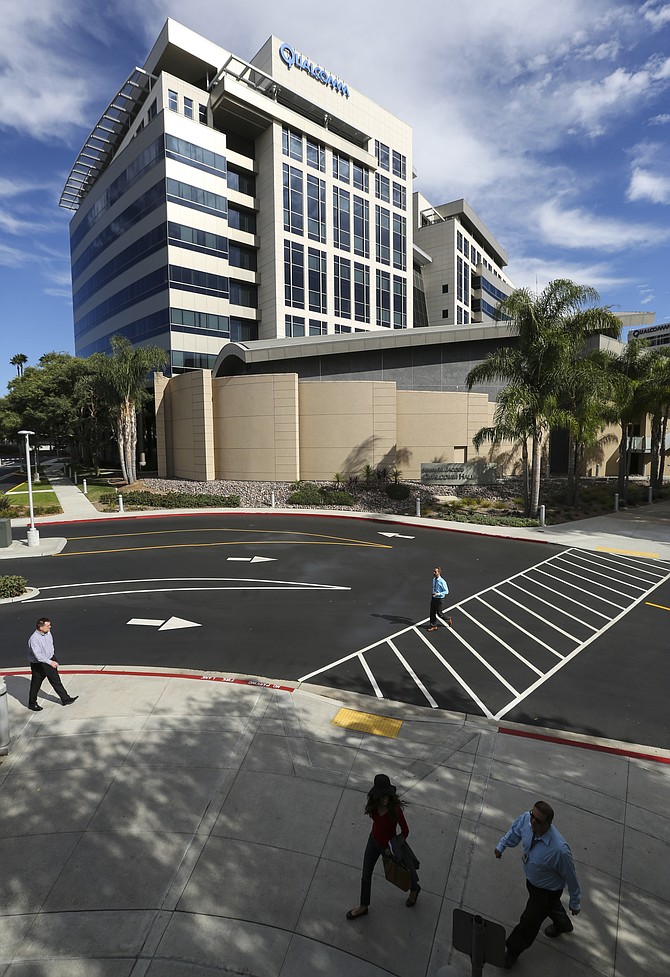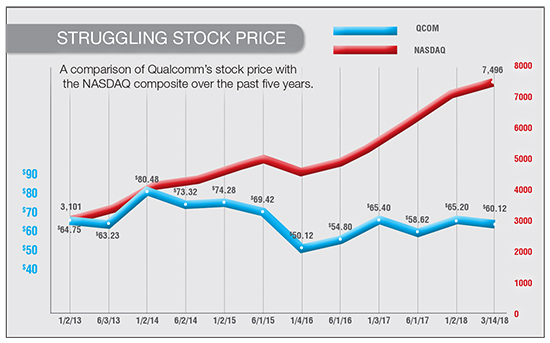 San Diego — A presidential order put an end to Broadcom Ltd.'s $117 billion bid for Qualcomm Inc.
Now the San Diego chipmaking giant is preparing to face shareholders at its previously postponed annual shareholders meeting, scheduled for March 23.
A number of challenges face the company, all of which have the potential to affect its path to the $100 per share price point management has said it is prepared to achieve in 2019. But the unexpected end to the hostile takeover bid may also give it opportunity to refocus its energies and resources on those tasks.
"The stock price has been languishing in the low $60s," said Nikhil Varaiya, a finance professor at San Diego State University. "The big question becomes how do you get from $60 to $100 in a couple years?"
The latest offer Broadcom made before calling off the acquisition attempt after President Donald Trump ordered the deal ended, was for $79 per share.
QUALCOMM
CEO: Steve Mollenkopf
Revenue: $22.3 billion in fiscal 2017; $23.6 billion in fiscal 2016
Net income: $2.5 billion in fiscal 2017; $5.7 billion in fiscal 2016
No. of local employees: 13,000
Headquarters: Sorrento Mesa
Year founded: 1985
Stock symbol and exchange: QCOM on Nasdaq
Company description: Semiconductor company and wireless technology developer
"The fact that the stock price was not even close to $80, which was the premium these guys were willing to offer, that tells you a lot of this stuff is weighing on the stock price," Varaiya said.
Qualcomm is by far the region's largest private employer, with about 13,000 local employees and a market cap of $89 billion, and one of only two companies in the region on the Fortune 500 list.
Dealing With Apple
With that fight out of the way, the company has more resources available for its ongoing legal battle with Apple over licensing fees.
"Management always said they thought they would prevail in the Apple lawsuit, which is obviously a big overhang on that stock, and this will give them an opportunity to prove they're right," said Jerry Braakman, chief investment officer at Santa Ana-based First American Trust, which holds Qualcomm shares. "Investors will have to tease out how much they believe management and what timeframe they're willing to wait for that to get resolved, and I think that's really the investment question."
If the company is able to resolve it favorably, Qualcomm staying independent will likely be a better outcome for long-term shareholders, and San Diego, he said.
"I think most expect they're not going to get the fees they used to get from Apple, but I think also from Apple's point of view, with this deal being shuttered, there might be some more impetus for Apple to come back to the table because they might have to deal with a Qualcomm that might be a little more confrontational than the new owners might have been," he said.
NXP Opportunities
Qualcomm is also moving through its acquisition of NXP, which started in fall of 2016 and now hinges on an OK from China.
Braakman said the deal, once completed, will be a "big catalyst" and open up new markets for Qualcomm.
But Varaiya said it is unclear how much the acquisition would affect Qualcomm's stock price since investors have already likely taken that into account, given the timeline of its progression.
Qualcomm stock fell about 5 percent March 13, the day after the order was issued, to about $60, but leveled out March 14, closing at $60.12, 42 cents above the prior day's close.
The immediate reduction in stock prices reflected bets on a transaction going through being unwound in the aftermath of the deal's collapse.
"Arbitrage hedge fund investors have to exit the deal because they're not going to get their buyout price," said Braakman, who is based in La Jolla.
Broadcom said March 14 it had terminated its offer and withdrawn its slate of candidates for the Qualcomm Board of Directors. However, the company said it planned to continue the process it started in November of relocating company headquarters from Singapore to the United States.
Trump's order came at the behest of the Treasury Department's Committee on Foreign Investment in the United States (CFIUS), which vets overseas deals.
The decision could have ramifications for other tech firms.
International Implications
The president's move to block the acquisition "massively ramps up the signal" to tech companies in San Diego and across California that any proposed acquisition or investment by a foreign company could attract unwelcome scrutiny by federal regulators, said cybersecurity lawyer Guillermo Christensen, partner at Boston-based law firm Brown Rudnick LLP.
"I'd be very careful about taking mainland Chinese investment, because if it reaches any point where you can come under jurisdiction of CFIUS, you may have people knocking on your door saying, 'We understand ... you've entered into a joint venture with a Chinese company (and) we would like to know more about it,'" he said. "That's a very uncomfortable letter for some companies to get."
Whether the government's stated concerns about the deal are legitimate is a matter of debate.
Some, including the White House, view Qualcomm's 5G wireless technology innovation as a national priority that must not be ceded, lest the Chinese seize industry leadership and gain control over the backbone of U.S. technological infrastructure.
"We can't just hand this entire issue over to the Chinese on a silver platter right now," Christensen said.
But Stacy Rasgon, senior analyst for U.S. semiconductors at New York-based AllianceBernstein LP, asserted the Trump administration's objections are politically motivated and represent a mischaracterization of Broadcom's business. He said the Singapore company was merely looking to pick up a cellular franchise.
"I think a lot of this (regulatory opposition to Broadcom's bid) is political," he said.
Rasgon and Christensen agreed Broadcom could blunt the administration's interference by following through with its plan to relocate to the United States. Such a move would put the company beyond the jurisdiction of the president or CFIUS, whose mandate applies only to non-U.S. companies attempting to gain control over a U.S. business.
"That would be a pretty serious issue for CFIUS," Christensen said.
A Second Chance for Broadcom?
Broadcom said March 14 it would do just that. The company that week accelerated its previous timeline, which had it relocating in May, to April 3.
The company said it had always planned to complete that process before any Qualcomm transaction, and that CFIUS' vetting and subsequent approval of its acquisition of San Jose-based Brocade Communication Systems for $5.9 billion had included a condition that the firm relocate to the U.S.
It's unclear whether the company would get the OK to pursue Qualcomm once again were it U.S.-based.
Braakman said the high profile of the transaction may bring attention to Qualcomm from other tech giants, such as Intel, although that could raise antitrust concerns.
However, the collapse of the Broadcom deal may act as a "protective moat" of sorts, he added.
"If there was someone else, I'm sure that would have surfaced as a white knight coming in trying to push out Broadcom," he said. "And there's not a whole lot of people with an industry that can afford a $110 billion-plus price tag."