Kimberly Herrell Appointed Schubach Aviation President
Monday, March 19, 2018
Kimberly Herrell has been promoted to president of Schubach Aviation, based at Palomar Airport in Carlsbad.
Herrell had been Schubach Aviation vice president and has been with the company since 2005, previously working for a private charter operator in Salt Lake City .
She replaces the company's founder, Henry Schubach, who became company chairman.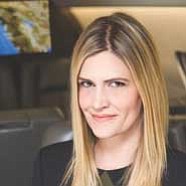 "I've had the privilege and distinct advantage of working closely with Henry Schubach under his leadership for many years. I plan to continue his tradition of fostering a company culture in which all team members are valued and have room to grow professionally," Herrell said. "We're aiming to grow our managed fleet of aircraft. We have so much to offer aircraft owners in terms of our resources, dynamic team, and level experience."
Founded in 1992, Schubach Aviation offers private jet management and charter services.
The company manages 16 aircraft, 12 of which are available for charter.
In October, the company coordinated charter flights evacuating hurricane victims from Puerto Rico to mainland destinations such as Florida.