BIOTECH: ILLUMINA SVP TACKLES CHALLENGES
Making Machines Work for Co., Clinic
Sunday, March 18, 2018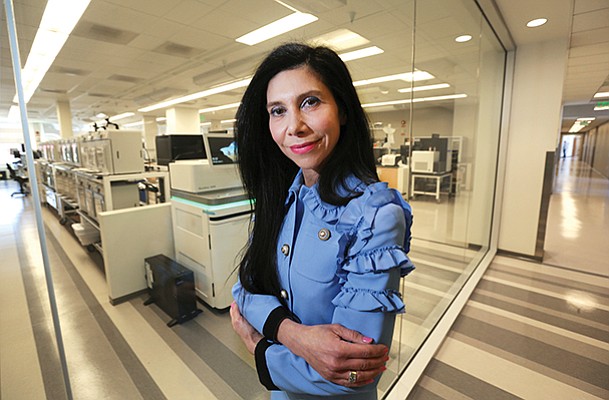 San Diego — Susan Tousi doesn't practice medicine, unlike many in her family tree. But Illumina's senior vice president of product development is making her mark on health.
In a brightly lit corridor at Illumina's sprawling San Diego headquarters, Tousi stands in front of a machine the size of an industrial office printer, separated by a glass pane. The NovaSeq 6000, which her team architected, does infinitely more than make copies.
SUSAN TOUSI
Title: Senior vice president of product development, Illumina
Education: B.S. Engineering Science, Pennsylvania State University. MBA, University of California, Los Angeles
Honors: Recently named to the National Academy of Engineering; speaker at March 13 SXSW panel titled Inside Genomics: "Your Future, Your Fate."
Family: Married with three sons
She says the system architecture will bring Illumina closer to the holy grail of a $100 cost to decode the human genome. That would be one-tenth the 2014 milestone of $1,000, potentially revolutionizing diagnosis and treatment.
Already analysts and the company credit NovaSeq, launched a year ago, with helping boost Illumina's bottom line. The company reported $2.75 billion in 2017 revenue, a 15 percent year-over-year increase.
Reaching the Clinics
In the last decade, Illumina's machines drove down the cost of sequencing, spurring a wealth of medical research. An even greater price reduction could make genetic screening standard in clinical care, meaning more sales from hospitals and clinics.
To get there, besides lowering the cost, the company must overcome a complicated regulatory landscape. But there's clear need: A genomic profile can identify a potentially fatal heart condition, for instance.
"To think we can take this cutting-edge technology and science, and bring it together where it's going to revolutionize medicine and bring insight into places that have been dark space up until now, it's amazing," said Tousi during an early March interview.
Essentially, she's at the fore of mainstreaming sequencing technology. She joined Illumina in 2012, and since 2015 has overseen the company's global engineering, sequencing applications, software and informatics initiatives.
Observers say Tousi brings an engineer's ability to unravel complex technical issues, coupled with a consumer products background. She's big on ease of use — critical for wider genomics adoption. This would make Illumina, which has a $36.7 billion market cap, even larger.
"Being experts in the genome when you can only talk to professors and researchers doesn't do much for the marketplace. But making it so doctors can scale it on a regular basis and utilize the information and expand it into treatment, that takes a very different capability, which she has," said Phil Faraci, the former COO of Eastman Kodak and Tousi's prior boss.
Prev Next