Drug Salvage Operation May Be Salvation for Cancer Victims
Wednesday, March 14, 2018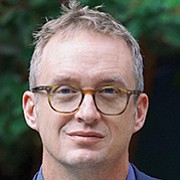 San Diego — John Hood turned a cast-off drug into a multibillion deal.
During a March 1 panel at Biocom's 8th Annual Global Life Sciences Partnering Conference, the CEO of San Diego-based Impact Biomedicines recounted how it all went down.

In January, Celgene bought Impact Biomedicines in a deal worth up to $7 billion. Hood founded his company in 2016 to resurrect Fedratinib, a drug he co-invented years earlier to treat the bone marrow cancer myelofibrosis.
Talks with Celgene began in early fall, quickly accelerating. Hood and his team agonized over whether to partner or retain the drug for commercialization. The deciding factor: Celgene already had the infrastructure to get the drug to patients as soon as possible.
"They're (Celgene ) a group that could expedite it, and that was really the underlying call, even more so than any type of financial concerns," Hood told the audience, at The Lodge at Torrey Pines.
The parties agreed to an overall deal structure on Dec. 21. That left precious little time before Jan. 8, when Celgene wanted to announce the deal at J.P. Morgan's Annual Healthcare Conference.
"We literally exchanged signatures on the Sunday before JPM," Hood said. "There wasn't a lot of sleep during that time period."
The Deal
For the three-part deal, New Jersey-based Celgene paid $1.1 billion upfront in cash, and $1.4 billion hinges on U.S. Food and Drug Administration approvals. Third, Fedratinib milestone payments could total $4.5 billion, should global annual net sales exceed $5 billion.
Hood's connection to Fedratinib goes back a ways. He co-invented the treatment while working at San Diego-based TargeGen, which French drugmaker Sanofi bought in 2010.
In 2013, the FDA put a clinical hold on Fedratinib after a few patients reportedly developed the neurological condition Wernicke's encephalopathy. Sanofi shelved the drug.
Later, Hood was contacted by trial patients who could no longer access the drug and said they were going to die without it. They encouraged him to launch a new company.
"If you're not motivated by that then you don't need to be in this field," he said.
A Financial Risk
As an early step in resuscitating the drug, Hood plunked down a quarter million dollars of his money, on the bet he could secure $5 million within 120 days.
"That was a purely emotional, horrible financial decision at the time," Hood said, to audience laughter. "It was entirely based on patients hounding me."
Prev Next