BANKING: FUNDING BACKS FINTECH PLANS, POSSIBLE IPO
Investors Clear Path For Bank's Initiatives
Tuesday, March 13, 2018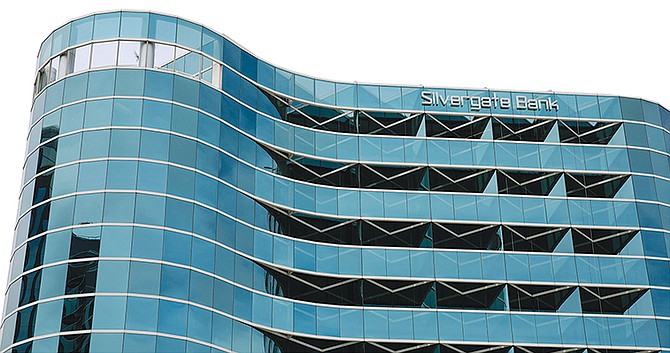 San Diego — San Diego's Silvergate Bank plans to go public as soon as this year — and its prescient bet on fintech has helped it prepare by more than doubling its equity capital, bringing on a dozen new strategic investors — including its first-ever cryptocurrency client.
The state-chartered commercial bank, which with $1.9 billion in total assets is the largest such institution based in San Diego, recently raised $114 million by selling 9.5 million shares of its common stock in a private placement. The move increased the bank's equity capital by more than 120 percent.
Silvergate didn't reveal who bought the stock, but described the purchasers as a mix of traditional bank investors and strategic investors with fintech experience.
The La Jolla-based bank has been active in the cryptocurrency segment of the fintech space since 2014, when it began accepting deposits from vetted cryptocurrency exchanges and other businesses involved in the digital currency ecosystem.
Maintaining the Momentum
"As this cryptocurrency initiative really started to grow last summer, we were checking the premise and saying, are we going to be able to make it to the IPO?" Silvergate CEO Alan Lane said. "It's obviously more efficient to raise capital in the public markets, but we wanted to make sure we had enough capital so we could continue to grow our business and not have to slow things down, so that's why we decided to go ahead and do the private raise now."
Its fintech efforts have boosted the bank's deposits significantly. In 2017, its noninterest-bearing deposits totaled $1.5 billion —a 770 percent increase over the year prior.
But its very first client in the space, the New York-based company Digital Currency Group (DCG), was a result of a relationship established before cryptocurrency was the talk of the industry — or of, really, any industry.
A Key Relationship
Before Barry Silbert launched DCG, which invests in digital currency startups, he ran SecondMarket Solutions, a trading exchange for private company stock. During the financial crisis, SecondMarket began eying commercial banks as potential targets, and reached out to Silvergate in that capacity.
"We got to know them a little bit and they got to know us," Lane said. "It ended up not going anywhere in terms of that initial effort, but they got to know us as a bank that is a little nontraditional, if you will; a bank that is willing to consider things that other people might be avoiding."
Prev Next