MEDICAL: DOUCET'S WORK EXTENDS FROM ER TO MED SCHOOL, COMMUNITY
Health Care Heroes: Surgeon's Roles Are About Reducing Trauma
Monday, March 12, 2018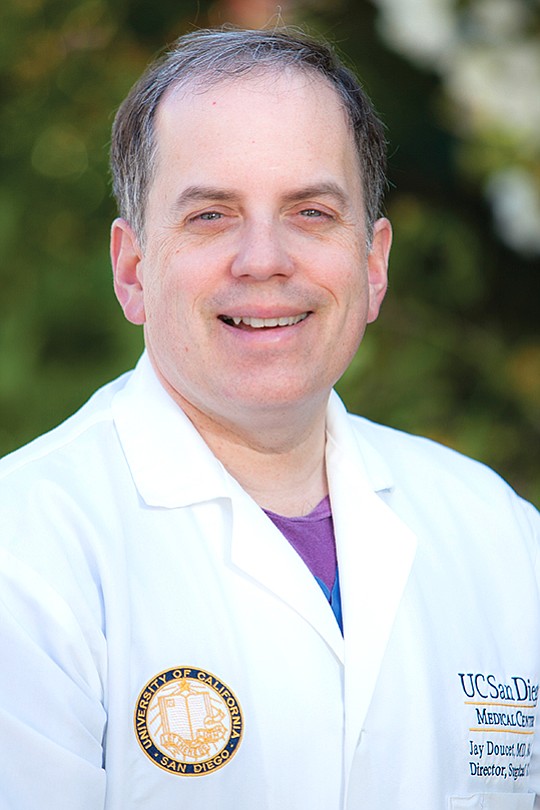 San Diego — Dr. Jay Doucet is on a mission to put himself and his colleagues out of a job.
Doucet, a trauma surgeon, administrator and medical school professor, said nearly all of the trauma cases he sees at UC San Diego Health – including vehicle accidents, burns, falls and gunshot wounds — are preventable.
"We would love to put ourselves out of business and just do ordinary surgery," said Doucet, the winner of the San Diego Business Journal's 2018 Emergency Medicine Health Care Hero award. But for now, the trauma surgeons have plenty of work to keep them busy.
In line with the mission of preventing accidental deaths, Doucet and his colleague, Todd Costantini, who is also a trauma surgeon, have trained more than 1,000 San Diegans as part of the "Stop the Bleed" campaign, which provides regular citizens with the know-how to intervene in a bleeding emergency before the professionals arrive on the scene.

The effort extends to a campaign to place bleeding prevention kits, which include tourniquets and other materials, in public places alongside automated external defibrillators, or AEDs, which are used to treat heart attack victims.
Costantini said Doucet mentored him during his training as a trauma surgeon and more recently, the two have been going out into the community to teach the bleeding prevention classes, to workers at airports, school nurses and many others.
"Jay is clearly dedicated to education, that's one of his great strengths. He's really willing to give his time to go out there and teach these courses to big audiences, small audiences, anybody who's interested," Costantini said.
Doucet wears several hats at UC San Diego Health, including interim chief of the Division of Trauma, Surgical Critical Care, Burns and Acute Care Surgery. He is also medical director of both the Surgical Intensive Care Unit, and Emergency Preparedness and Response at UC San Diego Health, and he's a professor of surgery at UC San Diego School of Medicine.
Military Role
Doucet, a native of Canada, served in the Royal Canadian Air Force, and as an exchange officer with both the U.S. Navy and the British Army. During his 22 years of active duty, he served six tours in Afghanistan, Bosnia and during Operation Desert Storm.
He was able to parlay the knowledge he gained as a military surgeon to his work as a trauma specialist in San Diego.
Among the biggest causes of death and injury in San Diego, he said, are motor vehicle crashes involving drugs or alcohol, and accidental falls.
Prev Next