FUNDING: CREAN BRINGS STRATEGIC ALTERNATIVES FOR FINDING GROWTH CAPITAL
Investment Banker Focuses on Fiscal Health of Local Cos.
Monday, March 12, 2018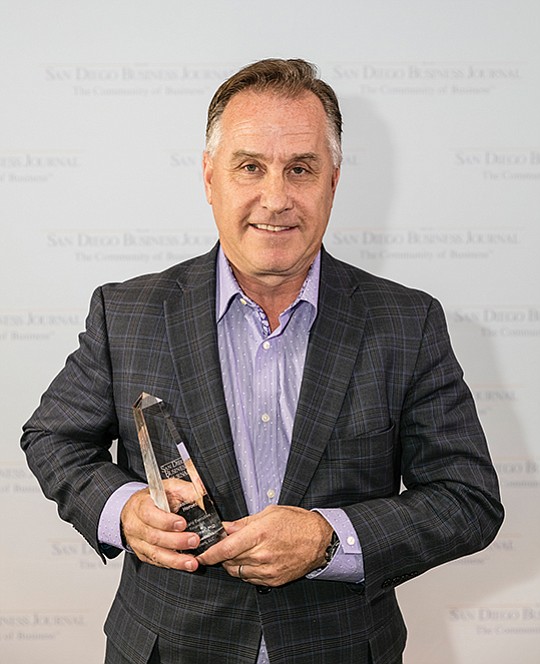 San Diego — Traditionally, venture capital funding is the blood that pumps the heart of a life science company. But, if you ask David Crean, it's not the only way.
Since becoming a managing director and partner at Objective Capital Partners LLC two-and-a-half years ago, Crean and his team have established the San Diego-based company's life science practice as a frontrunner in growth capital options. They often pursue non-dilutive capital with strategic partners as an alternative to solely seeking out traditional venture capital funding.
For his efforts, the 53-year-old Crean recently won the San Diego Business Journal's 2018 Healthcare Hero Award in the Executive-Finance category.
"A health care hero is a person whose leadership, vision and dedication is impacting the lives of others in a way that establishes a new path and sets a new standard for others to follow," said Trever Acers, who nominated Crean for the award.
Acers works alongside Crean as a fellow managing director for Objective Capital.
"Through his innovative leadership, David and his team are materially redefining how investment banks help health care and life science companies navigate their development, establish strategic partnerships, and secure capital," Acers said.
Companies' Contributions
According to Acers, though Objective Capital is pleased to see Crean honored, the company is proudest of "the impact that the companies they are enabling are going to have on the health of our global community."
It's a sentiment echoed by Crean himself.
"My heroes are the numerous allied health professionals, clinicians, medical researchers, support staff, volunteers and investors, who make an impact on health care innovation and delivery in markets such as dementia, neurodegeneration, oncology, and rare disorders having significant unmet medical needs," Crean said. "They are the true heroes."
Crean, a New York native, first arrived in San Diego in 1998, specifically to pursue professional goals in the local pharmaceutical and biotechnology industry.
In addition to an undergraduate degree in biology, he has a masters' degree in oncology. Crean also has an MBA and Doctorate of Philosophy degree in biophysics.
In total, he has in more than 25 years of life sciences research and development, and corporate development transactional experience in the pharmaceutical industry responsible for leading mergers, acquisitions, licensing and collaborations, and establishing corporate strategy.
In addition to his role with Objective Capital, Crean's other professional ties include his role as CEO and board member for Talapo Therapeutics. The San Diego-based company seeks to develop treatments that target obestity and associated disorders.
Active in Community
In the nonprofit sector, Crean serves as on the boards of the Alzheimer's Association of San Diego and Imperial Counties, Solutions for Change, and Altus Charter Schools of San Diego.