Health Care Heroes: Obstetrician Finds Inspiration in Caring for Miracle Babies
Monday, March 12, 2018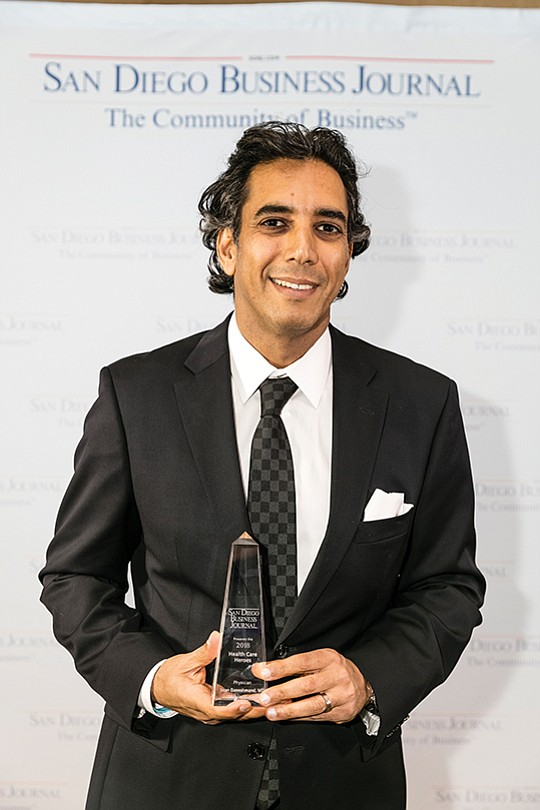 San Diego — For Sean Daneshmand, an obstetrician who specializes in caring for women with high-risk pregnancies, interacting with his patients is nothing short of inspirational.
So much so that in addition to his medical practice, Daneshmand and his wife founded a nonprofit organization — Miracle Babies — that provides financial, emotional and educational support to the families of babies born prematurely or with congenital defects, who must be placed in the neonatal intensive care unit (NICU).
In recognition of his work on behalf of women and babies in San Diego County, Daneshmand, 49, was honored with the Health Care Hero Award for Physicians at a Feb. 28 event sponsored by the San Diego Business Journal.
Miracle Babies was founded in 2010, and since then the organization has been helping families with financial aid to allow them to visit their babies in the hospital more often, and in other ways, such as providing Care Bags containing necessities for hospital stays.

"My inspiration has been the families I've been in touch with. Women are just incredible, they're so strong," said Daneshmand, who has practiced at Sharp Mary Birch Hospital for Women & Newborns since 2002. "When you tell a woman her child has this abnormality, the way these women come together and how strong they are, that's what really pushed me to do something. It's just heart-wrenching."
The assistance is intended to cover such expenses as transportation, groceries, hospital meals and child care, allowing moms and dads to spend as much time as possible with their infants in the NICU.
Parents' Presence
Research has shown that the presence of parents at the hospital allows for breast-feeding and a practice of skin-to-skin contact with the baby called Kangaroo Care, which improves outcomes for premature babies in such areas as fewer infections, better weight gain and earlier discharge home, according to the Miracle Babies website.
In 2017, Miracle Babies provided some $153,000 in financial aid to more than 500 families in San Diego County. In addition, more than 1,500 parents with newborns in a NICU in San Diego County received Care Bags, and several hundred parents have attended an MB-sponsored Parent Hour.
Tamara LaFarga-Joseph, who sits on the Miracle Babies board, said Daneshmand is "the embodiment of compassion. He saw an unmet need and he had the courage to step up and do something about it."
LaFarga-Joseph knows firsthand how hard it is for families to deal with having a baby in the NICU. Four of her grandchildren spent a combined year in the NICU, due to medical issues that each baby had.
Prev Next