TECHNOLOGY: DAVIS DEVELOPS TELE-CARE SYSTEM FOR MILITARY CRITICAL CARE
Health Care Heroes: Navy Doctor Makes Impact With Worldwide Connections
Monday, March 12, 2018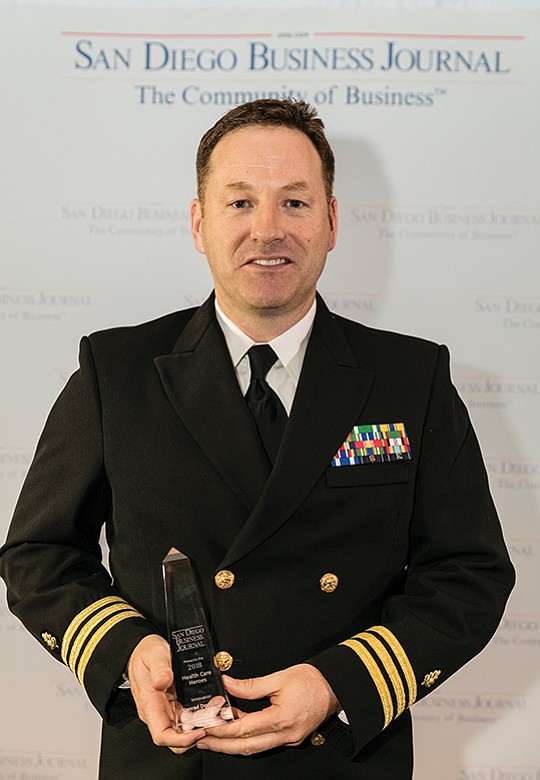 San Diego — Dr. Konrad Davis is on the cutting-edge of using technology to provide better and more cost-effective health care to patients, and it's a place where he feels comfortable.
"I enjoy being able to leverage creativity to solve problems," said Davis, a pulmonary and critical care doctor who holds the rank of commander in the U.S. Navy. Along with caring for patients, he serves as medical director for critical care at the Naval Medical Center San Diego, and oversees tele-critical care, which means using technology to connect health care providers and patients in geographically separate locations.
In recognition of his efforts to advance tele-critical care in the military, Davis was honored with a Health Care Hero for Innovation Award, at a ceremony sponsored by the San Diego Business Journal on Feb. 28.
Tele-critical care refers specifically to caring for patients in the intensive care unit of a hospital, Davis explained. Through video and audio hookups, and technology that allows medical records and information from monitoring equipment to be accessed remotely, critical care doctors can consult with patients and physicians at remote sites.
Currently, Naval Medical Center San Diego serves as a "hub," from which critical care doctors, or intensivists, can provide care for patients at four "spoke" hospitals in the Navy system, including a hospital at Camp Pendleton. Davis spearheaded the effort to launch this system, and there are plans to expand it.
Davis credits his commanding officer, Capt. Joel Roos, and officers in the chain of command, for allowing him the leeway to employ innovative solutions.
And that respect flows both ways.
Roos said Davis is a self-starter who is smart and well-versed in the latest advancements in medical technology.
New Models for Care Delivery
"How do you apply advanced technology to medicine in novel ways? He's sort of our point man for it, and he needs no encouragement to do so," Roos said. "He definitely continues to push the envelope in a good way."
Davis said he is excited about advancements expected in coming years that will change the way doctors and patients interact. The concept of going to a hospital or clinic to see a doctor dates to the Middle Ages, he said, when people went to monasteries for medical care.
"I think we're going to flip that paradigm on its head and bring providers to the patients," wherever they may be, said Davis. "The field of tele-medicine ... is going to be very exciting to see over the next 10 to 15 years."
Prev Next