BIOTECH: CUSTOMER CONTROLS INFO, CAN CONTRIBUTE TO RESEARCH
Platform to Build Big Picture With Diverse Data
Sunday, March 11, 2018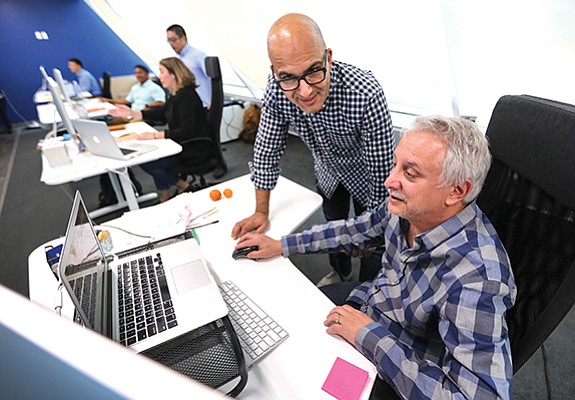 San Diego — Between 23andMe, the omnipresent Fitbit and the electronic medical records created with each doctor's visit, quantifying our health has become mainstream.
But while health care data is being created faster than ever before, few of the systems capturing it are interoperable, making it tricky to track and compare comprehensively.
A team of genomics experts in San Diego has launched a platform that collects health, genomics and fitness records and standardizes it so it can be displayed digitally for consumers.
Seqster (pronounced "seek-ster") aims to transition data from the systems in which it is collected to consumers' control. The platform, launched in February for select users, is modeled along the line of the user-friendly money management tools provided by personal finance applications.
The company, based in the San Diego Innovation Center, the six-story glass office on Miramar Road enveloped within a steel-framed pyramid, has raised more than $4 million in seed funding.
2,000 Hospitals and Clinics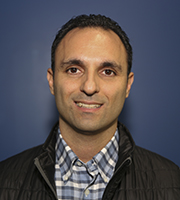 Ardy Arianpour, the company's CEO and co-founder, said more than 2,000 hospitals and clinics in the United States have agreed to link up with Seqster.
"We've been able to take this data that has been siloed and came up with a unique program where the individual can unsilo all those data and stitch it together within seconds," said Arianpour, a serial entrepreneur with a background in genomics.
Major tech companies are also attempting to tackle the problem of how to improve digital recordkeeping in the health care system. Even for companies with virtually endless resources, the goal hasn't proven easy.
In 2008, Google launched Google Health, a digital platform for consumers to store their health information. But it ended the program in 2011, citing inability to scale.
"There has been adoption among certain groups of users like tech-savvy patients and their caregivers, and more recently fitness and wellness enthusiasts," Google wrote at the time in its announcement about the program's end. "But we haven't found a way to translate that limited usage into widespread adoption in the daily health routines of millions of people."
Like with any digital health endeavor, Seqster's success will be predicated on getting enough people on the platform to make the data on it valuable to others users, including consumers and researchers.
As an incentive to promote adoption, users who agree to have their data in the system will eventually have the chance to share it with interested parties in biotech and pharmaceuticals, Arianpour said.
That could allow investigators to find participants for clinical trials more easily, moving ahead the pace of research into diseases and disorders.
It would also provide Seqster a range of ways to make money from the platform.
Valuable Data
Digital health tools are proliferating because of potential value of the volume of data being created within the health care system to improve care and reduce its costs, which recently toppped $10,000 annually per person on average in the U.S.
Millions of people today use health apps to count calories and monitor their sleep habits. And between Black Friday and Cyber Monday in 2017, consumer DNA testing company AncestryDNA sold about 1.5 million testing kits.
"Genetic data alone, in some instances, can provide useful health information, but oftentimes it should be interpreted in the context of the person's health status," said Seqster advisor Dr. Ali Torkamani, director of genomics at the Scripps Translational Science Institute and an associate professor at The Scripps Research Institute. "So if you have both genetic data and health data together, then I think that provides a much more powerful framework for returning back useful information about someone's health status and what they may be able to change to offset whatever genetic risks they may have."
Some 1,000 health care providers have signed on to allow data from their hospitals and clinics to be transferred, at a consumer's request, to the Seqster platform.
Wearable devices that monitor health today provide primarily a more enjoyable way to track fitness, but may one day, as the technology improves, be able to detect medical conditions.
Alzheimer's Care
Ahead of a planned broad consumer launch following additional investment, above the $4 million it has raised so far, the company has teamed up with researchers interested in using the platform to assess and monitor patients.
Patients at the Chula Vista-based George G. Glenner Alzheimer's Family Centers organization — and their caregivers — are using Seqster. People who have been diagnosed with Alzheimer's disease may have difficulty tracking their health status, and are often cared for by a close family member.
The Seqster platform allows users to share their data with others, such as a caregiver.
The Boston University Ryan Center in Traumatic Brain Injury (TBI) Study recently said it will use Seqster for patient recruitment and to incorporate digital health metrics for enhanced assessment and monitoring. The study is intended to identify possible digital signs of TBI in concussed patients.
Arianpour previously served in executive roles at Ambry Genetics and Pathway Genomics. His co-founders are chief technology officer Xiang (Sean) Li, who was also previously at Ambry and Pathway, as well as UC San Diego, and chief innovation officer Dana Hosseini, who previously held roles at ProdermIQ, Iceland Genomics, Abbott Laboratories, and Johnson & Johnson.
Knowing Your Family Tree
While the company's focus is on today's consumers, Arianpour says Seqster is intended to get people thinking about their health in the context of their family tree.
That's where the importance of genetic information can play a significant role.
Users' data will hold more value for researchers if others who are genetically similar also sign on and upload their information.
"Users can grant access to researchers, foundations and (pharmaceutical companies) to contribute their data to accelerate medical breakthroughs on their terms," Arianpour said. "They're actually holding all this data now; it's one site, one login, and you never have to do it twice."
While creating a multigenerational health record wasn't necessarily Seqster's primary aim, the company sees that as a draw for consumers looking to learn about their and their family's health status and use that information to help future generations, Hosseini said.
"No one company will be able to disrupt health care," Hosseini said. "It's the individuals that have to change health care, and we enable them to start that process."