Executive Q&A: Shane Yonston, Impact Investors
Wednesday, March 7, 2018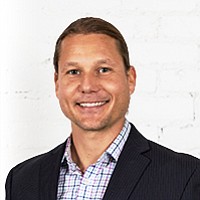 San Diego — Millennials are driving demand for sustainable investment options.
Shane Yonston is a millennial - well, close enough, in an industry where advisors average age 50 – who works with investors looking to align their money and their values. He's founder and principal advisor of Impact Investors, a San Diego-based firm tailored to investors seeking to invest in a way that reflects their values as well as their financial goals. He sat down with the San Diego Business Journal to talk about his career path.
Q: How did you develop an interest in sustainability?
A: I was a global studies major at UC Santa Barbara, graduated in 2001. I did my senior thesis on development in Central America and this race to the bottom, where countries, at the time I did the thesis, were getting about 70 to 80 percent of revenue from foreign, private capital coming in and companies setting up headquarters in the country …They're really incentivized to attract those kind of companies by lowering their standards.
I came out of college thinking, that doesn't sound sustainable or even very good for humanity, and I'd love it if I can be working to reverse that downward spiral trend.
Q: How did your financial planning career begin?
A: I started working for a nonprofit up in San Francisco and really enjoyed it, but I didn't have a lot of career growth opportunities. I also didn't have a lot of hard business knowledge, since I was an interdisciplinary, social sciences major. A friend suggested I should get into finance to enhance my career options … I got a job at Wells Fargo, and was working in the Pacific Beach branch for the advisor there. I really got into managing my own finances, but hated the sales aspect and the commission-driven environment that's a big part of the financial services industry.
Q: You developed a business plan around sustainable investing and shopped it around to big banks with branches in the area. What happened?
A: No one was really interested. That was in 2003. I found one other advisor in San Diego that had already put themselves in the marketplace with this focus, Judy Seid. I left Wells Fargo and partnered up with Judy; we were partners for almost 10 years, until 2014. (Editor's note: Seid, who has been using socially responsible investing since 1992, is president and founder of Blue Summit Financial Group Inc. The advisors parted ways over a business disagreement unrelated to the services they were providing to clients.)
Prev Next