Local Companies at Heart of VR, Seismic Shifts in Sports Viewing
Thursday, March 1, 2018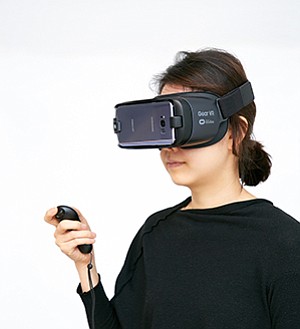 San Diego — Technology's influence on sports is nothing new. Just think of the engineers in Carlsbad, at Callaway Golf Co. and TaylorMade Golf Co. Inc., using aerospace industry tools to fine-tune their latest club designs. Even the cheap golf clubs available at the corner thrift store are more advanced than those used several generations ago.
Seismic shifts in technology and sports are ahead, judging from a daylong conference at UC San Diego on Jan. 18 called "Athlete Remix and the Future of Sport."
There will be shifts in how professional players compete, how normal mortals take in spectator sports and how everyone gets a little exercise.
There was an entire session, not covered here, about how genetic engineering could create a super athlete. Someone could easily write books on that topic.
Also worthy of consideration is how information technology — specifically virtual reality and augmented reality —are poised to change the view of sports.
We are already used to augmented reality in televised football games, moderator Josh McHugh said in opening the session on the topic. It is the superimposed line on the field, showing where the team with the ball has to go to get its first down. "It took a tremendous amount of engineering to get right," said McHugh, CEO of Attention Span Media of Los Angeles, which presented the conference along with San Diego Sport Innovators, an accelerator program.
The first and 10 marker produced legal battles, McHugh added.
Augmented reality is simply an artificial image superimposed on a picture of the real world. Think of the "Pokémon Go" game.
As the cost of hardware goes down, session participants said, people might start wearing glasses with built-in computers. Such glasses could generate statistics on their exercise regimens. The wearer would be kind of like a jet pilot with a heads up display.
NASCAR drivers could eventually get similar displays inside their windshields, said panelist Neil Gupta, partner at Indicator Ventures of Boston.
"Some leagues are going to be more progressive than others, and take risks before others," said Patrick Costello of Qualcomm Inc. He directs business development for virtual reality and augmented reality. Costello said Qualcomm (Nasdaq: QCOM) is "investing very heavily" in the fields of extended reality, an umbrella term for virtual reality and augmented reality.
Even if leagues rule that using technology in pro sports offers unfair advantages, they may admit the technology to prevent players from injuring themselves, said Gupta.
Virtual reality is available to consumers now in devices such as Samsung's Gear VR, a set of goggles that uses a large Samsung smartphone as a display.
Still, virtual reality has a distance to go before it hits the mainstream. "I'm long on this technology," said Gupta. What the market needs, he said, are improvements in three technical areas: connectivity, displays and the form factor of the device. Also needed is "compelling content," Gupta said.
Costello said Qualcomm's fifth generation wireless data technology will help on the connectivity side. Qualcomm plans to make its money through licensing patents related to fifth generation (or 5G) technology, and producing 5G communications chips.
David Cramer, COO of NextVR, is at work on content. His Newport Beach company records sporting contests and concerts, and lets spectators view them through virtual reality glasses.
"We're putting people in places where you can't buy a seat; a seat doesn't exist if you had all the money in the world," he said.
Standard virtual reality technology lets a person plant himself within a scene, and look around to see it in three dimensions.
Cramer told the UC San Diego crowd that his company is working on technology that allows "six degrees of freedom." In addition to being stationary in a scene, and being able to view it in all directions, a person can effectively walk around inside a scene.
"If the referee is standing in front of you and blocking your view, just like you do at the game, you can look around him," Cramer said, tilting his body at an angle in his chair. "And we can fill in what's on the other side of him."
One challenge to this future form of entertainment is virtual reality's ability to make people feel nauseous. It happens when a person turns his head, and the computer-generated scene does not turn at the same speed. The human brain figures that something's wrong.
Qualcomm's Costello called it "motion-to-photon latency." Research shows that if the shift of a person's head is out of sync with a shift in the picture by 18 milliseconds or more, a person can feel sick. Qualcomm advertises its 5G wireless connection as a remedy for this.
That will be one more consideration for professionals producing virtual reality content.
They will need to be gentle to folks who get carsick. User-generated content might prove especially troublesome, one of the speakers said.