PROPERTY: RARE COALITION PLOTS STEPS FOR EXPANSION
Convention Center Is Ready If It Gets Go From Voters
Monday, June 25, 2018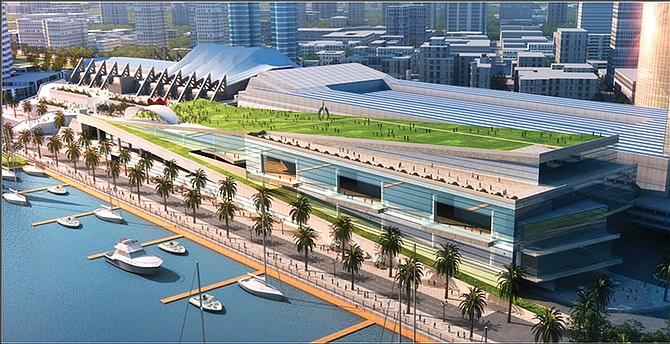 San Diego — Preliminary construction on a $685 million project to expand the San Diego Convention Center could start as soon as next summer — pending voter approval of a November ballot measure to pay for it.
A deal securing the land needed for the expansion was concluded this month — resurrecting plans which were shelved after a court in 2012 rejected an earlier financing plan.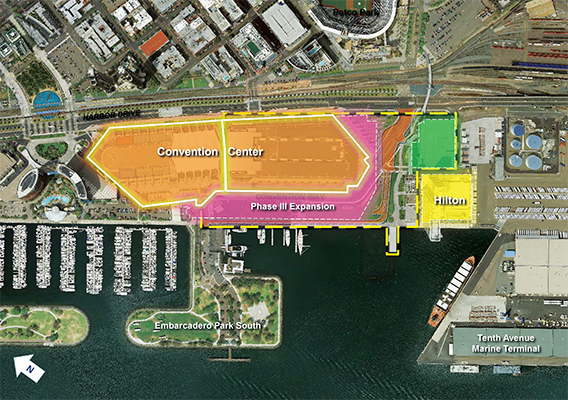 Although the timing is still being set, work on the expansion would be fast-tracked, with officials mapping out an ambitious schedule. First Step
The first step would be to renew a design contract that had lapsed with Fentress Architects, said San Diego City Engineer James Nagelvoort.
"They need to dust off the work they did years ago," Nagelvoort said. "The design was never completed. We never got to the stage of full construction plans."
At the same time the detailed design work is underway, the city would solicit bids for the actual convention construction with a goal of having a general contractor on board by late spring or early summer 2019.
The first of the construction could come with the relocation of a road and underground utilities that run along the rear of the existing convention center, to be replaced by a new road that would run along the rear of the expanded center at the waterfront.
"You've got to get everything out of the way first before you start expanding the convention site," Nagelvoort said.
Avoiding Scheduling Conflicts
Work on the building itself will be coordinated with the timing of convention center activities, with construction of the expanded building expected to take 48 months, said Gil Cabrera, chairman of the San Diego Convention Center board of directors.
"It's sort of spread out over time so we interrupt operations as little as possible," Cabrera said.
One certainty is that no work on the building will begin until after Comic-Con International in July 2019, Nagelvoort said.
The center expansion would add 225,000 square feet to the exhibit space to bring the total to 840,700 square feet.
Best of the West Coast
It also would add 101,000 square feet of meeting rooms, for a total of 223,400 square feet, and 80,000 square feet of ballroom space, for a total of 160,000 square feet.
Supporters said San Diego would have the largest contiguous exhibit hall and the largest ballroom on the West Coast.
The kicker for Cabrera is a five-acre rooftop park that would be added to the expanded section, which he called "pretty rad."
"It's a huge park. People don't appreciate that sometimes," Cabrera said.
A key hurdle to the expansion was removed in June with a deal for the city and the Port of San Diego to pay developers of a planned hotel about $33 million to regain control of land needed for the expansion.
The port owns the land but port tenants Ray Carpenter and Art Engel had long held a lease on it. Under the name Fifth Avenue Landing, they were in the process of seeking port's approval to build an 850-room hotel tower and 565 bed hostel on the property.
No Vote Puts Project Back in Play
Should voters reject the November ballot initiative to expand the convention center, Fifth Avenue Landing could proceed with the hotel project.
"Part of the deal is that we will keep negotiating a lease for the hotel development and not lose any time," said Rafael Castellanos, chairman of the Board of Port Commissioners.
"If the citizens' initiative does not pass, the port will expedite the review of the hotel project," Castellanos said. "Everything is on to the citizens' initiative at this point. We're all waiting to see what happens there. We're in a state of suspense."
Spending on Homeless
The ballot initiative would raise $6.4 billion, which includes $2 billion that would be earmarked for permanent housing for the homeless and homeless services.
An additional $600 million would go to road repairs.
The money would come from raising the 12.5 percent hotel room tax by a range of 1.25 percent to 3.25 percent, with the rate highest for hotels closest to the convention center and lower for those farther away.
The base tax rate is 10.5 percent, with 2 percent added in hotels of 70 rooms or more.
It was the mix of how the extra tax money would be spent that resulted in an unusual alliance of disparate groups, including organized labor, developers, business groups, and homeless advocates forming "Yes! For a Better San Diego" to promote the ballot measure.
"There was a lot of common interest," said Keith Maddox, deputy trustee of the San Diego & Imperial Counties Labor Council.
"It took a while for everybody to talk through things that were important. For us, it's certainly the jobs," Maddox said.
The expansion is projected to create "hundreds if not several thousand jobs over the next several years," Maddox said.
The measure's funding for affordable housing and programs for the homeless also appeals to labor groups.
"Our members face it every day, the inability to find affordable housing," Maddox said.
Jaymie Bradford, executive vice president and COO of the San Diego Regional Chamber of Commerce, said an expanded convention center "is a job producer, it's a revenue producer and we all support those things."
Although labor, developers and the business community have often been at odds, in this instance, "We're not fighting against each other, we're not funding campaigns against each other, we're putting our resources together," Bradford said.
$3M for Ballot Measure
She said Yes! For a Better San Diego would spend "at least $3 million" to get the ballot measure passed.
In a 2017 study, HVS Convention, Sports & Entertainment Facilities Consulting, said an expanded convention center would allow the city to attract about 50 more events and increase hotel room revenue by about $123 million annually.
HVS said San Diego was the top-rated convention site among convention planners, ahead of such hot spots as Orlando, New Orleans, San Francisco and Boston.
The catch is that with the existing convention center, San Diego with about 816,000 square feet of space is far below competitors such as Chicago with 3.2 million square feet of convention space, Orlando with about 2.6 million square feet, and San Francisco with about 1.3 million square feet, HVS said.
The expansion would bring San Diego's convention center space up to more than 1.2 million square feet.
The Number Needed?
One possible snag in the push for an expanded convention center is concern that the ballot measure might need a two-thirds yes vote to pass rather than a simple majority.
Supporters said they will seek a court ruling on the matter if the initiative passes but falls short of two-thirds.
Maddox said he is confident that voters will pass the measure by more than 50 percent, and optimistic about getting a two-thirds vote for approval.
"Everything shows we can do it," Maddox said.