PROPERTY: AGED INVENTORY COMES UP SHORT FOR TODAY'S NEEDS
Industrial Buildings Showing Their Age
Wednesday, June 13, 2018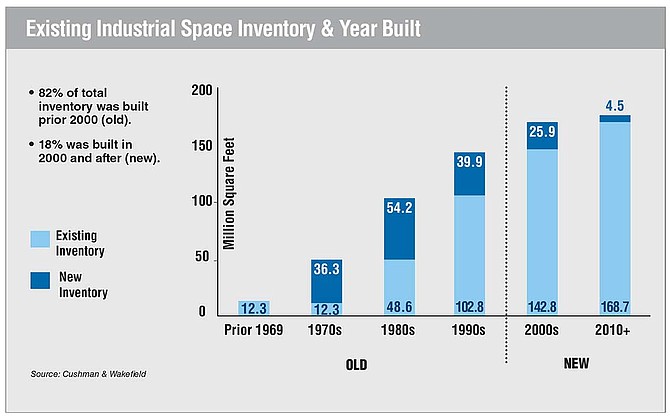 San Diego — Old is not good for companies looking for warehouse and industrial space, but that's what they'll find in most of San Diego County.
Most industrial buildings in San Diego — 82 percent — were built before 2000, and 7 percent were built before 1969, according to a report from the commercial real estate brokerage firm Cushman & Wakefield.
"With older buildings, you don't have some of the functionality you have with newer products," said Ryan Spradling, director of Cushman & Wakefield's San Diego office.
Don't Measure Up
The problem is that most of the older buildings are too short, too small, and don't have enough room for large trucks to maneuver or park. They also lack up-to-date sprinkler systems.
"Landlords with some of the older buildings are still being able to lease those out because the market is so tight," Spradling said.
Evan McDonald, first vice president of Colliers International in San Diego, said that even with the limitations of older buildings, demand is so high that most buildings are occupied.
Lack of Supply
Since the 1970s, the county inventory of industrial property grew an average of 39 million square feet per decade, with the biggest jump coming in the 1980s, when the county added 54.2 million square feet.
By comparison, only 30.4 million square feet of industrial space has been built since 2010.
Part of the reason is that San Diego is increasingly land-poor, especially in Central County, where demand is highest because central locations are closer to where products are delivered.
"From an industrial land supply, there's been some decent speculative development in recent years in the North County market and South County," Spradling said. "As that industrial dirt is developed, we're going to have even less of that."
Cushman and Wakefield found that 75 percent of existing buildings are smaller than 99,000 square feet, with about 25 percent 100,000 square feet or larger.
The average size is 22,000 square feet — far below the 172,000 square feet of new industrial buildings.
San Diego's inventory of industrial property is aging at a time when demand for space is rising, and countywide vacancy rates are running at a 15-year low, according to Cushman and Wakefield.
Only 3 percent of existing inventory was built after 2009.
Bill Dolan, senior vice president of CBRE, said the vacancy rate for top-of-the-line industrial buildings is down to about 1 percent.
Clear Height
Some businesses "will compromise a little bit on function" for a central San Diego location, Dolan said, adding "You narrowed your target or end-user market when you've got older buildings because the newer product that's being built has the modern bells and whistles. The obvious one is clear height."
Prev Next