Success Was in the Cards at Fundraiser for Boys & Girls Clubs
Monday, June 4, 2018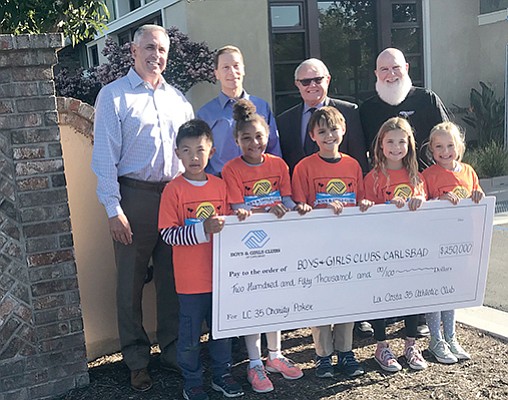 San Diego — The La Costa 35 Athletic Club, a local nonprofit organization, announced that it raised more than $250,000 for the Boys & Girls Clubs of Carlsbad through its annual charity poker tournament.
Looking for a way to give back to the community, LC35 teamed up with the Boys & Girls Clubs to produce its first poker tournament in 2011 and eventually moved the sold out event to the 15,000-square-foot Rancho Santa Fe Motor Club and Storage, which showcases an incredible collection of classic and antique cars. Since its inception seven years ago, the event has nearly tripled in attendance and reached a milestone this past year, with the $250,000 raised for the club.
Tournament Director Rob Holzman said LC35 has a goal of making Carlsbad a better place to live, not only by fostering friendship and belonging to those in the community, "but also by giving back to those in need. We are grateful BGCC has allowed us establish a marquis charity event for its organization."
Kevin Granse, recreation area manager for the City of Carlsbad, said: "LC35 works closely with all other Carlsbad sports organizations as an ambassador of athletics in an effort to ensure all groups have their needs met."
LC35 is a local nonprofit organization formed in 1984 for Carlsbad residents ages 35 and older to promote friendly competition, good sportsmanship, and a social outlet for its members, primarily through its sports leagues on City of Carlsbad fields. Visit: bgccarlsbad.org/ or lc35ac.org.
• • •
The San Diego Foundation announced that $100,000 in grants for five local artists and projects.
The grants, made possible through The San Diego Foundation Creative Catalyst Program, are awarded to artists and their respective nonprofit sponsors who work collaboratively with each other and the community to develop and showcase their art projects. The 2018 recipients include Erica Buechner with sponsor Art Produce, Thelma Virata de Castro with sponsor Asian Story Theater, Matt Morrow with sponsor La Jolla Playhouse, Evan Apodaca with sponsor So Say We All, and Maxx Moses with sponsor The Urban Collaborative Project.
Katie Rast, director of community impact at The San Diego Foundation said: "Our investment in art sparks conversation, promotes civic engagement and celebrates our region's unique diversity, strengthening our economy, our community and our culture."
The arts ecosystem has a significant impact on the local economy and quality of life in our communities. According to the National Endowment for the Arts, $174.6 billion was added to the California economy in 2015 thanks to the arts. In addition, NEA studies show a strong correlation between the arts and the well-being of older adults, as well as developmental benefits during early childhood.
The Creative Catalyst Program projects will be developed through the summer and fall of 2018, with the final works expected to be shared with the community in late 2018 and early 2019. 
• • •
The Chicano Federation teamed up with volunteers from BB&T – John Burnham Insurance Services to install a garden at the Barrio Logan Child Development Center. Associates from BB&T – John Burnham Insurance Services volunteered 8 hours of their time to help build and install the garden.
"We wanted to work with The Chicano Federation because of the great work they do in the San Diego community," Karen Reid, BB&T area president, said. "We're proud to partner with them and help in any way we can."
The BB&T – John Burnham Insurance Services volunteers are taking part in the company's ninth annual Lighthouse Project. Since the inception in 2009 of the BB&T Lighthouse Project, BB&T associates have completed more than 10,000 community service projects, donated more than 500,000 hours in volunteer service and touched the lives of more than 15 million people. Visit BBT.com/BBT/LighthouseProject.
Send Kudos/Giving items to
sglidden@sdbj.com.