PROPERTY: STARTUP AND FOOD SCENE JOIN MULTIFAMILY IN DRIVING MORE DEVELOPMENT
Office, Multifamily and Even Retail in Demand Downtown
Monday, June 4, 2018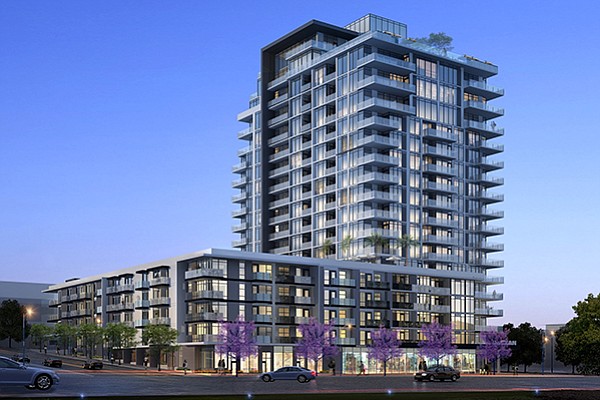 San Diego — Downtown San Diego's commercial real estate market was booming in the first quarter of this year, building on a trend that shows few signs of easing.
New office, apartment, condominium and hotel projects continue to sprout up.
"I'm very optimistic and bullish on downtown," said Bess Wakeman, executive vice president of JLL in San Diego.
"I like the assets that are downtown. I like the ownership downtown. It's not just government and law firms. It's a really robust mix of tenants," Wakeman said.
Adding to the surge of activity was the June 1 groundbreaking for the $1.5 billion Manchester Pacific Gateway, a project that will remake a 12-acre stretch of the downtown waterfront bounded by Broadway, Pacific Highway and Harbor Drive. It will include a mix of office towers, hotels, retail shops and a new headquarters building for the U.S. Navy.
"That's going to be just huge for downtown," Wakeman said. "We haven't seen that level of project come online anywhere in the county."
Dynamic Downtown
Derek Hulse, managing director of Cushman & Wakefield's San Diego offices, said, "Downtown is dynamic right now due to the influx of residents and new multifamily development, the general urban revitalization and the burgeoning restaurant scene."
"People, especially the young educated workforce, want to be a part of a vibrant community where you have access to the bay, sports entertainment, theater, amenities, retail, and restaurants," said Hulse, who specializes in downtown property.
According to Cushman & Wakefield, about 35,550 people live downtown, and 40 percent of them are Gen X and millennials.
Number One Area for Startups
Downtown is the number one area for startups in the region, with about 110 tech and innovation startups in the first quarter of 2018, Cushman & Wakefield reported.
About 550,420 square feet of new office space was under construction in the first quarter, of which nearly 60,000 square feet was preleased, the company said.
Over the next 36 months, there is the potential for up to 1 million square feet of new and renovated Class A office space, Hulse said.
The downtown demand for office space is partly reflected by rising rents, with the rents landlords are seeking rising by 4.6 percent over the past 12 months, Hulse said.
Direct vacancy, which is a measure of space that's available for lease, dropped slightly from 11.1 percent in the fourth quarter of 2017 to 10.9 percent in the first quarter of 2018, according to Cushman & Wakefield.
Direct available space, which measures space coming available but not yet ready to lease, decreased from 18.4 percent in the fourth quarter of 2017 to 15.2 percent in the first quarter of 2018.
Apartment activity also is strong downtown, said Rachel Parsons, CBRE first vice president.
Parsons said three apartment projects came on line in 2017 — Alexan ALX with 313 units, the mixed-use IDEA 1 with 282 apartments, and 1810 State Street with 102 apartments.
In 2018, seven projects with a total of 2,296 apartments are expected to open, Parsons said.
They include the 718-apartment Park 12.
Downtown Delivers Apartments
"We're still showing resident demand for new construction and existing buildings," Parsons said, adding that 42 percent of all the apartments coming online throughout the county in 2018 will be downtown.
"We just don't have a lot of multi-family construction anywhere in the county other than downtown. As a result, I think downtown will continue to remain in demand because that's where the majority of the multi-family is being delivered," Parsons said. "Downtown has developed as a national attraction and hot spot for entertainment. More and more people want to live there because there's more to do. It's where the best restaurants are. People want to be downtown. Even if they aren't working downtown, they want to live there."
Condominiums have been slower than apartments to come to market downtown, with Bosa Development's 41-story Pacific Gate at 888 W. E St., and the 36-story Savina at 701 Front St., the first new condo projects in several years. Both are high-end projects, with prices at Pacific Gate starting at more than $1 million.
"I do think there's a need for more affordable condo housing downtown. Some people want to buy a condo downtown, but they can't afford $2 million," Parsons said. "I think we will see a trend in the near future for more for-sale (projects) delivered downtown than for-rent. We're seeing that in other parts of the county, where for-sale is beating out the for-rent."
Pushed to Class A
Darcy Miramontes, an executive vice president with JLL, said land prices and fees developers must pay push them to build pricey projects.
"We do lack a lot of B products in the San Diego market but the Class A that's being built is being built because that's the only thing developers can make pencil out," Miramontes said.
"The price of land is so high, the fees being charged by municipalities are really high, and it affects what you can build."
Downtown San Diego also remains a strong market for new hotel construction with five slated for completion in 2018, including the 400-room InterContinental.
"It's one of the top markets in California, it's certainly one of the top markets in the country," said James Stockdale, executive vice president of JLL Hotel and Hospitality Group based in Los Angeles.
Since 2016, San Diego has added 1,600 hotel rooms downtown with an additional 1,300 expected to come on line over the next year, Stockdale said, with no signs that the market is becoming saturated.
"Demand in San Diego remains good," Stockdale said. "At some point, there is potential for saturation. It doesn't feel that San Diego has reached that point yet. The convention calendar is actually pretty good, the pacing is pretty good, plus San Diego will likely benefit from an increase in defense spending."